G&F Seeks Information on Greys River Elk Poaching
The Wyoming Game and Fish Department is seeking any information regarding a yearling cow elk that was illegally shot about one half mile up the Little Greys Road past its confluence with the Greys River Road.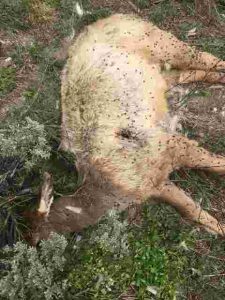 It is believed the elk was killed with a smaller caliber rifle sometime this past weekend. The elk, which was shot and left to waste, was discovered approximately 75 yards off the Little Greys River Road.
Anyone with possible information regarding this poaching incident, or who was in the area and may have noted suspicious vehicles or activities, is encouraged to call Afton Game Warden James Hobbs at 307-885-3717 or Alpine Game Warden Levi Wood at 307-654-7743 or the Jackson Game and Fish office at 1-800-423-4113 or the STOP POACHING hotline at 1-877-WGFD-TIP (1-877-943-3847).
Callers may remain anonymous and any information leading to an arrest and conviction may result in a reward of up to $5,000.00.  Warden Hobbs urges the public to come forward with any relevant information about this elk poaching incident. "This is especially frustrating to me, and likely all ethical sportsmen, to have an elk make it through the hard winter months only to be pointlessly shot and left to waste," said Hobbs.