Gordon says grizzly delisting depends on election outcome
By CJ Baker
Powell Tribune
Via- Wyoming News Exchange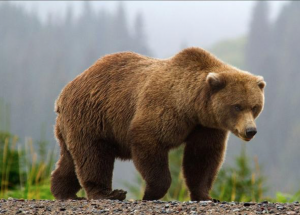 POWELL — If you want to see the grizzly bear delisted, Gov. Mark Gordon says you should support President Donald Trump's bid for re-election in 2020.
Speaking to members of the Park County Farm Bureau Federation on Friday night in Powell, Gordon said his administration is going to work "very hard" to make sure the state's efforts to delist the Yellowstone area's grizzly bears are successful. But he warned that, if voters choose a new president next year, they could wipe out any actions that the Trump administration takes in the final six months of his current term.
"I'm going to do everything in my power to make sure Trump is reelected," Gordon said, "because this administration understands how important it is for states to have the opportunity to manage their own affairs. That's critical."
He told the Farm Bureau audience that, "it's very important that you all stand up, write everybody you know, try to do everything you can to make sure people understand how important this Trump administration is to our livelihoods going forward."
The last three presidential administrations — those of George W. Bush, Barack Obama and now Trump — have concluded that the Greater Yellowstone Ecosystem's grizzly population is no longer "threatened." The U.S. Fish and Wildlife Service delisted the region's grizzly bears in 2017.


However, environmental groups have launched a series of legal challenges, contending the animals need continued protections. They argue in part that bears are facing new threats from climate change and a lack of genetic diversity — and they adamantly opposed planned grizzly bear hunts in Wyoming and Idaho last year.
In September 2018, U.S. District Court Dana Christensen of Missoula, Montana, sided with the groups, blocking the hunts and restoring protections for local grizzlies. Christensen found the Fish and Wildlife Service hadn't done enough to protect the species and failed to consider how delisting Yellowstone area bears would affect grizzlies in other areas.
After hitting a low of 136 bears in 1975, there were at least 712 grizzlies in the ecosystem as of last year, according to federal government estimates. Bears have been roaming further afield of their core habitat around Yellowstone National Park in recent years — including a sow and two cubs that made it to Byron a year ago. Wyoming Game and Fish Department officials say it's a sign that grizzlies have filled up their suitable habitat and are spilling into other areas.
"Montana has bears that are denning 30 miles off of where they're supposed to be," Gordon told local Farm Bureau members on Friday. "You guys have grizzly bears running around in your corn fields, or in the backyard of towns. And you know how much of a problem this is."
Park County Farm Bureau Federation President Abby Shuler said she later told Gordon that he was correct, informing him that she has had grizzly bears in her family's fields in recent days.
Shuler was also excited and appreciative that Gordon — along with First Lady Jennie Gordon, her Chief of Staff Trista Ostrom and a couple other staffers — made the trip from Cheyenne.
"It was wonderful," Shuler said.
In his remarks, Gordon specifically referenced a grizzly that killed a colt in the Crandall area last month, as he happened to see that bear while the Game and Fish was transporting it to another location.
Currently, "we can't do anything about that," Gordon said, but he said his office is working with Interior Secretary David Bernhardt on the best way to address the grizzly issue.
The State of Wyoming and the federal government have appealed Judge Christensen's ruling to the Ninth Circuit Court of Appeals, but both Gordon and Wyoming Farm Bureau Federation Executive Vice President Hamilton expressed doubts that the challenge will succeed in the San Francisco-based court.
"Our good friends in the ninth judicial district don't like anything we do, and so no matter what we do, we are really concerned about that particular set of decisions getting worse," Gordon said. "So we are working on a new [delisting] rule now, which we are not going to make sort of generally public — but we are wanting to see this appeals process work its way out."
He said his administration will not give up "at all" on the grizzly issue.
Separately, Gordon said that the state needs to have "robust predator control" and should "finally" commit to that.
Tagged:
Governor Mark Gordon
Greater Yellowstone Ecosystem
Park County Farm Bureau
President Donald Trump