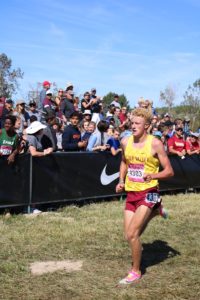 After an intense opening month to the season, the Star Valley Cross-Country team has been refining some aspects of their training for the past two weeks while getting ready for "championship season" which is the final three weeks of this month.
The event that will garner Star Valley's attention this week is in Sweetwater County for the Rock Springs Invitational where they are expected to see many of the state's top contenders.
"We had a great couple weeks of training," said head coach Ty Draney. "It was nice to let our hair down a bit and participate in the Homecoming stuff. They are getting antsy to race and so are the coaches. We'll see if the two weeks off was a good idea or a bad idea. We'll k now for sure what direction we're trending by the time we get done with the meet on Friday"
The meet, which will take place at White Mountain Golf Course in Rock Springs, will bring teams from Evanston, Jackson and Manila, Utah as well as the host Tigers. The girls race will take place at 4 p.m. with the boys race at 4:40 p.m.
"This will be the smallest meet we go to but there are a couple things we like about it," Draney stated. "First of all, Rock Springs is even at a higher elevation that we are, so some high elevation racing is good. It's at the White Mountain Golf Course so the surface will be very similar to the state course so it gives us a look a those things."

Just because the team hasn't been running competition doesn't mean they haven't been working.
"This last weekend we did a nice long run with a big climb and descent, I was the only one worse for wear."
Draney pointed out some positive improvements from the squad as the season continues.
"Conner Etzelmiller is rounding into shape," he said. "Dillon Foley continues to get stronger. [Evie] has been running well and that pack of girls keeps getting tighter and tighter so we're excited about that. Emily Strasburg will be back for the first time since the very first meet of the year so some good things to look forward to right here."
The Wyoming State Cross-Country Championships will be in Afton at the Star Valley View Golf Course on October 26.
Let us know what you think!
Tagged:
Rock Springs Invitational
Star Valley cross-country