Holy Family Catholic Church hosts Craft Bazaar this weekend in Thayne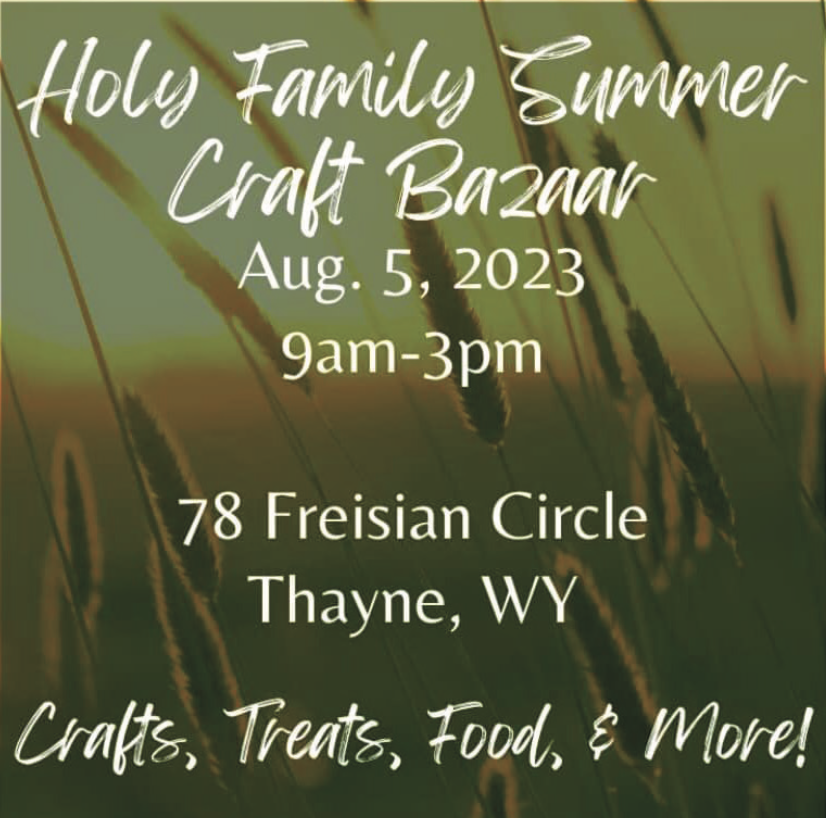 • Funds go to support organizations and individuals in need. 
The Council of Catholic Women, with Holy Family Catholic Church in Thayne, is hosting a Craft Bazaar this Saturday, August 6, from 9 a.m. to 3 p.m. in the parking lot of the church at 78 Friesian Circle off Highway 89 north of Thayne.
According to Donna Kelsey, who serves as treasurer to the Council, the organization typically holds a craft bazaar as a fund raiser at Christmas. This year, they felt it would be valuable to hold one in the summer as well.
"The Christmas Bazaar has been super well received, however, due to the small space in the hall, we are limited on the number of vendors we can have, so we decided to give it a try and have a summer craft bazaar," Kelsey explained, in an interview with SVI Media last week. "It's going to be outside in the parking lot so we can have a lot more vendors. We also have a lot of parishioners who are snowbirds who are unable to be here for the Christmas bazaar, so we thought it would be nice to involve them and give them a chance to support some local vendors and maybe have some fun shopping with us and supporting our fundraiser."
Funds raised at both the Christmas Craft Bazaar and the Summer Craft Bazaar go to support worthy causes in Star Valley.
"We support different causes in the valley, such as Azar House, the food banks, and Walk for Life," Kelsey added. "We also support the Lincoln County Fair Livestock Auction. We donate funds as add-ons after animals are bought at auction. We also contribute scholarship funds each year to the Lincoln County School District No. 2 Education Foundation. All these things come out of this fundraising."
The Council, often in collaboration with The Knights of Columbus, also reaches out to lend support to families and individuals in crisis or need, offering funds that lift the burden of tragedy or hardship.
Approximately 14 vendors are scheduled to participate on Saturday, offering a wide variety of items. There will be pottery, jewelry, handcrafted baby products, jams, jellies and spices, holistic medicine products, wildlife art, direct sales vendors like Scentsy and NuSkin, coffee roasters, bird houses, home decor, handcrafted cards and paper crafts, custom decorated thermal cups, and food with Tony Reyes. They are hoping to have fresh, raw dairy products and beef products. The council will also have a table filled with baked goods as well.
"Come out and support the local vendors, which in turn support the fundraiser for us so we can help support different causes in Star Valley," concluded Kelsey. "It's just been a crazy year with so many tragedies, and along with the Knights of Columbus, we have given donations to those people too. We are trying to raise money to help our community. We are a small group, but we are mighty."
Vendors are invited to register through Friday, August 5. For more information, contact Kelsey at ronanddonnawy@yahoo.com or Tracy Trefren at tap@silverstar.com.
Let us know what you think!
Tagged:
Azar House
Donna Kelsey
Holy Family Catholic Church
Thayne Wyoming
The Council of Catholic Women
The Knights of Columbus
Walk for Life