Hundreds run in El Vaquero Loco
Already one of the more difficult trail races around, El Vaquero Loco had some extra challenges this past Saturday as temperatures pushed 90 degrees on the backs of runners who ran either the 25K or 50K version of the race.
The heat is what made an impression on race organizer and ultra-marathon pro Ty Draney.
"It was warm, that's what stood out to me the most," he said. "It was really hot and our main concern was keeping people hydrated and over the mountain and back again."

It takes a small army of dedicated people to make sure more than 100 runners can get through the day.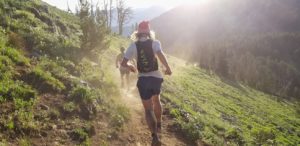 Draney was effusive in his praise of long-time volunteers such as McKay "Whitey" Erickson, Joe Wetzel and the EMS and volunteers who help make the race a success.
"We had great volunteers and medical personnel who were able to address what few needs we had," he said. "Runners were smart with knowing what they can do. The only option is dropping out at Swift Creek so really it makes for a longer day if you drop out than if you just keep going."
Draney stated that there were many repeat runners as well as a pair of people who came all the way from Australia to run and a man from Ohio who made the trip.
El Vaquero Loco, translated loosely to "The Crazy Cowboy" has an incredible amount of rise and decent which can sap even the heartiest of running enthusiasts.
"There's always a little bit of worry as we get people out here and the course is really rugged and too many people are shocked by the time they get to the finish line."

Loren Davis of Bozeman, Montana was the overall winner in the 50K distance (31.5 miles) with a time of 5:42:47. Jennifer Lambert was the fastest woman in the race with at time of 6:05:10.
"That may have been the most impressive performance of the whole day," Draney said of Lambert. "She ran 20 minutes faster on the way back over the mountain than she did on the way over."
The times didn't challenge any course records this year but the race is unapologetically difficult.
"The fields weren't quite as deep this year," Draney said. "But the weather played a part in that too. That long climb out of Swift Creek to the Corral Creek Lake is relentless."
Joe Wilson of Lingle, Wyoming had the fastest time in the 25K race (15 miles) with a time of 2:25:25. Course record-holder Luke Nelson was second.
FULL RESULTS FROM THE 2019 VAQUERO LOCO HERE.

Let us know what you think!