Idaho man arrested in case of injured toddler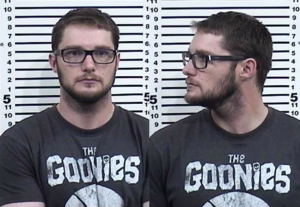 According to a release from the Bonneville County Sheriff's Office, on Tuesday, February 5 at approximately 12:18 p.m., Bonneville County Sheriff's Deputies and Idaho Falls Ambulance were called to an unresponsive child on Parri Dr. in Bonneville County.   
According to the incident report, 30-year-old James H. Dunkle contacted dispatch and reported that an 18 month old child had fallen off a bed and was unresponsive.
As deputies and ambulance personnel arrived they attended to the child who was transported to Eastern Idaho Regional Medical Center by ambulance.
Dunkle advised deputies on scene that the child belongs to his girlfriend and he was babysitting for her while she was at work.
"Deputies noticed that injuries to the child were inconsistent with what Dunkle advised had happened and began questioning him further," said Sgt. Bryan Lovell, public information officer for the Bonneville County Sheriff's Office. "During this time Dunkle admitted to causing physical injuries to the child."
According to information provided by Bonneville County Sheriff's Office, at the hospital the child was "found to have suffered several serious injuries to the head and body, that required a transport by life flight to Primary Children's Medical Center in Utah for further treatment."
After being interviewed by deputies, Dunkle was placed under arrest and transported to the Bonneville County Jail where he was booked for Felony Injury to a Child.
The investigation is on going.
Tagged:
Bonneville County Sheriff's Office
child injury
injured child
investigation