Increases in COVID cases putting pressure on local and state hospitals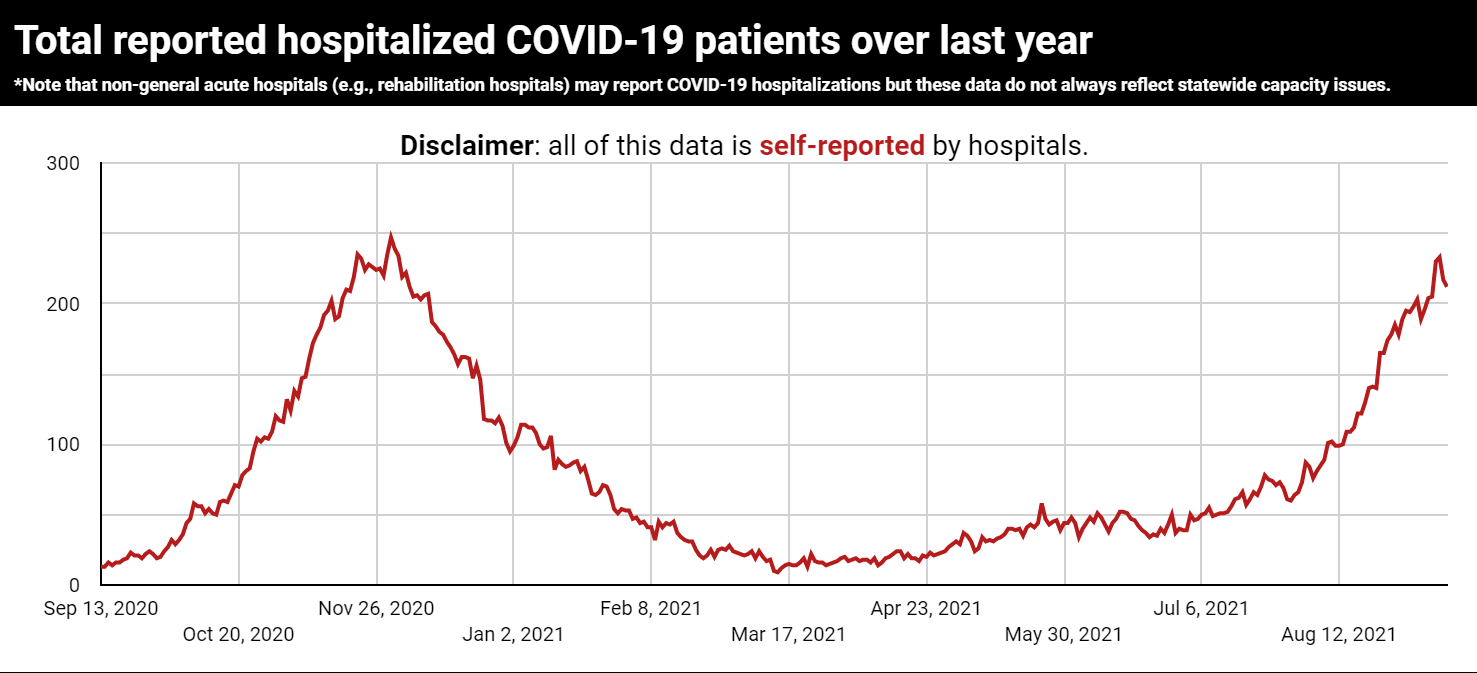 ◆ Case counts increasing in Star Valley and around Wyoming.
Nurses, doctors and hospital staff from medical facilities around the state of Wyoming continue to battle the increasing number of COVID patients due to the Delta variant. While the total number of confirmed cases of the virus is not as high as was seen in November and December, a higher percentage of people are being hospitalized due to complications from COVID. 
As of the most recent update from the Wyoming Department of Health on September 10, Wyoming hospitals were caring for 217 COVID-19 patients. The majority are being cared for at Cheyenne Regional Medical Center (53) and Wyoming Medical Center in Casper (41). According to the WDH, Star Valley Health was treating seven COVID patients. 
Those numbers are slightly lower than the peak seen on Nov. 30, 2020, when 247 people statewide were hospitalized due to COVID. However at that time there were nearly 700 new cases every day. Currently there are between 350 and 400 new cases daily, which means the percentage of people getting sick enough to need full time medical care in Wyoming is nearly twice as high as it was 10 months ago, according to the WDH data. 
Josh Jardine, a local traveling nurse, has spent the last few weeks working the floors at Cheyenne Regional Medical Center. "I think it's super important for people to realize that Wyomingites can still get COVID, and on the east side of the state it's pretty serious," Jardine stated. "We have converted nine rooms on the COVID floor to ICU rooms. They are still boarding patients in the ER hallways, and other floors are starting to have to take COVID patients."

According to Jardine there have been enough new cases that nearly every night there are several patients being boarded in the emergency room hallway because there are no beds on the medical floor. "We've had ICU overflow take up shop on our floor because they're full."
Smaller, local facilities are also dealing with the situation. "Cases of COVID-19 are surging in Star Valley, impacting many of our friends and neighbors who we care deeply about," said Star Valley Health CEO Dan Ordyna in a statement released to SVI News. "At Star Valley Health we know that protection from the severe diseases COVID-19 causes in some individuals can only be achieved by immunizing a very high percentage of the population.  Available vaccines have proven to be both safe and effective. 
"At the same time, we also recognize the importance of individual choice in the matter and that mandating vaccinations only spurns a wider chasm among our friends and neighbors. Consequently, we are currently monitoring and assessing the government's recent vaccination mandate. We remain committed to striking a balance between individual choice and protecting our communities through immunizations.
"We want to do all we can to limit the suffering and the spread of this virus. Our staff have worked tirelessly around the clock for the last 18 months to provide outstanding care. They are our valley's hometown heroes. Please thank them when you see them." 
According to data provided by Star Valley Health, 13 patients have been hospitalized locally between July 28 and August 26. Of those 13, 11 were unvaccinated while 2 were vaccinated. Of the 158 total COVID-19 positive tests at Star Valley Health during the same time period, 149 were unvaccinated while just 9 were vaccinated. 
The Wyoming Department of Health reports that there were 100 lab confirmed active COVID cases in Lincoln County as of September 13, a number that has been trending downward most recently. As of September 7, nearly 6,000 residents of Lincoln County had been fully vaccinated, 30% of the county's population. Teton County remains the highest with 74% vaccinated while Crook county is the lowest at 20%. Statewide 36% of Wyoming's residents have become fully vaccinated as of the September 7 update.
Let us know what you think!
Tagged:
Cheyenne Regional Medical Center
Star Valley Health
Wyoming Department of Health
Wyoming Medical Center