Independent Obituaries: December 21, 2022
The following obituaries appeared in the December 21, 2022 edition of the Star Valley Independent.
For more area obituaries, please visit Schwab Mortuary.
For more resources including headstones, please visit the Star Valley Historical Society.

Arlene Kidd, a beloved mother, sister, daughter, and grandmother passed away December 13, 2022. Arlene was born in Odgen, Utah on April 20, 1961 to Roma and Clyde Olson.
She was a woman of courage, light, and strength. As a single mother of three young children, Arlene found time to attend Weber State University where she earned her RN nursing degree.
She loved to garden, and her green thumb ensured that every home they lived in had a beautiful garden. She also had a talent for interior decorating, surrounding herself and her home in lace, love, crystals, and beauty.
Arlene was a dedicated mother and grandmother and could often be found aiding and supporting her children and grandchildren in their academic endeavors and recreational pastimes.
Arlene is survived by her brother, Jerel Olson and his spouse Carolyn Olson, her three children and their spouses, Cody and Stephanie Taylor, Tiffani and Matthew Krueger, and Staci Taylor, her grandchildren, Jacob Taylor, Joshua Taylor and Kaitlyn Taylor and her sweet dog Little Prince, along with a few grandpuppies.
A private funeral was held Saturday December 17, 2022 in Fairview, Wyoming.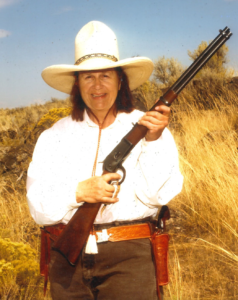 Phyllis Lynn Dugan was born on May 12, 1941 to Charles Doane and Flora Agnes Power in Cheyenne, Wyoming. She passed away on December 6, 2022 at Bear Lake Memorial Care Center in Montpelier, Idaho.
In 1948 the Power family moved from Cheyenne, Wyoming to San Carlos, California. She graduated from Carlmont High School in Belmont, California. The family later moved to Jackson, Wyoming.
She met the love of her life, Harold Dugan in 1965 in Jackson. A month later they eloped to Las Vegas, Nevada. Harold, Phyllis and their two sons moved throughout the country working at ranches and enjoying the outdoors. They later moved to Jackson and then in 1978 they moved to Star Valley.
Phyllis was a very talented woman who wore many different hats. She was a cow camp cook, helped herd cows, a law enforcement park ranger in Grand Teton National Park, was a founding board member of the Animal Humane Association of Star Valley and competed in the Cowboy Action Shooters.
She was a gifted artist and published writer and even wrote and did photography for the Star Valley Independent. She also started the Muscular Dystrophy campaign in Jackson, served on the Thayne Town Council and was the President of Wyoming Writers, a statewide organization. She loved music, animals, nature and Wyoming.
She is survived by her sister, Judy Sandbloom, her sons Harold Gene Dugan and Dan Matthew Dugan and several grandchildren.
She was preceded in death by her parents Charles Doane and Flora Agnes Power and her husband, Harold Dugan.
A memorial service will be held in the spring. In lieu of flowers, donations may be made to the Animal Humane Association of Star Valley.
Let us know what you think!
Tagged:
Arlene Kidd
Phyllis Lynn Dugan
Star Valley Obituaries
Wyoming obituaries