Independent Obituaries: July 3, 2019
The following obituaries appeared in the July 3, 2019 edition of the Star Valley Independent.
For more area obituaries, please visit Schwab Mortuary.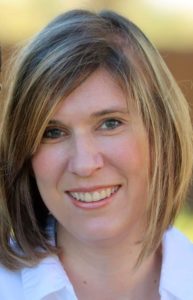 Candace Crook, age 42, passed away Saturday June 1, 2019. She is the wife of Dan Crook and the mother of their seven children. She is the daughter-in-law of Vernon Garrett Crook and Granddaughter of Howard Peterson Crook. She resided in Mohave County, Arizona for the past 13 years. Candace died at home, peacefully. Her second bout with brain cancer took its toll. She decided to upgrade from mortality and retire her earth suit, and be promoted to a more celestial atmosphere.  She was born October 23, 1976 and raised most of her life in southern California. She graduated from Brigham Young University with a Bachelors degree in English, the summer before her 20 birthday.  She enjoyed literature, music, art, and especially family. Candace is a wife, mother, and teacher (I used the present tense on purpose. Her spirit is still alive and her influence continues to be felt). She was heavily involved in her children's lives, through education and teaching life skills.  Candace was an administrator in TriState Scholars, a home school group, where she lived. She was an active participant through her church's Relief Society program, when health allowed. She enjoyed life and attempted to live each day the best that she could, trying make herself and those around her a little better. She instilled a love of learning within her children and husband. She never liked talking in large groups or being the center of attention. However, when speaking one-on-one, or in small groups, everyone around her felt and knew of her amazing gift of discernment. She had a wonderful talent of being able to "read between the lines", whether it was books, news articles, or speeches. She understood many things and would humbly share her opinion with others. A celebration of life will be held in her honor at The Church of Jesus Christ of Latter-day Saints chapel at 1690 River Gardens, Bullhead City, Arizona on June 22, 2019 from 10:30-12:00. She will be buried in the Etna cemetery in Star Valley, Wyoming on July 6, 2019 at 12:00.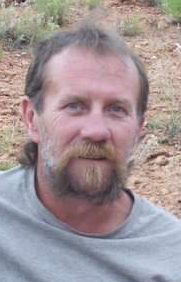 Eric Joseph Draney, age 52, passed away at his home in Etna on June 22, 2019. Eric was born August 18, 1966 to Wendell and Joyce Draney in Afton Wyoming. Eric spent his youth on the family ranch in Tyghee Valley, riding motorcycles and helping out on the ranch, waking up to the song of meadowlark. He enjoyed his time with family and played a big role as the leader of many shenanigans. He graduated high school in Afton in 1984. Eric moved to Salt Lake City, Utah for a few months to attend college but the city life wasnt for him. He moved back to Afton and worked various jobs, at the saw mill and the grocery store before finding his calling at Evan's Construction, in Jackson Hole. Eric enjoyed his work and took great pride in it. Eric met Seandara Allen in 1996 and they were later married, August 29, 1998. They moved to Etna in January of 1999. Later that year, Eric adopted Seandara's son, Patrick. In August 2000, Eric got an early birthday present when his daughter, Sami, was born. Eric followed his small family to Vernal, Utah in 2005 and two years later was the proud owner of Draney Excavation. He ran a successful business until the boom fell in the oil field. He made many friends while in Vernal, and every where he went. In 2016, he returned to his home in Etna, with the hope of finding work. Eric was laid to rest in the Auburn cemetery on June 28, 2019. With grateful hearts, we have received your support and love. Your kind words and acts of service have helped tremendously and is greatly appreciated.  Eric was preceded in death by his father and mother, Wendell and Joyce Draney, brother Dennis Draney, and sister Janeve Swenson.
He is survived by his children, Patrick and Sami Draney, Laurel Merritt (sister), Sam Draney (brother), Gregg Draney (brother), Lanny Draney (brother), Keland Draney (brother), Bonita Smith (sister), Wendy Erickson (sister), Ronda Luthi (sister), and Troy Draney (brother).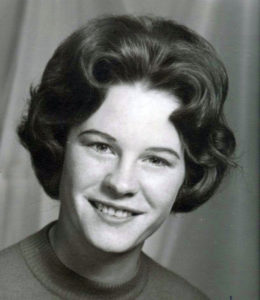 Mary Louise Meldum Lisota, age 77, passed away peacefully on June 28, 2019 in her home in Afton, Wyoming surrounded by her family. Mary was the second child born to Franklin DeVoe Meldrum and Eva LaMar Marshall. She was born on January 16, 1942 in the old Afton Hospital located above the Afton Post Office. Her dad, Dee, was the general manager of Gephart Stores, a local mercantile store in downtown Afton. Her mother was an English teacher at Star Valley High School.  She is survived by her sister, Laura LaDee Meldrum Andersen. Mary graduated from Star Valley High School in 1959 and received a scholarship to the University of Wyoming where she majored in Secondary Education. During her senior year, she met and married Ed Lisota from Patterson, California who was attending the University on an Air Force scholarship. They were married in Afton on June 4, 1963 and again in the Salt Lake Temple on 1 June 1964. Together, they had four children, Robert, Laurie, Marshall and Tyresha.  For sixteen years, while in the Air Force, they lived in Texas, Germany, California and Washington State then finally settled in Afton. During her early years, she had a red filly horse named Scarlet. Together they enjoyed the freedom of the hills east of Afton. In addition, she spent many hours hunting and fishing with her mom and dad. At age 17, she was called as a chorister by Bishop Moser and continued as a chorister up until just recently. Her favorite job was that of a Primary chorister. Later in life, she became an aide in the Afton Elementary Library where she frequently mentioned she was part of "a miracle" helping the students learn to appreciate the joys of reading good books. She obtained a Masters in Guidance and Counseling degree from Washington State University. She recently completed four and a half years as a Church Work Service Missionary working with the Family Tree genealogy program. Mary was preceded in death by her son, Marshall, and both parents.  She is survived by her husband, Ed, her son, Robert and two daughters, Laurie and Tyresha. She is also survived by nine grandchildren and three great-grandchildren.
The funeral will be held in the Afton First Ward starting at 12 noon followed by the burial at the Afton Cemetery at 1 p.m. on July 6, 2019.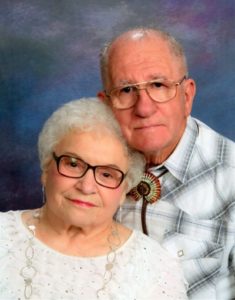 Val Baker was born in Etna, Wyoming on February 14, 1933 to Eather Cyral and Thelma Leona Baker and passed away on June 22, 2019, just eight and a half months after the love of his life, Catherine Joyce Baker.
Val served proudly in the Army four times from 1953 to 1966, and collected a few medals in that time. Val worked for Bennett Paint from May 1967 to October 1976. Val met and married the love of his life, Joyce Baker, on August 4, 1967 and were married 51 years at the time of her death. Val is survived by his children Jerry (Bobbie) Gibbins, Steve (Dorthy) Gibbins, Randy Gibbins, Danise (Wes) Cederbloom, Val Baker Jr, Vickie Coombs; son-in-law Chuck Bucans; tons of grand, great-grand, and great-great-grand kids. Preceded in death by wife Joyce; daughter Connie Bucans; and son Doug Gibbins.
A viewing was held on Friday, June 28 from 6-8 p.m. at McDougal Funeral Home, 4330 S. Redwood Road, Taylorsville, Utah. Another viewing was held on Saturday from 10-10:45 a.m. at The Church of Jesus Christ of Latter-day Saints, located at 3274 S. Hillsdale Drive, West Valley City, Utah, followed at 11:00 a.m. with funeral services. Graveside services were at Elysian Burial Gardens, 1075 East 4580 South.
Let us know what you think!
Tagged:
Candace Crook
Eric Joseph Draney
Mary Louise Meldum Lisota
Val Baker