Independent Obituaries: June 14, 2023
The following obituaries appeared in the June 14, 2023 edition of the Star Valley Independent.
For more area obituaries, please visit Schwab Mortuary.
For more resources including headstones, please visit the Star Valley Historical Society.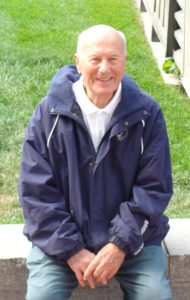 Lynn Wollenzien Chadwick completed his mortal journey on June 4, 2023 in Ogden, Utah. He was born on January 16, 1925 in Ogden, Utah. Lynn grew up and went to school in Star Valley, Wyoming. After high school, Lynn was drafted and joined the Merchant Marines during WWII. After the war, Lynn graduated from the University of Wyoming with a degree in psychology. He served a mission for The Church of Jesus Christ of Latter-day Saints in the Eastern States Mission.
Lynn met his wife, Donna Burgi, while he was teaching at an elementary school in Salt Lake City. They were married April 23, 1954 in the Salt Lake Temple. They had four sons. The family moved to Santa Maria, California in 1960 where Lynn worked as a social worker for schools and foster families in Santa Barbara County. The family moved to Layton, Utah in 1976. Lynn worked at the VA Hospital in SLC until he retired. Lynn and Donna did name extraction for the Church for several years and hosted family members for college and visits to air shows at Hill Field Air Base. During the summers you could count on homemade ice cream and sliced watermelon when you visited the Utah Chadwicks. Lynn loved to play both tennis and table tennis. He also enjoyed gardening, riding bikes, and painting.
Lynn is survived by his wife, Donna; sons, Blake, Mark (Sherry), Greg; and his sister, Carla (Steve) Smith. Lynn has six grandchildren, ten great-grandchildren, and two great-great-grandchildren.
Lynn was preceded in death by his son, Kelly; his parents, Clarence (Doc) Chadwick and Mary Amaressa Wollenzien; and his siblings, Kaestle, Mary, LeDee, Glayd, Clarene, and Marilyn.
Graveside services will be held Saturday, June 17, 2023 at 2 p.m. at Ogden City Cemetery. Friends may visit with family on Saturday from 12:30 to 1:30 p.m. at Lindquist's Ogden Mortuary, 3408 Washington Blvd.
In lieu of flowers, the family suggests donations be made to the Missionary Fund of The Church of Jesus Christ of Latter-day Saints.
Let us know what you think!
Tagged:
Lynn Wollenzien Chadwick
Star Valley Wyoming obituaries
Wyoming obituaries