Independent Obituaries: November 30, 2022
The following obituaries appeared in the November 30, 2022 edition of the Star Valley Independent.
For more area obituaries, please visit Schwab Mortuary.
For more resources including headstones, please visit the Star Valley Historical Society.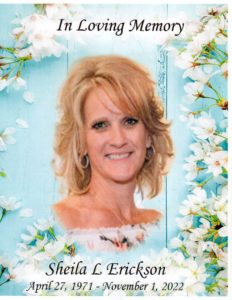 Sheila L Erickson returned to our loving Heavenly Father on November 1, 2022 in Evanston Wyoming. Sheila's wish was to return to Wyoming from Texas, she was here a short time passing away at the home of her sister surrounded by family on November 4, 2022.
Born April 27, 1971 in Afton, Wyoming to George L Erickson and Sue Ann Lancaster, she was the third of seven. Born with beautiful red hair thanks to her Grandma Erickson.
As a child she grew up in Fairview, where she made many friends. The family spent many hours riding horses and camping, summer was her favorite time of year.
She graduated from Star Valley High School then headed to Ricks College.  It was at Ricks she met her future husband. They were married June. Three children were born to this union, Jessica Edwards, Scott Edward and Tyler Edwards. They later divorced. Hadlie Marie joined the family in 2006.
She was a single mother most of her adult life, she worked hard to provide and take care of her family. They had many adventures in North Carolina, Wyoming and Texas.
Sheila always had a soft spot for children there for opening a day care in Rawlins, Wyoming and Buna, Texas. She touched the lives of many in her community. Her car port was a favorite meeting place for family, friends and neighbors.
On November 9, 2020 she was diagnosed with gall bladder cancer, for two years she fought this terrible disease valiantly.
Her kids and grandkids meant the world to her.
God took her to a better place on November 1, 2022 where she could finally rest.
Sheila was preceded in death by two nieces and many grandparents.
She is survived by her children Jessica Edwards, Scott Edwards, (Emma), Tyler Edwards, (Kamryn) and Hadlie Marie, parents George L Erickson and Sue Ann Lancaster, sisters Judy Thornock and Jill Henrie, brothers Paul Erickson, Layne Erickson, Bert Erickson and Kade Erickson.
Memorial services were held on Friday, November 4th at Afton cemetery.

Glenda Maria (Olson) Minerman passed away peacefully on November 16, 2022, in San Juan Capistrano, California, at the age of 89 at Silverado Memory Care Community. Glenda is survived by her husband, Roger L. Minerman, and four children, Mary J. Minerman, Richard D. Minerman, Michael D. Minerman and N. Paige Maximovitch, Curt Olson (brother), and Laurel Olson (brother), and sister-in-law, Margaret Olson.
Glenda was born on November 1, 1933, in the depths of the Depression to Oscar A. and Beulah B. Olson in Ortonville, Minnesota. Her early years were spent on the family farm near Clinton, Minnesota, where she attended a rural school for eight years, followed by four years at Clinton High School, and then went on to Hamline University School of Nursing in St. Paul, MN.
After graduation in 1954, she worked for one year at the University of Minnesota Hospital in the child psychiatry department, one of the very few in existence for children at that time.
In August, 1955, Glenda married Roger Len Minerman and they moved to Grand Forks, North Dakota, living there until Roger graduated from the University of North Dakota in mining engineering in 1958. During this time, Glenda worked as a registered nurse ("putting hubby through" as they said back then) at St. Michael's Hospital in the psychiatric department. During the summers, Glenda and Roger lived in mining camps where Roger received on-the-job training and Glenda worked as a camp nurse or in the local hospital.
In 1958, their first child, Mary, was born in Idaho. Glenda spent several days before the birth with the doctor and his family in Salmon because their home in the Cobalt mining camp was forty miles away in the back country.
Their second child, Richard, was born in California in 1960. In 1962, they left the mining business and Roger took a real estate and livestock appraisal position in Panorama City, and later in Lancaster, California. Glenda continued to work part time as a nurse until two more children joined the family, Michael (1966) and Paige (1968).
In 1966, Glenda and Roger started a squab ranch business in Leona Valley, California, selling live pigeons to the Chinese poultry markets in Los Angeles. They continued in this business for eight years before moving to Bishop, California in 1974 where Roger went into business for himself as a real estate appraiser/mortgage banker and Glenda handled the office work for him. Glenda volunteered as a Sunday school teacher, joined the PTA and was active in the First United Methodist Church. With a heart for the elderly in need of home care, Glenda was also instrumental in setting up Hospice of the Owens Valley, working as office manager and treasurer, and this service continues to provide hospice care to the Owens Valley to this day. Glenda and Roger also pursued their love of nature with hiking, cross country skiing and ice skating in the Sierra and White Mountains and canoeing Lake Sabrina and Lake Mary.
In 1990, Glenda and Roger moved to Thayne, Wyoming, continuing the mortgage banking business and exploring the Tetons and Wind River Range. Glenda helped organize the ecumenical worship group at Star Valley Ranch, and when that group dis- banded, she joined Star Valley United Church where her love of books led her to organize and develop the church library. Glenda had many other interests including genealogy, reading, extensive world travel with Roger, photography and staying connected to friends and family with letters and email. Glenda's motto, which she tried to follow religiously, was "Enjoy every moment of every day." Her faith and her family were always her primary interest and she felt extremely fortunate to have her church, her husband, four children and their spouses, and nine grandchildren to love. As one of her caregivers remarked, "She was one in a gazillion."
No memorial is planned at this time, but in lieu of flowers, donations can be mailed to Silverado Memory Care Community, 30311 Camino Capistrano, California 92675.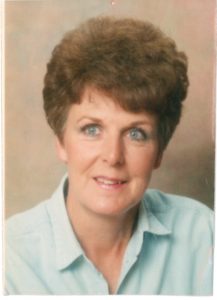 Susan Young Walker was called home to Heaven November 19, 2022 at the care center in Afton, Wyoming. She was born January 15, 1943 in Afton to Ila Thornton and Samuel Albry Young. She was the middle daughter of the family with an older sister named Judy and younger sister named Loretta.
When Susan was just six weeks old, her family flew to Greys River and lived that first winter at Deadman. In May 1943 they moved onto their own land later known as the Box Y and lived in a wall tent while finishing their cabin. By that fall the cabin was complete and they got to move in. In 1944 the family lived at the Box Y Ranch year-round. The family also purchased a home in Afton in 1946 so their girls could attend school.
Susan graduated Star Valley High School in 1961 and later that summer married Larry Izatt Walker. The couple was married at the Box Y Lodge.
The young couple then moved to Fort Lewis in Tacoma, Washington as Larry was in the National Guard. It was there the couple welcomed their first child, a daughter named Lori Jo Walker born May 19, 1962. The couple then moved back to Afton and made their home. Next was a son named Samuel Phares Walker born March 18, 1964 and it was another son to complete the family, Travis Larry Walker, born December 28, 1968. Susan and Larry were married for 33 years and then divorced. Susan also raised her granddaughter Jasmine Rose and they had such an unbreakable bond.
Susan was a Massage Therapist with her own business named A Touch of Serenity Massage Therapy. She had a studio in her garage. She loved helping people with body issues and pain. She also worked for 20+ years at the Afton Senior Center delivering meals to the elderly and she loved working with all the ladies and visiting with all the people.
Susan was also an avid artist. Susan was such an authentic, independent woman. She was a hard worker, kind, caring and compassionate. She lived every day to the fullest. She loved her family and she also loved friends that were so close they were family.
She is preceded in death by her parents Ila Thornton and Samuel Young, granddaughter Tiffany Sue Walker, daughter Lori Jo Walker and sister Judy Erickson.
She is survived by her son Travis Larry Walker, son Sam and Sharon Walker, granddaughter Ashlee and Dustin Haderlie, granddaughter Jasmine and Wes Newell, grandson Adam and Whitney Walker, grandson Jase Walker, grandson Wyatt Robin- son and all of her great grandchildren who she loved dearly; Brytin Haderlie, Hudson Newell, Ashtin Haderlie, Harper Newell, Taeven Walker, Hailynn Newell, Westin Haderlie, Henry Newell and Draiden Walker.
A memorial service will be held Thursday, December 1 at noon in the Afton Tabernacle with a visitation prior to the service at 11 am, and an evening visitation November 30 from 6–8 pm at Schwab Mortuary in Afton.
Let us know what you think!
Tagged:
Glenda Maria (Olson) Minerman
Sheila L Erickson
Star Valley Wyoming obituaries
Susan Young Walker
Wyoming obituaries