Independent Obituaries: October 11, 2023
The following obituaries appeared in the October 11, 2023 edition of the Star Valley Independent.
For more area obituaries, please visit Schwab Mortuary.
For more resources including headstones, please visit the Star Valley Historical Society.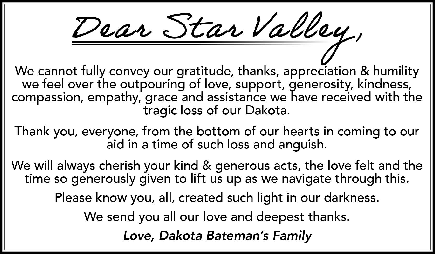 Lonnie Blockhus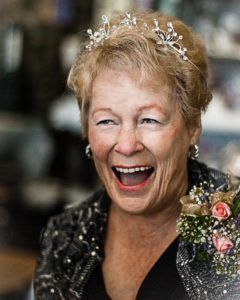 Leilani (Lonnie) Rosalie Blockhus, age 84, passed away September 20, 2023.  She was born October 1, 1938 in San Deigo, California.  Her parents were Stonie Herpich and Maxine Herpich from Stockton, California.
Lonnie spent her youth in Stockton, California where she attended high school and college.  She lived for a time in Spokane, Washington but lived most of her life in Monterey County California.  She started and ran her own monogramming business for many years.  Prior to starting her own business, she held various positions.  As a young mother, she did bookkeeping at her children's daycare to pay for their tuition.  She worked in various offices doing computer and clerical work and even though she was less than five feet tall, she drove a forklift in a winery warehouse for several years.  She worked her entire life prior to retiring to Wyoming in 2008.
In 1975 she met the love of her life, Norris Herbert Blockhus, and they were married on May 28, 1977 at the Good Shepard Church in Salinas, California.  They lived in Monterey County, California until moving to Thayne, Wyoming in 2008.
Lonnie was an avid reader and artist who loved everyone she came in contact with.  She had an innate ability to talk and make friends with people everywhere she went.
Lonnie is survived by her husband of 46 years, Norris Herbert Blockhus; her sisters Tanzy Ann Gammon and Karen Louise Brux; her daughters Marlena Marie Montaney and Karen Ann Riley-Olms; her grandchildren Alexander, Jessica, Ethan, Rachel, and Allison.
She lived an extraordinary life filled with laughter and love and will be forever remembered.  A Celebration of Life is to take place in Monterey California at a later date.

Thomas Deming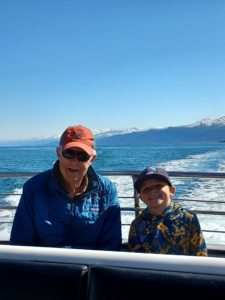 Thomas Edwin Deming, 79, of Alpine, Wyoming passed away on Wednesday, October 4, 2023 after a long battle with cancer.  He was born to his parents, Renaud Deming and Emily Hine-Deming in Middletown, Connecticut on May 30, 1944. He attended Daniel Hand High School in Madison, Connecticut.  Thereafter, he found his true passion and his life-long career, as a heavy equipment operator for 58 years. He devoted most of his life to this career, meeting many close friends and colleagues along the way. He was what many people would call "The Salt of the Earth." Along with his career, he enjoyed projects around the house, most of all keeping his yard immaculate. Mowing and raking the yard was not a chore to him, but rather something he looked forward too. He was also a passionate sports enthusiast and a faithful fan of the New York Yankees, New England Patriots, and the New York Knicks. But above all, he was a devoted husband, father, and grandfather. His love for his family was pure and unconditional. He found happiness in attending his grandchildren's soccer games, band concerts, school plays, and so on. He held his family and friends close to his heart and continued to inspire and impact the people around him till the end. He was known by many as "Pops" and by his beautiful grandchildren as "Poppy." He was a quiet man with a big presence and is going to be missed by many.
Thomas E. Deming is predeceased by his parents, Renaud Deming and Emily Hine-Deming, his two sisters; Carolyn Patterson and Linda Moore, and his brother; Robert Wininger.  He is survived by his wife; Cheryl Deming, his two children; Taryn Elizabeth Pelletier and Thomas Michael Deming, his daughter-in-law; Trista Deming, his three grandchildren; Colton Ryan Pelletier, Rylie Margaret Deming, and Tieg Michael Deming. He is also survived by two sisters; Ginger McGuire and Renee Johnson, his brother; Jack Deming, and many special nieces, nephews, and friends.
Family, friends, and co-workers will have the opportunity to gather at a "Celebration of Life" in the upcoming weeks. In lieu of flowers, we respectfully ask that you consider a charitable donation to the Cancer Survivorship Program at St. John's Health in his honor.
Daniel Nielsen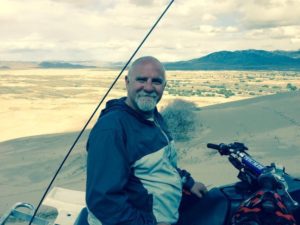 Daniel Keith Nielsen (Danny) age 52 of Colorado passed away Friday, July 14, 2023 in St. Anthony, Idaho.
Being the youngest of four children, Danny was born April 25, 1971 in Aurora, Colorado and moved to Afton, Wyoming at the age of three. Later in life he moved to Golden Colorado and started his business as a handyman.
Daniel was a loving son, father, grandfather and friend. He was an avid dirt bike and four wheeler lover. He always included his friends and family on his adventures to the sand dunes or a trip into the mountains.
Daniel is survived by his three children, son Jesse Nielsen, daughters LaRae Nielsen and Jayson Gernhart, eight grandchildren, mother Patricia Brown, and his three older siblings brother David Nielsen and two sisters Rhonda Long and husband Mike Long and Becky Nield and husband Ryck Nield.
As per Daniels request, a memorial service will not be held. A celebration of life will be held on a later date.
Trudy Williams
Funeral Services for Trudy L. Williams will be held on Friday, October 13, 2023 at 3 p.m. in the Afton Tabernacle.
A viewing will be held prior to the service, from 12:30 – 2:45 p.m. at the church.

Reva Beyeler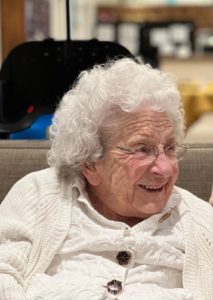 Reva Mae Swenson Beyeler, 102, of Ucon, Idaho, died peacefully on 1 October 2023, after a two-year stay at Sage Grove Assisted Living Center. As a family, we extend heartfelt thanks to the staff for the capable and attentive care she received there.
Reva was born on 8 February 1921 in Afton, Wyoming to James and Minnie Cazier Swenson. Reva was the tenth of twelve children, outliving all her siblings. Her beloved father, James, was a farmer and served in a bishopric. He died of cancer when she was a teenager. Her exemplary mother, Minnie, served as Relief Society President for twenty years and taught her large family to love each other, do their part, and work hard together.
Reva attended grades 1-6 at Osmond Elementary School in Osmond, Wyoming. Later she went by bus to Afton, Wyoming where she attended 7th and 8th grades and high school. She loved learning and received high marks. She was among the top three students to graduate high school and was also one of the main speakers at her seminary graduation.
In her final year of high school, Reva met Maxwell Frederick Beyeler from Fairview, a town close to Osmond. They married after her graduation on 8 June 1939 in the Logan, Utah temple. Together, they raised eight children: Kerry (Brenda) Beyeler of Brookings, Oregon; Sharon (Kent) Frederickson (Dennis Harris, deceased) of Ucon, Idaho; Merrill (Sharal) Beyeler of Leadore, Idaho; Diane (Robert) Benzley of St. George, Utah; Ellen (Kal) Parmer of Layton, Utah; Blake (Alaina) Beyeler of Twisp, Oregon; Sundy (George) Watanabe of North Salt Lake, Utah; and Rebecca (Joe) Hyde of Pocatello, Idaho. Reva is blessed with 230 decedents as her posterity!
In 1952, Reva and Max moved from Star Valley to Southeastern Idaho (Roberts, Menan), and then settled on a cattle ranch in Leadore, Idaho in 1959. Reva worked for seventeen years as the school lunch supervisor at Leadore School and became known, as one student put it, "the best cook I ever knew!" All food was homemade and included bread, rolls, doughnuts, chili, and even a roasted turkey with trimmings for Thanksgiving. Reva also worked as Leadore's post mistress for seventeen years, being awarded the position after earning the highest grade on the civil service exam. Chanel 3 TV awarded her "The Great Idaho Family Award" in recognition of her outstanding contributions to the community. Under her direction, Reva's family regularly cleaned the local church house, mowed its lawn, and painted its white picket fence.
A lifelong faithful member of The Church of Jesus Christ of Latter-day Saints, Reva enthusiastically served in many callings: Explorer Leader, Jr. Sunday School Coordinator, Sunday School Instructor, Primary Teacher, Primary Counselor, and MIA President. In the 1980s, she and Max retired to Rigby, Idaho, where they lived and served as ward mission leaders. Reva loved worshipping in the temple and also served a five-year Genealogical Mission. Along with helping many others, she produced prodigious volumes of her own family's history.
Her most outstanding calling was Mother. Her children call her blessed and dear, "as near perfection as one can be in this life." Her unconditional love supported and encouraged each one individually and collectively. She lived believing "you can always find time to be happy," and every day she taught, "Heavenly Father expects us to look for blessings because he has given us so much!"
Visitation is Sunday evening, October 8, 2023 from 6:00 p.m. to 7:30 p.m. at Eckersell Memorial Chapel at 101 W. Main Street Rigby. Funeral services will be Monday, October 9, 2023 at 11:00 a.m. at the Ucon Stake Center (2967 E 105th N Idaho Falls ID 83454). Family and friends are welcome to meet between 9:30 a.m. and 10:45 a.m. prior to the service. Interment will follow the service at Annis Little Butte Cemetery.
Reva is under the care of Eckersell Funeral Home. Condolences may be sent to the family at eckersellfuneralhome.com.
Nick Henderson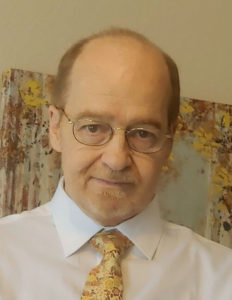 Nick Henderson was born on April 20th in 1957, over 66 years ago, and passed away September 17, 2023, after a cowboy's fight against cancer of the neck. To his father and mother, LeVon and Leath Moser Henderson, he was a delight and another helpful hand on the family farm in Osmond, Wyoming. He was the sixth of what turned out to be their eight children.
Nick grew to be 6 feet tall and had chestnut hair and eyes. His wife says he was incredibly handsome. His father complimented his long arms that could reach things and quickly do a little more with longer leverage. He was indeed strong. Like his father, Nick loved horses, especially his favorite saddlehorse, Onyx. He could also manage a team, as his family used draft horses to farm until the late 1970's.
Nick had a talent for singing and sought out chorus at Star Valley Junior High from Mr. Jenkins and Star Valley High School from Mr. Tippets. Nick was athletic and gifted at basketball (long arms), keeping his even temperament when deliberately fouled. He showed more independent uniqueness with a drive to learn the French language from Mr. Lewis's classes.  He could sail through other harder classes too, like chemistry and trigonometry, with straight A's while others had to work hard just to pass. He attended Brigham Young University.  Then a mission call arrived and, to his own delight, took him overseas to Paris, France.  He became fluent in the French language. It was said the people in France could not detect that Nick was a native English speaker.  One of the latest bursts of enthusiasm in Nick's recent physical depletion was responding to an inquiry about the different message of a French hymn and he quickly translated all three verses into English.
Like all their father's sons, Nick did not find farming quite attractive enough. But his youthful eye was on the trucks of his dad's other occupation, that of a truck driver for Robert's Market in Afton. To him these trucks had a power train better than driving the farm's workhorse teams, to govern the beckoning road and still find a way home.
When he returned from his LDS mission in Paris, France in the fall of 1978, he reported his mission to the LDS high council. There he saw Ludean Schwab at the Star Valley Stake Center. Ludean was on crutches after a near fatal motorcycle crash where her foot was terribly damaged. Nick and Ludean had been high school friends and in chorus together. That Christmas he gave her real perfume from France. Who could resist a French speaking Wyoming boy dressed in Wranglers, boots, and a pearl-snapped western shirt? They both went to BYU for the 1979 winter semester and a romance developed.  Ludean was still on crutches and wore a heavy plaster cast on her foot.  Nick helped her navigate the large campus and, Ludean recalls, he was a true gentleman.
The couple married in August of 1979 in the Salt Lake LDS Temple. Nick worked at the Star Studs Sawmill and their first home was in a small apartment above the Afton Post Office. Nick landed his first truck driving job with Stewart Sandwiches based out of Rock Springs, Wyoming. He delivered frozen sandwiches to the remote coal and trona mines, and fast-food stores during the oil boom. In Rock Springs he also drove for UPS, hauled freight, and did other oilfield related trucking. There they had their two children: Robert LeVon Henderson in 1981 and Joni Marie Henderson in 1982.
Ludean's left foot had to be amputated in 1987 due to injuries sustained 10 years earlier. Nick determined it best to move from Rock Springs to Star Valley and be closer to family. Nick continued as a truck driver and helped his father on the farm. This time his driving career included a charter bus to Jackson Hole, and hauling freight, logs, and wood chips. Later they moved to Logan, Utah for Ludean to complete her degree in special education at Utah State University, with Nick driving for Miller Beef. After Ludean started teaching in Lyman, Wyoming, Nick transported liquid nitrogen and later owned his own Western Star semi and delivered water to the oil fields.
After their divorce in 1993 with Ludean teaching in Evanston, Wyoming, Nick drove over the road long-haul for C & T Trucking in Etna, Wyoming where he crisscrossed the United States for nine years, hauling everything imaginable from potatoes, cattle, hazardous materials, gravel, honeybees, even burial vaults.
The couple remarried in 2003, and along with their adult children, Rob and Joni, moved to Eugene, Oregon for Ludean's career where Heather Campbell and Jacob Wintch joined the family. Nick hauled containers filled with grass seed from the Willamette Valley farms to the seaports in Seattle and Tacoma for shipment around the world.
Nick served as an LDS Ward Clerk in Eugene and Brownsville, Oregon for 8 years, and sang bass in the ward and stake choirs. Nick loved and recited cowboy poetry. He liked figuring out how to repair things and doing woodworking. He enjoyed the forest and wildlife, Dry Creek Canyon, snowmobiles, ATVs, guns and ammo, four-wheel-drive trucks, and his yellow jeep, but particularly he loved his 17 grandchildren who affectionately called him Bonka (even when he was a big tease). Before they came along, it was especially his nieces and nephews that were regularly drawn to him; sometimes he would take one with him on the truck. During Nick's truck driving career, he logged over two million miles. That equals circling the Earth 80 times! One of Nick's career highlights was transporting massive granite boulders out of the Little Cottonwood Canyon quarries near Salt Lake City, eventually to be masoned and used in the construction of the LDS Conference Center.
The couple moved to Twin Falls, Idaho in 2016 where Ludean was employed as a Director of Special Education for the Cassia and Kimberly School Districts and Nick retired because of health reasons. He had significant health problems for much of his adult life including Sarcoidosis, resultant severe kidney damage, which led to renal disease for 23 years. In the last 4 years he had 2 heart attacks, COVID twice, cancer of the neck that included radiation and neck dissection surgery; then the cancer metastasized to the outer dermis. In all his suffering, Nick endured with patience and faith. His wife and daughter were with him as he took his last breath.
Nick Henderson is survived by his wife Ludean Schwab Henderson of Twin Falls, Idaho; son Robert LeVon Henderson (Heather) of Saint George, Utah; daughter Joni Marie Henderson Wintch (Jacob) Bremerton, Washington; 17 grandchildren: Hallie, Jaxon, Autzen, Zoe, Campbell, Livvy, Maverik, and Indie (Henderson); and Deacon, Carson, Sophie, Kessler, Kasper, Oliver, Beck, Clara, and Ruby (Wintch); and all 7 of his siblings:  Dixie Lee Partridge, Anita Tanner, Kelly Henderson, Curtis Henderson, Philip Henderson, Jade Henderson, Jeris Shira.  He is preceded in death by their parents LeVon and Leath Henderson.
The funeral was in the Smoot-Osmond-Cottonwood wards building on September 25, 2023, with a Schwab Mortuary horse-drawn hearse to burial in the Afton Cemetery. The family wishes to express their appreciation to family, friends, doctors and Hospice Visions for rendering support and kindness during Nick's illness.
Let us know what you think!
Tagged:
Daniel Nielsen
Lonnie Blockhus
Nick Henderson
Reva Beyeler
Star Valley Obituaries
Thomas Deming
Trudy Williams
Wyoming obituaries