Independent Obituaries: October 4, 2023
The following obituaries appeared in the October 4, 2023 edition of the Star Valley Independent.
For more area obituaries, please visit Schwab Mortuary.
For more resources including headstones, please visit the Star Valley Historical Society.

Paul Jensen
Colonel James Paul Jensen, DVM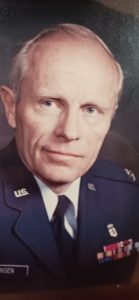 James Paul Jensen, 90, resident of Thayne, Wyoming, passed away peacefully at home along the Salt River, on the afternoon of Saturday, September 23, 2023.
Paul was born in Alamosa, Colorado, to Sara Jackson and James Stevens Jensen on January 4, 1933.  He was joined by his younger brother, Sam, three years later.  His childhood years were spent in the San Luis Valley, in the towns of Sanford and Manassa, Colorado.  At about the age of 8 years, Paul, Sam, and their mother moved to Denver, Colorado, where the boys thrived in school and sports, and also assisted with the family finances by taking on paper routes for the Denver Post.  Paul then attended Colorado A & M University (now Colorado State University), where he was on the golf and gymnastics teams.  His educational pursuits led to a Doctor of Veterinary Medicine degree.  In addition, he later received a Master of Public Health degree from the University of Michigan.
During his college years, Paul met his eternal companion, Carlie Young Cromar, at a church dance, eventually being married in the Salt Lake Temple on July 1, 1955.  A year of private veterinary practice in Lander, Wyoming, was followed by a 30-year career in the U.S. Air Force, during which he rose to the rank of colonel.  During his Air Force career, the family lived in Montana, Nebraska, England, Michigan, Pennsylvania, South Carolina, Virginia, Texas, Japan, Alabama, Germany, Colorado, and California. After retiring from the Air Force and moving to Salt Lake City, Paul worked for Hills Science Diet pet food company, followed by a third career working for The Church of Jesus Christ of Latter-day Saints as Director of Military Relations.  After finally retiring from the Church, Paul and Carlie moved to beautiful Thayne, Wyoming.
Paul and Carlie raised six daughters and four sons. Family unity and family activities were of utmost importance to Paul and Carlie. Although the children were taught to be studious and industrious, camping, boating, skiing, sports, and other family activities filled any remaining space on the calendar. Each of the children eventually married and raised families of their own, leading to 67 grandchildren and a growing number of great-grandchildren for Paul and Carlie.
Paul was an exceptional athlete.  He won numerous tournaments in golf, handball, and racquetball.  He was also a masterful water skier and downhill skier.  On the ski slopes, he was known for his skill in telemark skiing, one of the most difficult and strenuous styles of skiing.  Paul and Carlie maintained their season ski passes until just a couple of years ago.
Paul was a lifelong member of The Church of Jesus Christ of Latter-day Saints.  After struggling a little during his teen years, he was encouraged by his Uncle Gaylen to get back with the program, which he did.  He had many opportunities to serve in the Church, including three times as a bishop, district president, counselor in a stake presidency, and regional representative for the Twelve.  The Church was always of great importance to Paul, and he frequently bore his testimony of Jesus Christ and the Gospel.
Being a career military officer, Paul also had an abiding love for his country.  He constantly worked to make the nation better and safer.  Preservation of freedom and liberty were of vital concern to him.
Paul was preceded in death by his parents and a number of aunts and uncles, some of whom contributed significantly toto his upbringing, as well as sister-in-law Vedana Jensen, and brothers-in-law Kay, Don, Dale, and Ross Cromar.  He was also preceded in death by half-sister Jackie Walden and an infant grandson Teancum Paul Jensen.
Paul is survived by Carlie, his loving wife of 68 years.  He is also survived by his brother, Sam, as well as half-siblings Julie Phillips, Jana Smith, and Robert Hazen.  His children and their spouses include Jeri (and David) Tobler, Lauri (and Robert) Argyle, Steven (and Lilian) Jensen, Keith (and Shelley) Jensen, Joni (and Kenneth) Justice, David (and Yuliet) Jensen, Sherri (and Reed) Winterton, Karen (and Kirk) Strong, Kenneth (and Michelle) Jensen, and Rachel (and Rick) Jensen. Remaining in-laws include Linda Cromar, Penny Cromar, Hevia Cromar, Bruce and Helga Cromar, Glen and Alene Cromar, and Joy Cromar, as well as daughter-in-law Debbie Hartvigsen.  Sixty-seven grandchildren and a growing number of great-grandchildren are also among the posterity of Paul and Carlie.  Paul was always proud of his posterity, and family was his top priority, along with his love of God.
The funeral services for James Paul Jensen will be held Saturday, October 7, 2023, at the Thayne Stake Center, 276 Dana Street, Thayne, Wyoming.  The viewing will take place from 11:00 AM to 12:45 PM, followed by the funeral service at 1:00 PM. Interment will be at the Thayne Cemetery.
Brenda Breinholt
Graveside Services for Brenda Breinholt will be held on Saturday, October 7, 2023 at 1:00 pm in the Freedom Cemetery.

Leo  Putnam
Funeral Services for Leo Putnam will be held on Friday, October 6, 2023 at 12 Noon in the Afton Tabernacle.
A viewing will be held prior to the service from 9 – 11:45am.

Deon Heiner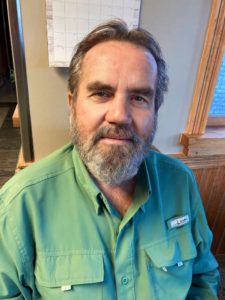 This is a tribute to our beloved husband, father, and grandfather, Deon F. Heiner.  Our hearts are filled with relief that Deon is free from the pain and complications that arose from being sick for almost a year after receiving a diagnosis of aplastic anemia in October of 2022.
Our hearts are also filled with sorrow for how much he will be missed by us.  His laughter and his echo of, "You won't believe what happened to me today!" made our life with him so special as he often left us laughing and inspired us to do better.
Deon was born to Glenn and Maxine Heiner, on August 25,1957.  He was the fifth child of 11.  His brothers are Daniel, Quinn, Evan, Todd, and Stacey.  His sisters are Irene Mills, deceased, Rosann DeMill, Diana Flud, Tracy Wolfley, and Tina Clark. Over the years he has expressed many fond memories of being raised in such a large family.  He grew up on a farm in Bedford, Wyoming., and those skills he learned helped shape the hard worker he was throughout his life. He passed on the talents and gifts he learned in his youth to his family through his example of how to accomplish what you want in life.
Deon served a proselyting mission to Alberta, Canada, for The Church of Jesus Christ of Latter-day Saints, and was influential in baptizing 65 people, including Cheryl, who he married for all time and eternity in the Logan Temple in May of 1979.  Deon has five children:  Jeremy, the eldest son, twins Holly and Heather, and twins Tyson and Tara. Their marriages have blessed Deon and Cheryl with 13 wonderful grandchildren.  One grandchild is deceased, but with the blessing of temples and the sealing power, we know he is celestial and ours forever.
Deon knew from a young age what interested him most.  He wanted to design and build homes.  After his mission and marriage, he bought a construction company and started working to make a name and reputation as an excellent builder.  He became a successful businessman, and many buildings and homes he designed and built around Jackson Hole and Star Valley will continue to stand as a tribute to his craft and skill.  He fulfilled one of his life-long dreams and built his own castle where the memories and skills he taught his five children and wife are in every brick, piece of granite, and copper.  His spirit is in every tree he planted as he tried to preserve land from his parents that came from their parents—land that originated from some of the first settlers in Star Valley.
Deon was an avid hunter, and archery hunting was his favorite.  He has been on archery hunting trips near and far.  His hunting trips with his two boys were a highlight for him.  He became a collector of mule deer trophy heads, and these are a legacy we hold close to our family as he took much pride in preserving these trophy antlers, some of which date back to the early 1900's.  Deon had some crazy hunting adventures, and we loved listening to his stories.  He was the world's best storyteller, and he made us laugh, but would also teach us life lessons in every story he told. As his disease progressed, he still made time to tell us a good story.  He helped many people over the course of his life, and many have called to express their love for him.
On August 16, 2023, at the Eastern Idaho Regional Medical Center, Deon was being transported to a helicopter for a flight to the LDS hospital in Salt Lake City, and as he was being loaded into the helicopter his phone rang.  It was a friend he had built a house for over by Jackson Hole, Wyoming.  This friend was checking up on him to see how he was doing.  Deon told him he couldn't talk right now and that he was going for a helicopter ride.  This friend of course had no idea it was a life flight to another hospital.  Many of Deon's friends and coworkers who called after hearing of his passing did not know he was so sick as he suffered a lot in silence. Because of his optimism about his disease, his doctors were amazed he was able to function so well and for so long.
After a valiant fight with his aplastic anemia, on August 17, 2023, Deon passed away from a brain hemorrhage secondary to low platelets in the LDS Hospital in Salt Lake City, Utah. Being with Deon at the end of his mortal life, along with his five children, is a treasured memory.
We cannot put into words how much we love him and miss him and are eternally grateful for all he taught us and did for us.  Our peace and comfort has come from beyond this world to the promised joy of eternal families, where covenants made and kept here, are bound in heaven.
We embrace our covenants during our earthly mission, and endeavor to live a life worthy of having our family completely and eternally together with Deon in the coming day.
We express our gratitude to everyone who has provided cards, meals, phone calls, prayers, and acts of love for and on behalf of our family during our grieving process.
Let us know what you think!
Tagged:
Brenda Breinholt
Deon Heiner
Leo Putnam
Paul Jensen
Star Valley Wyoming obituaries
Wyoming obituaries