Investigators look into possible poaching near Alta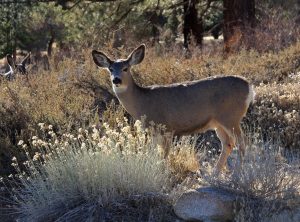 JACKSON (WNE) — Investigators are looking into a possible poaching incident after someone found a deer without its head wrapped in black plastic along Ski Hill Road in Alta.
Jackson Game Warden Kyle Lash responded Dec. 16 and performed a necropsy on the mule deer, but it was too decomposed to take any samples for disease testing, public information specialist Mark Gocke said.
"It had already been there for a few weeks," Gocke said. "It was very bloated and smelly, and so there wasn't a whole lot to go on."
Lash didn't find any bullet holes during the examination, Gocke said, but the animal's entire head was missing.
Gocke said there's a chance the animal could have died naturally on someone's private property, and they decided to keep the head and dispose of the carcass elsewhere.
"In Idaho I guess it is legal to keep a deer head if it dies on your property," Gocke said. "In Wyoming it is not; at least you would have to contact the game warden first to investigate it wasn't a poaching. When we determine it isn't, we might let a person keep a head if they wanted to."
But the plastic wrapping is somewhat unusual, Gocke said.
"People dispose of animals all the time, but it's better to let it decompose on its own," he said.
The proper way to dispose of an animal that has died on your property is by taking it to the landfill, Gocke said, without the plastic.
"That's littering," he said.

Tagged:
Alta Wyoming
Jackson Game Warden Kyle Lash
Ski Hill Road
Wyoming Game & Fish