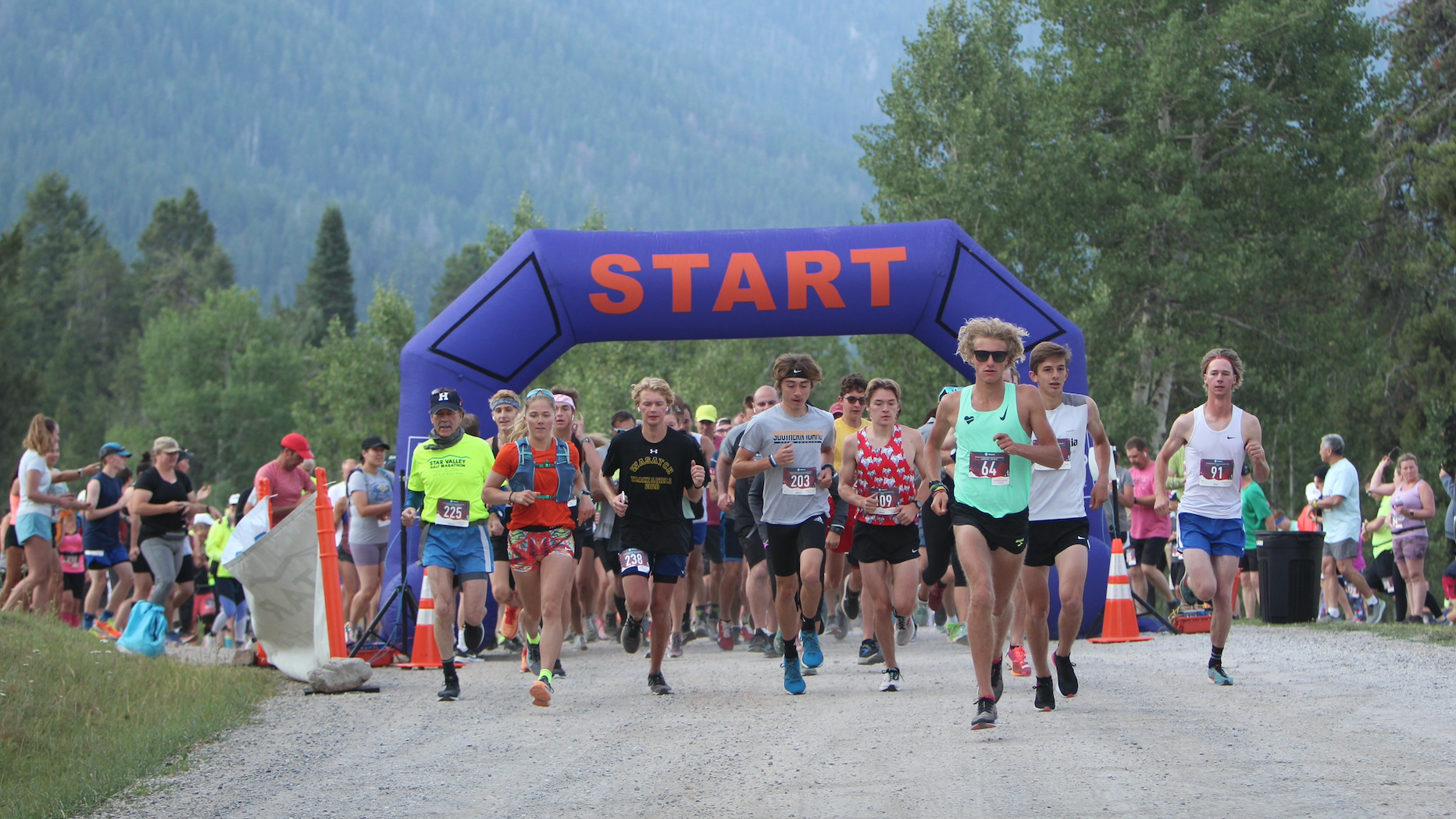 ◆ 10th anniversary of Star Valley Half Marathon reminds runners of 'the good things'
A thing regarded as a worthy representative symbol. That, according to Oxford Languages, is what defines an icon.
Perhaps the marker at mile 12 of the Star Valley Half Marathon has become just that – an icon — for the several thousand who have paced the course from Bridger-Teton National Forest to Thayne Elementary in the last 10 years.
Last Saturday, more than 260 runners in the tenth anniversary of the Star Valley Half Marathon once again ran, walked or limped past marker 12 – a photo of Jeremy Kunz standing on a mountain peak with his fist raised in the air.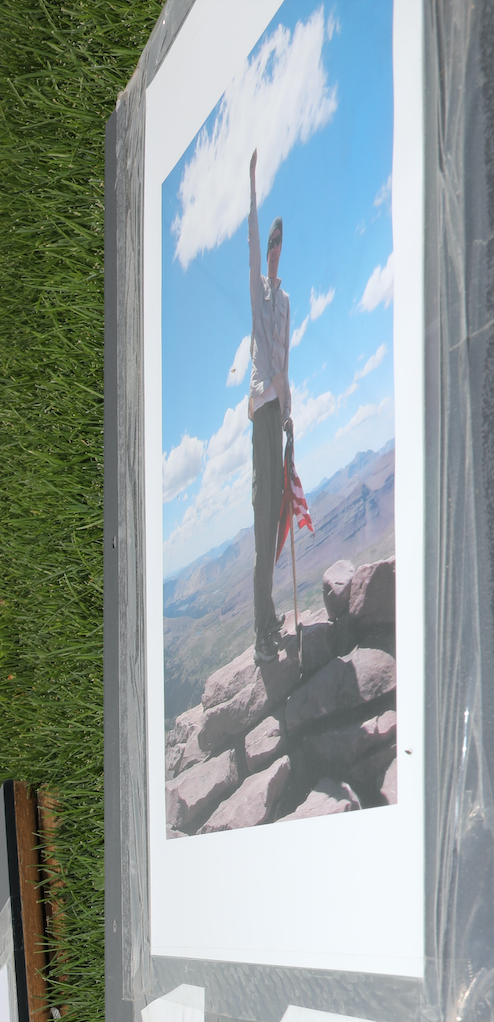 Or "Jeremy's hand raised in triumph," as his wife, Melinda, put it.
However you describe it, running the Star Valley Half Marathon is a journey through the life of a man who relished time with family, time with his wife and kids, time with friends – time cut short at age 33 – but whose legacy just seems to grow.
And the Kunz family grows right along.
"They've pretty much grown up doing this race," Melinda Lee, who has remarried, said of her children, Brinci, Tobias and Gage, who were 7, 5 and 2 when their father was killed at the 2009 Las Vegas Ragnar Relay by a drunk driver. Now 19, 17 and 14, each has run their dad's race at least once.
"They think it's really awesome. I ran with each of them every one they ran," Lee told SVI Media on Saturday, July 10, two days before what would have been her husband's 45th birthday.
Standing near the finish line cleaning up on yet another race, Lee reminisced over a decade of memories.
"They loved looking at the mile markers," she said of her children. "It always starts conversations about memories they have with their dad or memories of the picture, things that maybe they hadn't heard before or had forgotten."
"It seems like every year they get a little older. They give more help and they just get stuff done. It's amazing to watch what they're doing."
And Lee, whose husband, Matt, also helps each year now at the races, wasn't just talking of her children, but also of all the Kunz family. What began as a small race in 2011 run by Jeremy's parents, Bart and Denice Kunz, "Min," and Jeremy's siblings and spouses, Katie (Nate) Rockwell; Breanne (Cameron) Neff; Emily (Dan) Rose; and Chandra (Chris) Parry, is now an annual event in this "star of all valleys" with Kunz grandchildren half running the show. Even the youngest in diapers helps pop and throw away the balloons decorating the finish line.
And this year, especially, the young ones pitched in to help in the absence of Denice and Bart, who are on a mission in Germany for The Church of Jesus Christ of Latter-day Saints. In a statement to SVI Media, Denice wrote that watching via technology from afar gave a "different perspective" on the race.
"I was just so proud of them all as they enjoyed gathering together. It made me wonder if Jeremy has the same perspective, and I'm sure he is just as proud of his family."
As to the tenth anniversary, Kunz said she never thought it'd be any less. "I don't remember thinking about any number of years that we would do it [when it began in 2011]. I just thought we would always do it!
"I'm so grateful for our SVHM family of runners and walkers who share this day with us, now 10 years."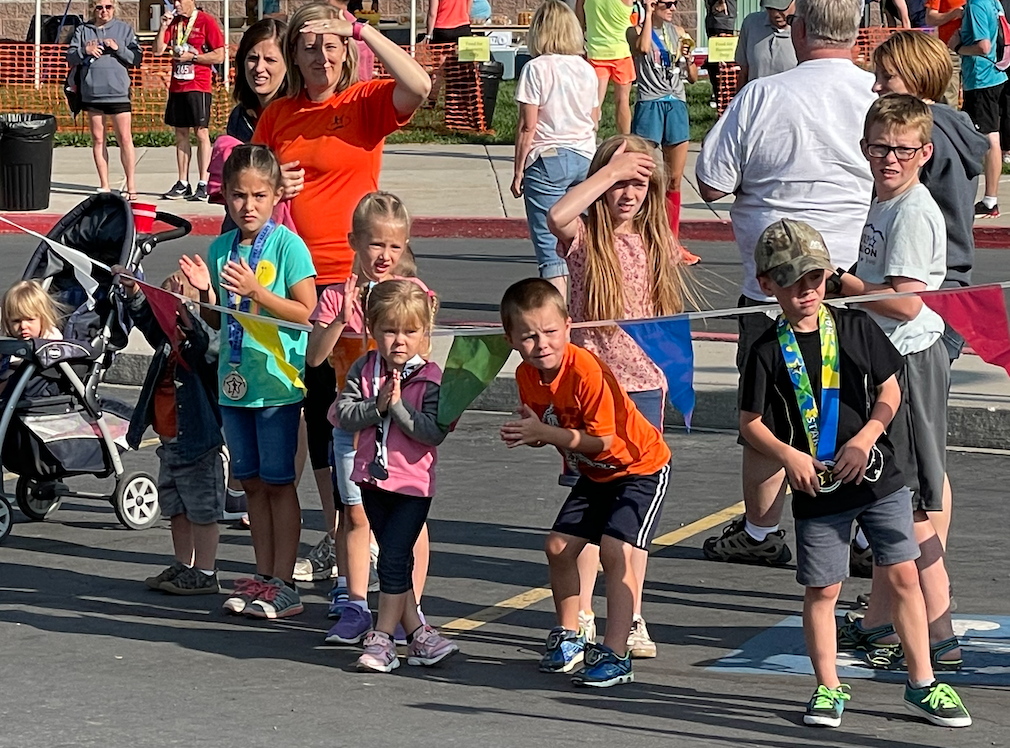 And what a family of runners – from coast to coast. Mark Edwards of Florida, at packet pickup, told SVI he has a goal of 50 half marathons in 50 states. "I'm on number 38 [in Star Valley]," he said.
Why Star Valley? "It's a point-to-point course, which is one of my favorite kinds of courses. The other thing is I look for are races that are kind of smaller and organized by residents. So it appeared on my radar."
For Beverly Christensen of Montpelier, Idaho, running in her eighth Star Valley Half Marathon is partially because "I just love the message of the whole race — family and giving and togetherness. This race brings people together."
But her favorite memory, she added, laughing, was "beating my little sister who is 13 years younger than me by 30 minutes."
On this warm, smoky day – from wildfires in California – runners and walkers crossed the finish line for hours. Breaking the tape at 1:13:20 was Peter Visser, 18, of Thayne. Karlee Wilkes, 35, of Afton, paced all women runners at 1:30:34.
As to future races? Count on it. If there is a Kunz family motto, it would probably be "carry on."
"We just keep carrying on no matter what happened," Melinda Lee said. "You pick yourselves up and welcome the good things."
For all race results from Vector Timing, see https://www.athlinks.com/event/349291/results/Event/957076/Results.