Kemmerer youth found safe in Evanston area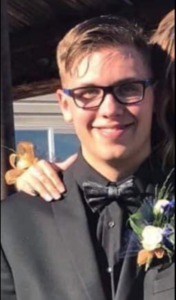 According to Kemmerer Police Chief Mike Kahre, Thomas Archibald has been located in the Evanston area and is safe and en route back to Kemmerer.
*** Original Story***
The Kemmerer Police Department and the Lincoln County Sheriff's Office are seeking information on a missing boy. Thomas Archibald of Kemmerer was reportedly last seen in the Town of Kemmerer at approximately 1 a.m. the morning of Wednesday July 25. He had reportedly mentioned plans to travel to the Salt Lake City area.
Thomas is 17 years old and is described as 6-feet tall and weighing approximately 200 pounds. He was seen with a black backpack and a brown t-shirt with stick figures on it.
"We want Thomas to understand that he is not in any trouble," said Kemmerer Police Chief Mike Kahre. "We just want to know that he is safe and to get him in a safe place. If he is uncomfortable calling home then he can call the Kemmerer Police Department."
Kahre also stated that anyone with information on the whereabouts of Thomas Archibald please contact the Lincoln County Sheriff's Office at 307-877-3971 and that callers may remain anonymous if they choose.
This story will be updated as information becomes available.

Let us know what you think!
Tagged:
Kemmerer Police Department
Lincoln County Sheriff's Office
Mike Kahre