Kemmerer Rangers Sports Report: February 4, 2019
By Jim Thoeny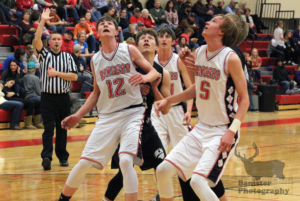 The Kemmerer Rangers boys and girls basketball teams had a rough time against class 3A Mountain
View in their lone games over the weekend. The Kemmerer boys were down by just six points after a
quarter. Tbe Buffalose outscored the Rangers 22-10 in the second quarter as the pulled away to a 65 to
37 win. The Rangers have now won just once in 18 games.
The Lady Rangers dropped to a record of 4 and 14 after being routeed by Mountain View. The Lady Buffaloes led by 13 points after a quarter as they pulled away to a 78 to 41 win. Sophomore Maddy Gregory and freshman Olivian Nielson each scored 11 points in the game.
The Rangers and Lady Rangers are right back at it tomorrow when they travel to Big Piney. The
Kemmerer boys swim team finished sixth and last at the class 3A west conference swim meet at
Riverton over the weekend. They ended up just six and a half points behind fifth place Lyman. Lander,
who have dominated boys swimming for the past two decades, won the meet. The Rangers best
individual finish was turned in by Ben Wergin who took third in the 50 freestyle. Aiden Runnion was
fourth in both the 200 individual medley and the 100 breaststroke. Kemmerer was also fourth in the
200 freestyle relay.
No results were available from the Bridgerland Invitational wrestling meet that Kemmerer took part in on Friday. Kemmerer wrestlers host Lyman on Tuesday.