Ladies find offense in upset of #4 Cody; rout of Riverton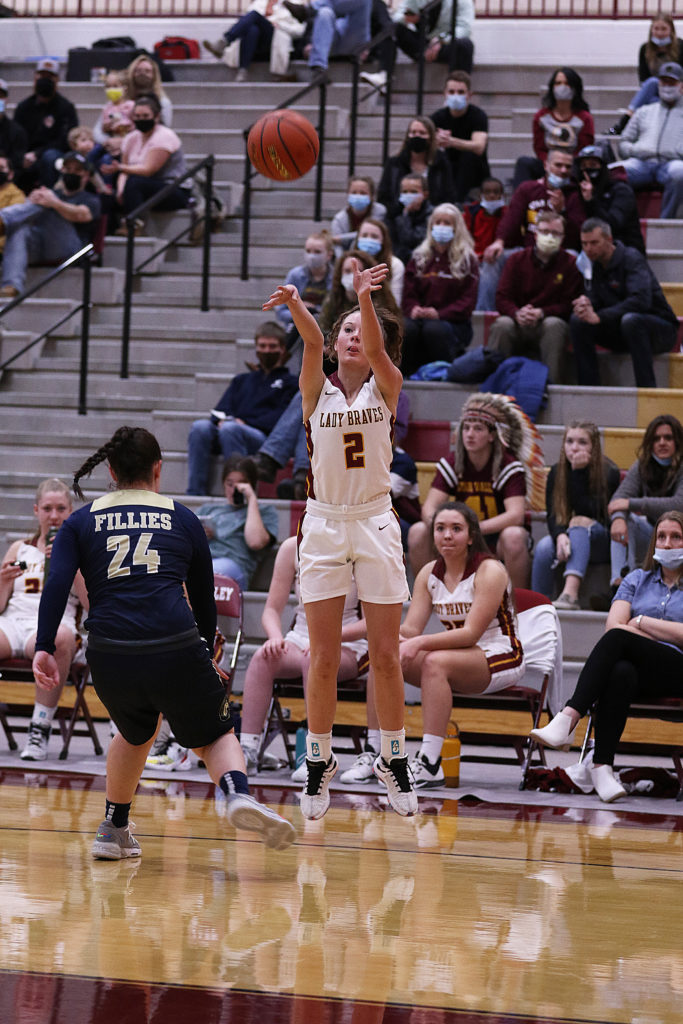 ◆ Challenges await on the road against the Fillies and Tigers.
Coming into this past weekend the Star Valley girls ranked near the bottom of the 4A Class in points scored and offensive efficiency. Friday night in particular looked like a steep challenge as the #4 Cody Fillies came into Afton with a (10-2) record and averaging nearly 50 points per game.
At the end of the night, the Braves had upset the Park County squad and looked good doing it.
Saturday proved it wasn't a fluke as Star Valley hit a season-high in points scored in a blowout of visiting Riverton.
"It's been kind of a rough first part of the season but we've played some tough teams and I think it's starting to pay off," said Head Coach Kade Erickson. "Our practices have been more disciplined and more focused so that's made a difference. I feel like if we play like we did against Cody we can play with anyone."
One element that stood out in both games was the ball movement and ball security on offense.
"Those were two things we worked on in what we call a 40-passing drill," Erickson added. "You have to try and get to 40 passes without dribbling. It takes moving the ball well and moving without the ball. It's paid off and the girls are recognizing that."

• Vs Cody
Addie Butler finished with 11 points and led the offensive effort in the first half. In the second half it was Amber Milne who carried the majority of the load as she scored 11 of her 14 points in the third and fourth quarters. In a tight, back-and-forth quarter, Milne and Brierly Battleson hit four consecutive free throws which ended up being the difference in the game.
McKenna Brog was the defensive stopper but also scored eight points and collected five steals.
• Vs Riverton
If fans wondered about what version of the team would come out against the Wolverines, they didn't have to wait long as the Braves put up 18 first-quarter points en route to the lopsided victory.
Everyone in uniform notched some form of box score statistic. Brog led the team in scoring with 14 points and also led the team in assists (6) and steals (5).
Emri Jenkins was a dead-eye from the field as she hit six of seven shots and finished with 12 points. Addie Butler added 11 points and eight rebounds.
•Challenging Road trip
This week the ladies will get on the bus and take on #2 Natrona (10-2) in Casper for a 5 p.m. tip-off. The squad will be in Rock Springs (2-10) on Saturday afternoon. The Fillies have put themselves in the top position the 4A West Conference. The Tigers have struggled with wins and losses this season but absolutely ran Star Valley out of their own gym last month; a game that should be remembered by the visiting Braves.
"I thought [the Rock Springs game] was a turning point for us," Erickson stated. "That was an ugly game and we did a lot of things we normally don't do. I'm hoping we can go out there and get even with them. I would love to go into Natrona and give them a dog fight. They are a little taller than Cody and they get up and down he court well. I think it will be a good fight. Green River just beat them so it will be an interesting match up to see where we're at."
• Coverage
Join the Aspen Physical Therapy Countdown to Tip-off on Friday at just at 4:30 p.m. The game on Saturday is scheduled for 2 p.m. with the APT pre-game show starting at just after 1:30 p.m. Video of the games will be carried at svinews.com with traditional radio also being carried on Swift 98.
Let us know what you think!
Tagged:
Addie Butler
Amber Milne
Brierly Battleson
Cody Fillies
Emri Jenkins
McKenna Brog
Natrona Fillies
Riverton Wolverines
Rock Springs Tigers
Star Valley Basketball