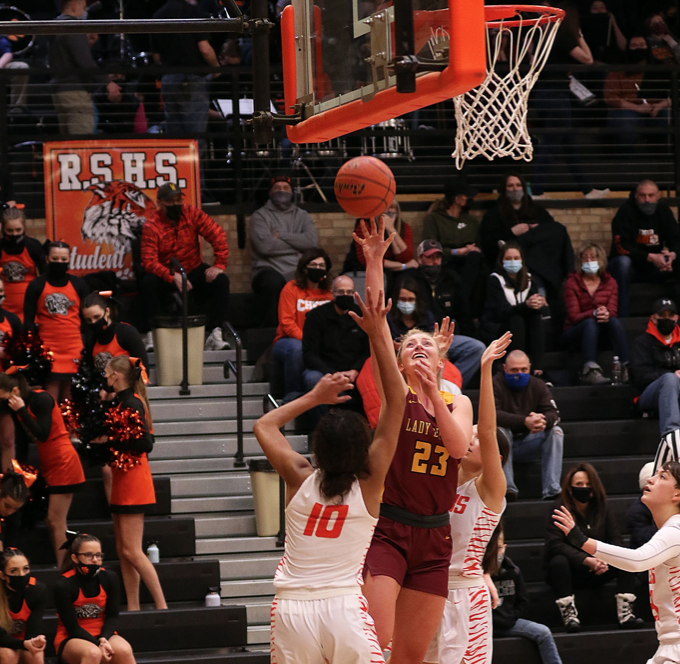 ◆ Second go-round in 4A Southwest play starts this week.
Faced with yet another highly-ranked opponent and a long road trip, the Star Valley girls continue to show they should be a team that will have to be reckoned with before the end of the season.
Star Valley took #3 Natrona to the final minute in a 47-41 loss in Casper, a venue the team has historically been routed. The game went down to the wire with terrific performances on both ends of the court. Addie Butler compiled a double-double of 14 points and 13 rebounds in the effort. Amber Milne started off the game hot with a trio of three-point baskets and finished with nine points. Cameron Erickson finished with eight points.
"I was so proud of them in the Natrona game," stated Head Coach Kade Erickson. "We pushed the #3 team and it was a lot of fun. We made a few errors that allowed them to pull it off but it could have gone either way for sure"
On Saturday the ladies skated past the Rock Springs Tigers 42-28 in a game that avenged a 22-point loss to the same squad a month ago. Star Valley took advantage of the Tigers being without leading scorer, Brenli Jenkins, and pulled away for the victory. Butler again hit double-figures with 13 points while Brierly Battleson scored ten points. Emma Thomson finished with eight points off the bench. Erickson collected eight rebounds and had three blocked shots.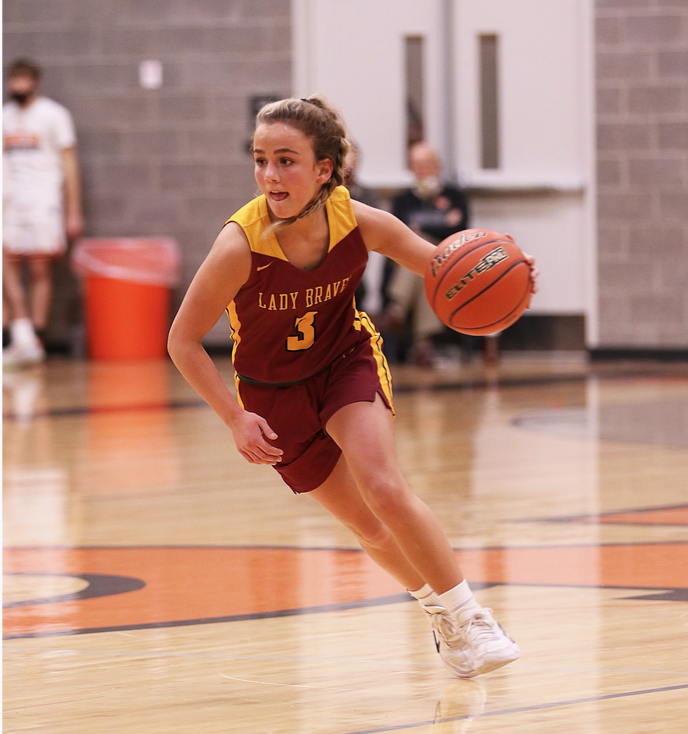 Up next is the final run through the 4A Southwest as the Jackson Lady Broncs come to town on Friday night for a 6 p.m. varsity start. The Braves pulled away for a 50-35 win in Jackson in their previous meeting.
Coach Erickson knows it will be a delicate balance of playing a struggling rival just before a road game with a Red Devils team that could be a preview of a post-season elimination clash.
"We can't look past Jackson but our main focus has to be on Evanston," he said. "It's a high probability that it could be the same match up at Regionals. Our defense and our offense is doing a lot better now. We're finding ways to score and getting into the 40's like we want. Now we need to fine-tune a few things to get over the hump."
Erickson also noted that his squad will have to find a way to deal with Stacia Barker who put up 17 points and 11 rebounds in Afton.
"Offensively we need to score but the next thing is we need to stop the Barker girl. She hurt us bad last time," he said. "I really like how Addie has stepped up lately and I know that if that's who we put on her she'll do a better job. We've got to make sure we pick her up as soon as we can and keep her from getting the 50/50 ball and putting back into the basket."
•Coverage
The Aspen Physical Therapy Countdown to Tip-off will begin at just after 5:30 on Friday night as Star Valley hosts Jackson. The watch link will be available at svinews.com and audio will be available on Swift 98 via traditional radio and on the SVI News App.
The varsity start for Saturday at Evanston is scheduled for 2 p.m. with pre-game coverage slated to begin at just after 1:30 p.m.
• Attendance
Recent health orders have been updated to allow for 500 fans at the games on Senior Night against Jackson. A count will be kept at the door.
Star Valley Braves: 41
Natrona Fillies: 47
Name Pts Reb Ast Stl Blk FT
Em. Thomson 4 2 0 1 1 0/2
Amber Milne 9 4 3 2 0 n/a
Bri. Battleson 0 1 2 0 0 0/2
McKenna Brog 2 6 4 4 0 0/2
McK. Frazier 0 1 0 0 0 n/a
Emri Jenkins 4 0 0 1 0 2/2
Addie Butler 14 13 2 1 0 3/7
Cam. Erickson 8 3 0 0 0 2/2
Totals 41 30 11 9 1 41%
Natrona 47 27 12 16 4 46%
Star Valley Braves: 42
Rock Springs Tigers: 28
Name Pts Reb Ast Stl Blk FT
Em. Thomson 8 3 2 4 0 n/a
Amber Milne 5 4 3 4 0 n/a
Bri. Battleson 10 1 2 1 0 5/7
McKenna Brog 0 6 3 2 1 n/a
McK. Frazer 0 1 0 0 0 n/a
Addie Butler 13 3 2 2 1 3/4
Cam. Erickson 6 8 0 0 3 0/1
Totals 42 26 12 13 5 66%
Rock Springs 28 17 5 10 2 50%
Let us know what you think!
Tagged:
Natrona Fillies
Rock Springs Tigers
Star Valley Basketball
Star Valley Lady Braves