Ladies impress at UVU Invite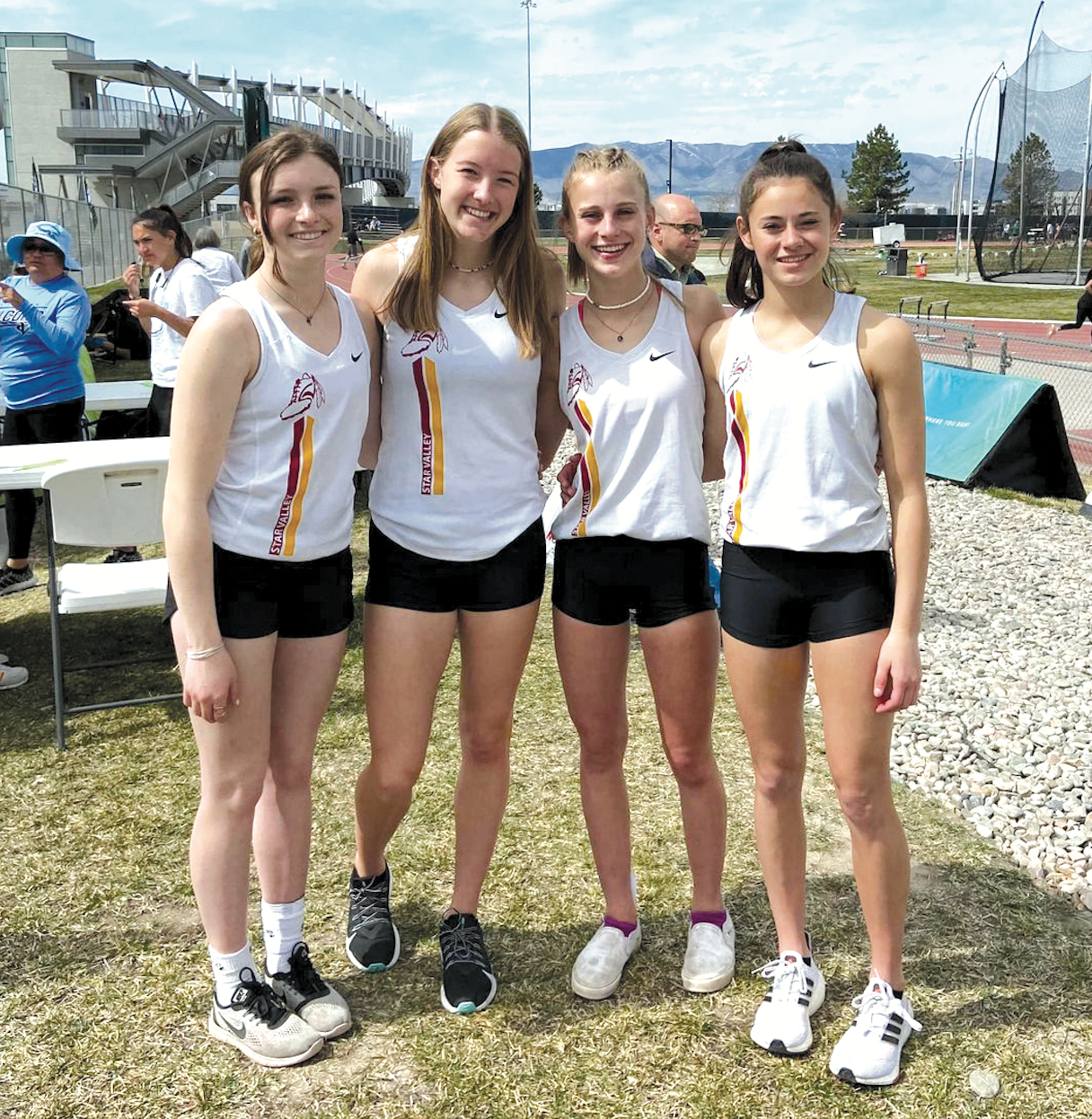 ◆ 4 x 100 Relay sets new school record.
Competing against some of the biggest schools in Utah with athletes from both 6A and 5A, the Star Valley tracksters had a big showing as the Lady Braves placed second as a team with 75 points and the Braves notched 34 points in the Utah Valley University Invite.
"It was a good weekend for us for sure," replied Head Coach Ty Draney. "I think the competition is compatible [with a State meet]. What you don't have is the depth that you'll have at State. You won't have as many athletes per team like you will with some of the big schools. But they were 6A and 5A in Utah. It was a great outing for us and great weather and we showed out really well."
The Lady Braves got a huge showing from their sprinters as senior Sara McKen won both the 100 and 200 Meter events and combined with Valerie Jirak, Sadie Hulse and Kammi Merritt to break a ten-year old school record in the 4 x 100 Meter Relay.
Jirak was second in the High Jump and third in the 100 Meter Dash.
Merritt was second in the 300 Meter Hurdles.

The Braves got a great effort from senior John Hunting, who placed in both the 800 and 1600 Meter events. The top placer was freshman Habtamu Wetzel who placed second in the 3200 Meter run.
"I think all of us are just trying to get to Spring Break," Draney added. "It's super impressive what Coach [Tyrel] Clove and Coach [David] Saltzman have done with that sprint crew. With that depth that allows us to explore some other events and score points there. I think the priority is where do we get the most bang for our buck."
UVU Invite (@ Orem) (Women)
Name Event Time Place
Emmalee Hale 1600 M 5:51 7th
Elsie Pieper 1600 M 5:56 9th
Sara McKen 100 M 12.77 1st
Valerie Jirak 100 M 13.00 3rd
Ava Morgan 100 Hurd 16.89 4th
Sara McKen 4 x 100 49.86* 1st
Valerie Jirak
Sadie Hulse
Kammi Merritt
Kammi Merritt 300 Hurd 48.13 2nd
Sara McKen 200 M 25.42 1st
Kaia Barkdull 3200 M 12:54 7th
Kammi Merritt 4 x 400 4:15.50 3rd
Avery Hanberg
Ava Morgan
Valerie Jirak
Valerie Jirak H Jump 5' 1" 2nd
Sadie Hulse L Jump 15' 0.75" 6th
Shaely Kunz Shot Put 29' 8.5" 5th
Shaely Kunz Discus 65' 0" 8th
(* = New School Record)
UVU Invite (@ Orem) (Men)
Name Event Time Place
John Hunting 1600 M 4:32 6th
Noah McClure 47.04 4 x 100 8th
Khale Clinger
Lane Oesch
Hyden Veigel
John Hunting 800 M 2:00.47 4th
Habtamu Wetzel 3200 M 10:06 2nd
Bo Simpson 4 x 400 3:44.72 7th
John Hunting
Noah McClure
Chad Corbin
Jesus Carillo-Zarate P Vault 11' 10" 6th
Daniel Lopez P Vault 9' 6" 9th
Khale Clinger L Jump 19' 8.5" 5th
Colt Sotelo Shot Put 42' 1" 5th
Mas. Hutchison Shot Put 39' 5" 8th
Trevan Jenkins Discus 116' 7" 6th
UVU Invite: Women Team
School Points
Herriman 110.0
Star Valley 75.0
Riverton 67.0
Evanston 49.5
Provo 49.0
Cedar Valley 46.5
Uintah 40.0
Westlake 37.0
Millard 33.0
Park City 33.0
(21 Teams)
UVU Invite: Men Team
School Points
Riverton 68.0
Herriman 66.0
Orem 63,0
Evanston 57.0
Cedar Valley 50.0
Park City 46.0
Roy 45.0
Westlake 44.0
Richfield 42.0
Star Valley 34.0
(26 Teams)
Combined Team Scores
School Points
Herriman 176.0
Riverton 135.0
Star Valley 109.0
Evanston 106.5
Decar Valley 96.5
(32 Teams)
Let us know what you think!
Tagged:
David Saltzman
Habtamu Wetzel
John Hunting
Kammi Merritt
Sadie Hulse
Sara McKen
Star Valley Track and Field
Tyrel Clove
Utah Valley University Invite
Valerie Jirak