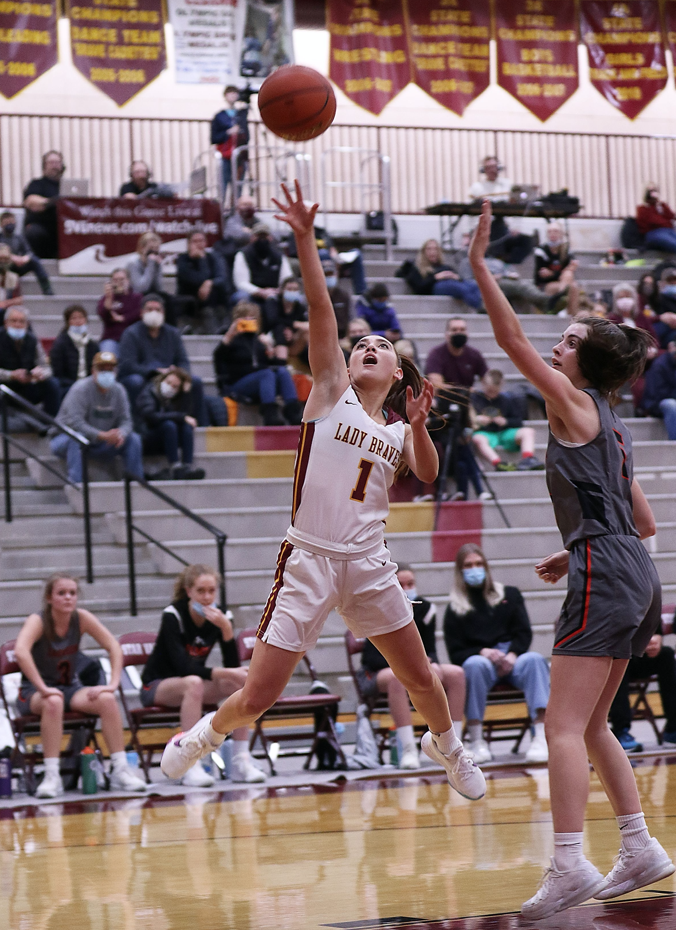 ◆ Game against the Wolves is Saturday afternoon.
The girls basketball team picked up a pair of wins in the 4A Southwest District and evened their season record to (8-8) overall which includes a (4-1) district record and sets up an interesting rematch with the Green River Wolves this Saturday which will decide the top seeding heading into the 4A Southwest Regionals.
The Braves won the program's 21st straight game against the Jackson Lady Broncs with a 36-18 final on Friday night. The evening was also Senior Night for Emma Thomson, Brierly Battleson, McKenna Brog, Emri Jenkins, Addie Butler and Page Nield.
"Just a phenomenal group of girls," said Head Coach Kade Erickson. "I couldn't ask for a better set of seniors this year for sure. Their leadership and their mind set going into the end of the season; they are willing to do what they can to win and it tells me a lot about their character and the success they are going to have after high school."

Brog scored 11 points to lead the effort and also hauled in six rebounds and compiled four steals. Addie Butler was close to being arrested by local authorities with eight steals and chipping in seven points. As a team, they racked up a whopping 26 steals in the game.
The team piled into the bus for a Saturday afternoon clash against the Evanston Red Devils; a team that lost in Afton after multiple shots didn't fall at the buzzer.
As expected, it was an ugly, defensive-minded slugfest, one in which the Braves scored just two points in the opening quarter and just one in the third. But, the trademark defense kept the team in it and in the second half the ice-cold Devil rims warmed up slightly as Brog canned a trio of three-point baskets to finish with 12 for the game.
In addition, Battleson scrambled for eight rebounds and Cameron Erickson had the game-high of nine rebounds.
"I knew the win against Jackson should be there," Erickson added. "We played okay and got the win. We knew that with more people coming to the game on Saturday we know that when we play in Evanston it's going to be a dog fight and that's what it ended up being."
The ladies will have just one game to focus on this week as they travel to Green River for a clash with the Wolves (11-4)(5-0). Green River defeated Star Valley in Afton in the previous meeting, 36-30.
It will muddy the waters if we can win," Erickson laughed. "We beat Cody but they beat Natrona so then I don't know if it goes to overall record. We'd love to get that number one spot. I'd like to see our shooting improve this time out against them. Our defense is going to be there but getting our offense to run a little better. We made some mistakes at the end of the Green River game that cost us. Just talking to the girls this week there seems to be a different confidence now then when we started conference play. We know we can compete and win."
• Coverage
The varsity game will be covered by SVI Media with a watch link at svinews.com. Traditional radio coverage will also be carried on Swift 98.7 FM. The Aspen Physical Therapy Countdown to Tip-off will begin at just after p.m. on Saturday. The varsity boys contest is scheduled to be played at 4 p.m.
Jackson Lady Broncs: 18
Star Valley Braves: 36
Name Pts Reb Ast Stl Blk FT
Em. Thomson 1 3 1 3 0 1/4
Amber Milne 2 2 2 2 0 0/3
Bri. Battleson 5 0 3 3 0 n/a
McKenna Brog 11 6 3 4 0 n/a
McK. Frazier 2 1 0 0 0 n/a
Emri Jenkins 4 2 0 2 0 n/a
Addie Butler 7 3 2 8 0 3/4
Cam. Erickson 4 5 0 4 0 0/2
Totals 36 22 11 26 0 31%
Jackson 18 34 3 5 0 58%
Star Valley Braves: 33
Evanston Red Devils: 28
Name Pts Reb Ast Stl Blk FT
Em. Thomson 3 2 0 1 0 n/a
Amber Milne 1 1 1 0 0 1/3
Bri. Battleson 4 8 3 1 0 2/5
Whitnee Hale 2 1 0 1 0 n/a
McKenna Brog 12 3 1 1 0 1/2
Addie Butler 6 3 1 2 1 n/a
Cam. Erickson 5 9 0 1 0 1/2
Totals 33 27 6 7 1 42%
Evanston 28 31 8 9 3 42%