Lady Braves open up 2020 with a win and a loss
◆ Girls varsity now off until January 17.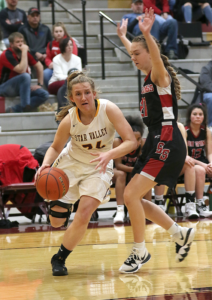 The Lady Braves basketball team opened up the new decade with a pair of games against regional rivals from Wyoming and Idaho as they traveled to Lyman on Friday January 3 and then hosted Soda Springs on Saturday January 4.
• @ Lyman (Won 39-33)
Despite records that said Star Valley should roll to an easy victory, the Lyman Eagles led for the majority of the game in the Lady Braves' first game back after the holiday break. Tough defense and a stagnant offense forced Star Valley to trail until the mid-way point of the fourth quarter when the teams traded the lead back and forth. Finally, Star Valley got some big baskets from Otessa Olsen down low to build a small cushion which they were able to carry to the end.
Brierly Battleson hit a pair of key free throws late in the game after the team had struggled mightily from the charity stripe, having gone just 3 of 14 previously in the contest.
Olsen led the team with ten points as Page Nield and Addie Butler each chipped in seven.

• Vs Soda Springs (Lost 44-37)
The Cardinals came into Afton sporting a record of (10-2) and they played like a team not accustomed to losing as they eventually pulled away for a win at the free throw line.
Sadie Gronning led the Cardinals with an impressive 26 points who was countered for most of the game by Star Valley's Page Nield who scored 23 overall and had all but two of Star Valley's first-half points.
Lacy Coles and Olsen combined for 12 second-half points but the Lady Braves found themselves behind and forced to foul as the Cardinals sunk their free throws to claim the win. Soda Springs made 10 of 12 from the line in the game.
Currently sitting at (6-3) the Lady Braves varsity will now be off until January 17 when they host Lyman. The team will be on the road versus Mountain View on Saturday January 18.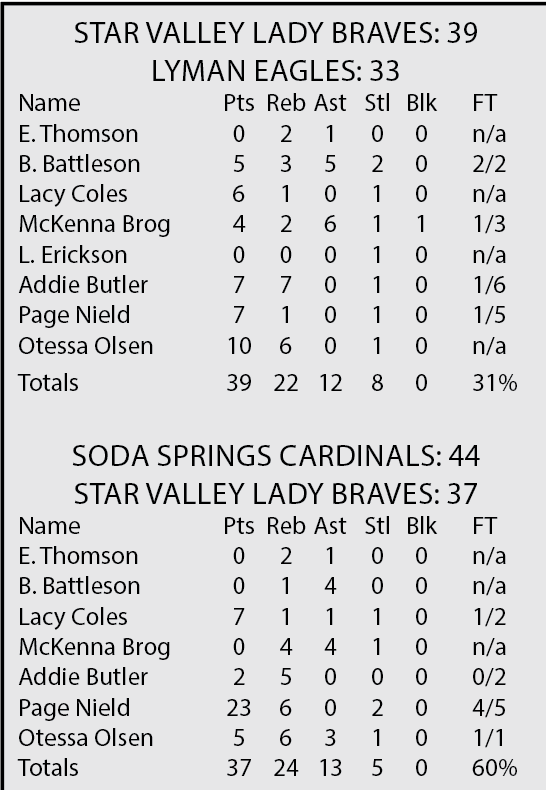 Tagged:
Lyman Eagles
Soda Springs Cardinals
Star Valley Lady Braves Basketball