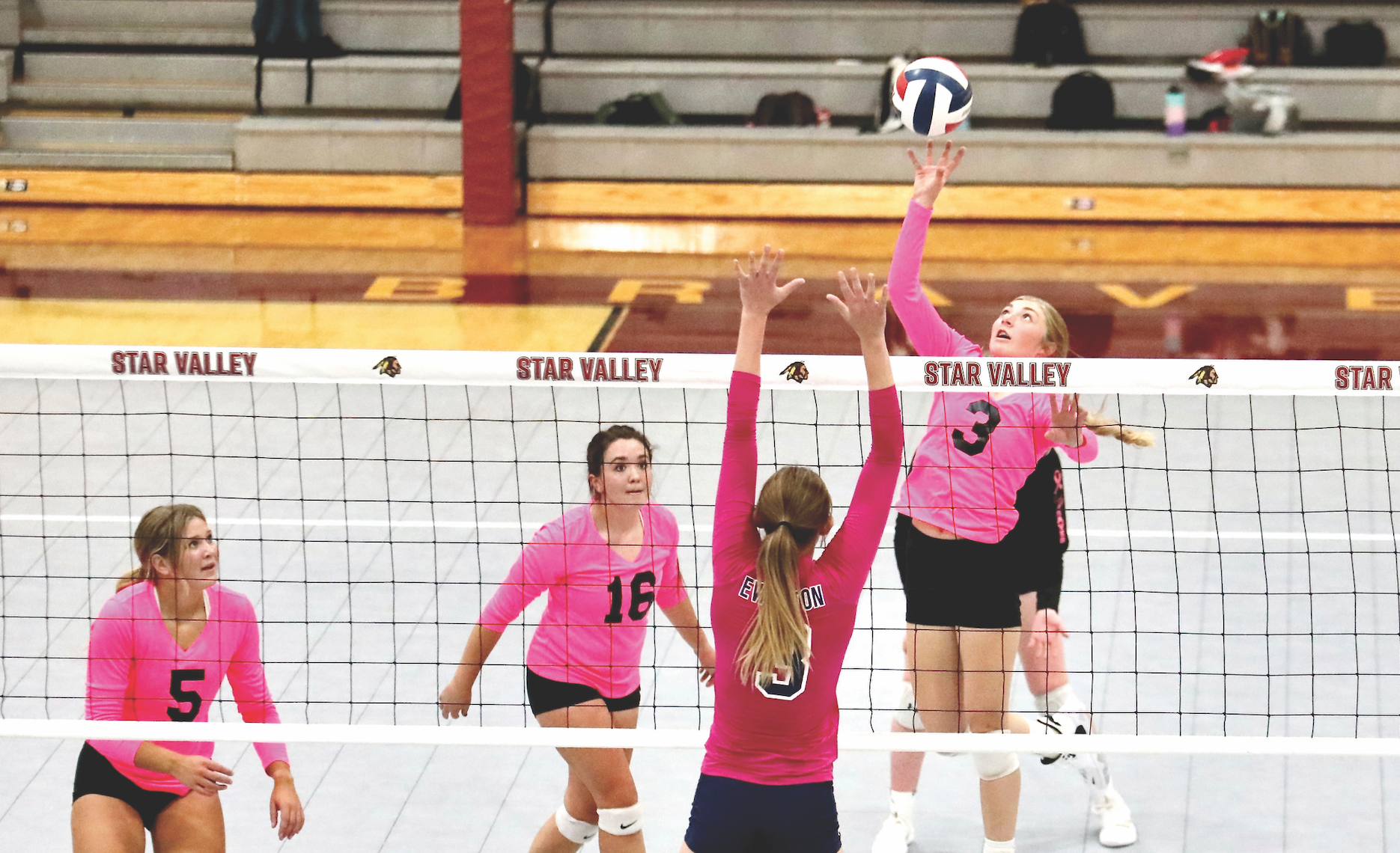 ◆ Team looking to build around four returning seniors.
The Star Valley High School Lady Braves Volleyball team recently spent time in Orem, Utah as they competed in the Utah Valley University Camp.
Coach Brian Toomer spoke about their efforts.
"It's kind of like a tournament you go to during the season," Toomer said of the experience. "There's pool play and you play a lot of volleyball and gain a lot of court time. We saw a lot of different teams and levels and we learned a lot. I think we improved a lot over the course of camp."
Toomer explained that the summer began learning from skilled clinicians such as Coach Devin Young who played for BYU Men's Volleyball from 2011- 2014 and joined the program as a coach in 2018.
"We had a lot of great growth during that week and this last week we just played a lot," he said.
The growth from UVU will be valuable for a program looking to replace several seniors as they continue to compete in the 4A Southwest.
The Lady Braves enjoyed a very successful season as they went (25-12) including the post-season which included a second-place finish at the 4A West Regionals and a run at the 4A State Tournament that ended on the final day in the Consolation Semi-finals.
Our only real experienced varsity player coming back is Josie Linford," Toomer added. "Maddie Hale was one of those all-around players who covered for us early on last season as Mia [Hutchinson] went down with that ankle injury and then she played a bit of middle the year before. Those two bring some experience and Cam Erickson will be there as a setter; which is hard during the summer when the passes aren't great. She worked her tail off and I was really happy with her effort in Utah. Madeline Jeske will be our libero and those are the four seniors we have coming out. We'll see how tryouts work out and go from there."
The first day of practice will be August 15 with the first contest scheduled for the end of August at the traditional Cokeville Tournament. Toomer prefers not to burn out the players before the season starts.
"It gets a little challenging this time of the year at the end of the summer," he said. "I like to have kids be kids a little bit so we're trying not to do too much. The first couple weeks of August is downtime that we're not allowed to do coaching. I want them to enjoy a little bit of their summer with their families so they are ready and hungry to play in the fall."
The teams that will be awaiting the Lady Braves are some of the usual suspects such as Kelly Walsh and Laramie who both made the title game in the 4A Class last season. The Lady Plainsmen ultimately took the title in 2021.
"Kelly Walsh is always legit," Toomer explained. "They have a great returning crew. I have them as the top dogs. Laramie will be a very solid team. Cody returns a pretty good group as well and they are a scrappy group. I have those three plus Thunder Basin. That group are the teams to beat.
Beyond that upper echelon, he also explained what it takes to be successful in Wyoming's largest classification.
"To play in this league your consistency has to be on the spot," he said. "You can't have a lot of runs of errors. The teams that wins the most are the teams who limit those unforced errors that take place in a row. We really try and focus on our consistency. The teams that are in the state championship match are the teams who don't make a lot of mistakes."

Let us know what you think!
Tagged:
Brian Toomer
BYU Men's Volleyball
Cam Erickson
Devin Young
Josie Linford
Maddie Hale
Madeline Jeske
Star Valley volleyball
UVU Volleyball