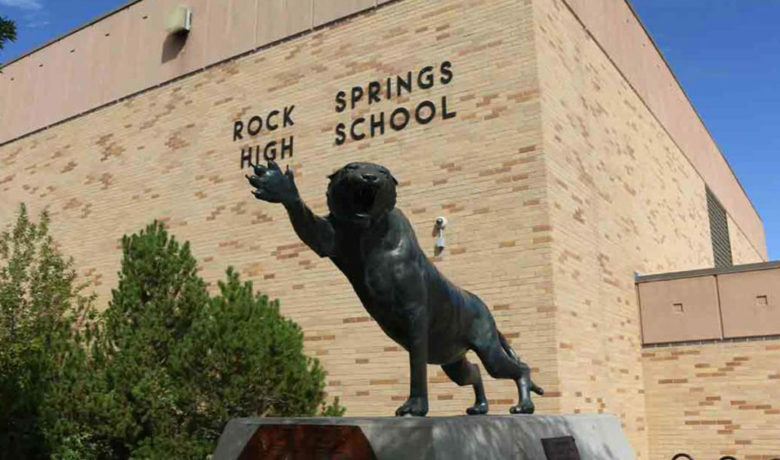 By Cassia Catterall
Gillette News Record
Via- Wyoming News Exchange
GILLETTE — State legislators expect that in upcoming years they'll need to fork out about $500 million for multiple high schools they say need replacement throughout the state. That number doesn't take into account any other money needed for school facilities across Wyoming.
"We've got a looming issue with schools in our state," said Rep. Landon Brown, R-Cheyenne, chair of the Select Committee on School Facilities, which met Thursday in Casper. "We've got at least three high schools that are sitting out there as it stands right now that need to be replaced. Each high school's probably going to be $130 (million) to $150 million. Cumulatively, we're talking about half a billion dollars just for three schools."
Brown said it's not realistic to "eat an elephant all in one bite," but he wanted committee members to think about a few ideas before their next meeting.
Those ideas included routing a portion of extra dollars in school accounts to a school capital construction account for major building projects to prevent another crisis like the current three-high-school pileup. Brown told committee members he's uncertain about putting the bill in during a budget session, which is coming up in February, but it's definitely something he's considering for the next interim.
Another idea would be setting aside a set amount, possibly $100 million, that goes into the account and is there for when schools rise to the top for major repairs or replacement.
Sen. Bill Landen, R-Casper, supported the idea and Rep. Steve Harshman, R-Casper, pointed out that the idea of saving for high-cost projects isn't new in the Legislature so there are ways to go about setting aside the money.
"My sense is that we better get started putting that $100 million aside for the next five or six years if we're going to get arms around some of the needs that we heard about today," Landen said.
Sen. Chris Rothfuss, D-Laramie, added that a heads-up to others in the state was also a good idea.
"I think it's going to be a little hand wavy," he said. "But putting together a letter just letting the Joint Appropriation Committee know that this is hovering out in the future, we're going to need a half a billion dollars, and they might want to start thinking about it.'"
The needs outlined in budget considerations and through district officials included the cost of three new high schools, two of which — Campbell County High School and Rock Springs High School — have been in talks for about a decade. The discussion on the schools flitted in and out of budget talks and major maintenance conversation throughout the day as lawmakers dug into the School Facilities Commission's recommended budget that was approved in August.
Much of the budget talks revolved around why certain projects ranked lower on a prioritized list for facilities in need of repair were the ones being asked for consideration in the budget. Legislators wondered about how they would be able to sell those considerations to others during the legislative session.
Rothfuss outlined the conundrum of using the prioritized list as a way to support projects in the Legislature. The list fails to look at how critical an issue is, like if a school has no roof or if bathrooms are backing up, and the cost of a repair is relative to the total cost of the building, meaning a high school's prioritized score may still be low given the higher cost of the facility even with expensive repairs.
"We tend to think that if you're not at the top you don't have enough problems," Rothfuss said. "And I think that's where it's over simplified in the Legislature that we think, 'well if you're not in the top 10 schools you don't have a problem.' But if you don't have a roof and that's a 0.2 on the (facility condition index), you still don't have a roof."
However, any other way to back projects that aren't linked directly to data or through the ranked list are a tougher selling point.
State Construction Department Director Jerry Vincent told committee members he'd like to recommend comprehensive high schools flagging earlier than other facilities so the high expense and lengthy timeline are factored better into budget requests. The difference in cost between a new elementary school and new high school is about $100 million, depending on the size of each school.
David Bartlett, Campbell County School District associate superintendent for instructional support, said Friday that the earlier flag would help bigger schools fit into timelines better because of the length of time it takes to complete studies, in some cases buy land for the school and simply build a much bigger facility. He was encouraged that committee members were forward thinking on the high school projects.
"What I thought was positive was that the three projects are on the radar and they wanted to get in front of the Joint Appropriations Committee and finance committee to begin thinking about how to address all three," he said.
Let us know what you think!
Tagged:
Campbell County Memorial Hospital
Rep. Landon Brown
Rep. Steve Harshman
Rock Springs High School
Sen. Bill Landen
Sen. Chris Rothfuss
Wyoming school replacement