Look for more information on these stories in the May 16 edition of the Star Valley Independent.
• Work continues as far as development of a policy and procedure allowing teachers to carry concealed firearms on school property and in school facilities in LCSD2. The board of trustees held a work session on the topic on Thursday, May 10 prior to the regularly scheduled school board meeting.
Discussion on firearms and personnel authorized to carry firearms continued as an agenda item during the Thursday school board meeting.
The district has been working with area law enforcement agencies, the administrative team, educators and community members to create a draft policy. The discussion will continue at the June meeting of the board of trustees.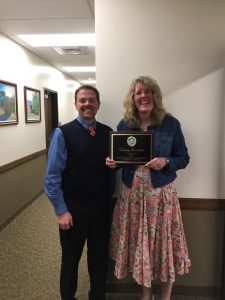 • Tracey Sorenson has been named as the LCSD2 teacher of the year. She will serve as an education advocate as well as a representative of LCSD2 for the coming year. According to information provided by the district, Mrs. Sorenson has worked in multiple capacities for LCSD #2 for 20 years including:
Three years as a teacher at Metcalfe Elementary School
Ten years with LCSD #2 in different capacities such as Grant Coordinator for 21st Century Community Learning Centers grant, student programming at Osmond Elementary and Star Valley Middle School. A middle school track & field coach and a substitute teacher.
Mrs. Sorenson has spent the last seven years as a third grade teacher at Thayne Elementary.
•Thayne Elementary School Principal Justin Pierantoni has resigned his position in LCSD #2. The school board officially accepted his resignation during the May 10 meeting of the LCSD2 Board of Trustees. Keather Pierantoni has also resigned as the Professional Development Coordinator for LCSD #2.
Tagged:
concealed carry in schools
LCSD #2
Wyoming concealed carry