LCSD No. 2 Spotlight: Helping students to "hate Math less" is the primary purpose in her classroom
◆ Krystal Smith loves teaching math at Swift Creek High School.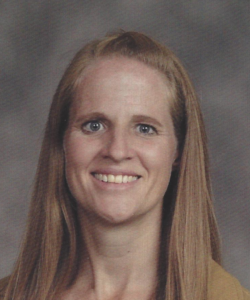 With 12 total years of experience, Krystal Smith has been serving Swift Creek High School students for seven years as the campus math teacher.
"I had a very happy childhood, born and raised in the Denver area," Krystal said. "My parents are very loving and dedicated to each other and to my younger sister and brother and me.  The public schools in our area were of nowhere near the quality of the schools here, so my parents worked hard to allow me to graduate from a private Christian high school."
Krystal and her husband, Dave, moved their family to Star Valley in 2010. They own Rocky Mountain Construction and enjoy skiing, movies, music, playing games and camping with their 4 daughters ages three to 14.
Though she hadn't planned to re-enter the work force after moving here, she couldn't resist the opportunity to apply for the math position at SCHS when it came available. It seemed like such a perfect fit.

"I chose education because I love seeing the "aha!" moment when a student understands something for the first time," said Krystal.  "It is humbling to get to be a part of that process day after day.  I get the most satisfaction from working with students who have yet to earn a high school math credit.  Many of them in this situation believe that they cannot learn math.  I thoroughly enjoy the process of helping them discover what their barriers to learning math have been in the past and helping them overcome them."
Krystal loves her work at Swift Creek High School and hopes to continue helping her students for many years to come to "hate math less."
"I would love to see the U.S. education system return to placing more value on facts and truth.  I believe that we have 'lost the plot' in our tendency to value critical thinking over memorizing facts.  I am not saying that critical thinking is not important – or even that it is not the goal. But, as Leigh Bortins says in her Article titled The Importance of Memorization, 'What can I think critically about if I know no facts? I can offer only opinion, my point of view.  Yet shouldn't truth play a factor?' I believe and appreciate that we have stayed more centered than most of the country when it comes to this and many of the issues affecting education."
Let us know what you think!
Tagged:
Krystal Smith
LCSD No. 2
Rocky Mountain Construction