LCSD2 Spotlight: Karlie Philpott presents the business of education
◆ Philpott believes the key to education is connecting with students.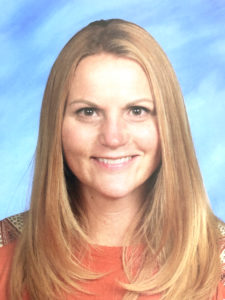 Karlie Philpott is the Business and Technology Teacher, Head Cheer Coach and School Store Advisor at Star Valley High School.
She has been teaching at SVHS for six years and currently teaches Accounting, QuickBooks, Entrepreneurship, Marketing, Computer Information Systems, Technology Fundamentals and App Development.
Initially, Philpott didn't plan to become a teacher.
"I received my BS in Business from Utah State University and started working as a Human Resource Director and Bookkeeper," she said. "I quickly discovered that I wanted and needed a job that was more stimulating and family friendly."
"My father, Kevan Kennington, was a teacher. I always loved helping him grade papers and decorate bulletin boards. I also love working with young people and helping them discover their potential. So, I went back to school and got my MS in Secondary Education from the University of Phoenix and started teaching."
Philpott began her teaching career 12 years ago at Houston Middle School in Wasilla, Alaska and spent the next six years as an Adjunct Instructor for Charter College. She taught night classes on the Wasilla campus for the first few years she was there and later taught online for the college when her family moved to Montana.
Having been raised in Star Valley, Philpott was thrilled when she was given the opportunity to return and teach in such a quality educational environment.
"I chose LCSD#2 because I wanted my kids to experience the same kind of education and childhood that I had growing up," said Philpott.

Philpott believes strongly in connecting students with the business community.
"I'd like to start connecting students with local business leaders to help relate their education to the business world and provide meaningful learning experiences," she said. "There is so much our students can learn from our community members and so much our students can do for our community."
"I'd like to see my marketing classes help local small businesses with their marketing efforts.  I'd like to see my Entrepreneurship class work with local entrepreneurs to expand their businesses and gain first-hand experience in starting a business. I'd like my App Development class to create an app that could increase the productivity or support management of a small business. The opportunities are boundless."
"I'd like to see the Career and Technology Education offerings in our district increase," said Philpott. "We need a greater emphasis placed on helping students gain skills and certificates that will better prepare them for the next level. We need to see a greater number of students take courses that increase their cyber literacy, financial literacy and entrepreneur skills."
"In our world ruled by technology, students need a firm understanding of cyber literacy, which is the ability to use computer technologies effectively and a full understanding of the implications of those actions. It is important that they know where to go to find reliable and accurate resources in cyberspace and how to conduct themselves online."
Financial Literacy is something that Philpott believes is underexamined in the formal education system.
"I believe our students need a solid foundation in financial literacy before graduating," she said. 'They need to understand how a bank account works as well as interest and cost of debt. They need to know how to prepare and keep a personal budget, why credit scores are important and to pay yourself first."
Philpott is passionate about giving young people the knowledge and skillset to enter the entrepreneurial arena.
"We need students to know how to take an idea, create a product or service and start a business," she said. "We should foster that entrepreneurial mindset where students learn to think in a way that enables them to overcome challenges, be decisive, accept responsibility for their outcomes, improve their skills, learn from their mistakes and to keep trying even if they fail the first time."
As a coach, Philpott would like to see a Spirit Program become available for younger students.
"Middle School is a challenging time for many children as they start discovering who they are and what they want to be," she said. "I believe there are many students that could benefit from the opportunity and exposure to Cheer at the middle school level. This would not only help build the high school program but promote school spirit and diversify the extracurricular opportunities at the middle school."
Students don't always recognize the value of learning what Philpott teaches.
"Every semester I have students tell me that even though they didn't want to take my class – that their parents or the counselors made them take it – they are so glad they did," she said. "One of my Entrepreneur students said, 'I'm so excited to finish high school and start a business of my own. Thank you for giving me the skills and understanding needed to make my dream come true.' I feel privileged to be a teacher and humbled at the difference we can make."
Tagged:
Karlie Philpott
Lincoln County School District #2
Star Valley High School