By Chris Aadland, Casper Star-Tribune
Via- Wyoming News Exchange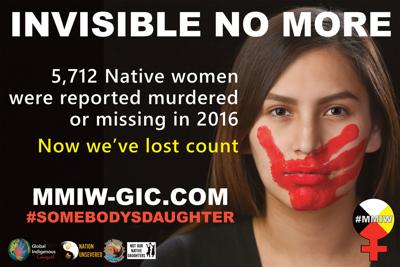 CASPER — Proposed legislation would give officials in Wyoming a clearer picture of missing and murdered Indigenous people while improving cooperation among federal, state, local and tribal authorities when investigating cases.
The Wyoming Legislature's Select Committee on Tribal Relations unanimously agreed at a Monday meeting in Fort Washakie to forward draft legislation to the Judiciary Committee and hopefully have it introduce and sponsor the bill.
If the measure becomes law, the State's Division of Criminal Investigation would be required to collect — and publicly report once a year — data on missing persons in the state. The agency would also be required to cooperate with tribal law enforcement when investigating those cases.
Other law enforcement agencies in the state would also be required to report missing person data to the agency and the state would have to coordinate with tribal officials and other agencies to improve warnings, like Amber Alerts, when someone is reported missing. If the Eastern Shoshone or Northern Arapaho tribes decided to operate their own alert system, the state would work with them to implement it.
State officials would also be responsible for training law enforcement, prosecutors, attorneys and judges on crimes related to missing persons, including Indigenous people.

The committee also agreed to prepare a statement voicing support for several proposals in Congress to address missing and murdered Indigenous people and improve safety in Indian Country.
"I hope this is a start," said Sen. Affie Ellis, R-Cheyenne, the bill's author. "That's how I view this view — as a start — not a fix."
The committee's vote comes as state, federal and tribal leaders have increasingly focused on ways to reduce the number of Indigenous women and girls who disappear or are murdered.
In Wyoming, the increased attention — and a push from victim advocates — led Gov. Mark Gordon to form a task force this spring to determine the scope of the problem in the state and recommend state-level solutions. The task force started meeting last month.
Ellis, a citizen of the Navajo Nation, said at a missing and murdered Indigenous person task force meeting earlier this month that she had been working on drafting legislation since before Gordon's announcement.
Billboards drawing attention on the issue have also popped up in Wyoming and in several other states. The Wyoming billboards refer to the 5,712 Native women reported murdered or missing in 2016 to the National Crime Information Center.
More than four in five Indigenous women and men have experienced violence in their lifetime, according to a 2016 National Institute of Justice study.
While Wyoming officials reported 107 missing Native Americans to the National Crime Information Center last year, the total number of missing or murdered Indigenous people in Wyoming is unclear.
At Monday's meeting, Wind River Reservation Police Chief Tony Larvie said his department had 72 cases of missing people reported to reservation police so far in 2019.
While 85 percent of those cases involved underage runaways, many of those youth are vulnerable to exploitation, already had a history of being victims or had a history of substance abuse or use, he said.
Eleven of the cases were missing people, not runaway cases, Larvie said.
Only one of the 72 cases remains open, he said, adding that it wasn't a runaway incident.
For Eastern Shoshone Business Council member Karen Snyder, the increased attention is encouraging. She said she thinks murder, not missing people, is the biggest problem on Wind River.
"There are a lot more murdered from the Wind River Indian Reservation," she said. "And those cases have never been resolved."
Let us know what you think!
Tagged:
Division of Criminal Investigation
Eastern Shoshone
Northern Arapaho
Wyoming Legislature's Select Committee on Tribal Relations