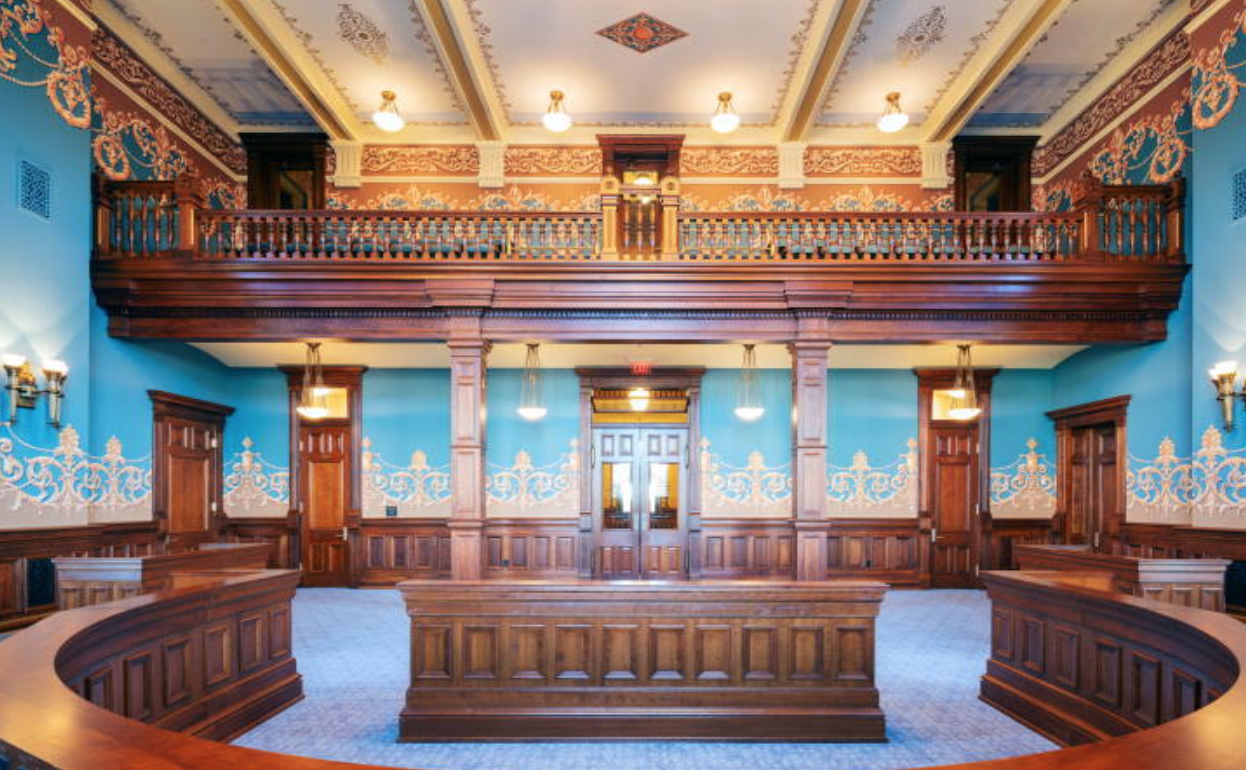 By Jasmine Hall
Wyoming Tribune Eagle
Via- Wyoming News Exchange
CHEYENNE — While there were bills that died in both the chambers of the Wyoming Legislature due this week's general file deadline, the difference in how many was significant.
Forty-eight bills that had cleared committee review were not brought to the floor of the House of Representatives for debate, while 11 were left unheard in the Senate. The last day for these bills to be considered by the Committee of the Whole in their house of origin was Monday, and second and third reading deadlines followed the next two days.
Legislation that successfully passed on three readings has started to cross over to the other chamber, which marks the transition into the second half of the general session.
It is a time period when lawmakers will evaluate the bills initially approved by their peers on the other side of the Capitol and decide if they are worth sending to Gov. Mark Gordon's desk to be signed into law.
Weeks of further floor debates, conference committees and compromise remain, but some legislators spent Wednesday reflecting on what their bodies have accomplished so far.
Or what they haven't.
PROCESS
The Senate moved at a much quicker pace in the first month of the session, as bills were introduced by Senate President Ogden Driskill, R-Devils Tower, in large quantities. There were 183 bills introduced and referred to committees, as well as 14 Senate joint resolutions — leaving only six Senate files not brought out of the drawer by leadership for introduction.
Bills often die throughout the legislative process, such as in committees or on one of the three readings, but there was still action taken on them.
In the case of general file bills, the legislation has been introduced, referred to a specific committee and then passed out of that committee. It sits on general file, waiting for the Senate or House Committee of the Whole, made up of the entire present body, for a floor debate.
The majority floor leader in each chamber is responsible for scheduling the bills on general file, in consultation with the minority floor leader, and bills on second and third reading are heard in numerical order.
But the power ultimately remains with the majority floor leader on what order bills will come before the body on general file, and they can call for a motion to adjourn the Committee of the Whole when they prefer.
This gives them the power to indefinitely hold back any legislation as they see fit and  give preference to certain bills in the final days before the Committee of the Whole deadline.
SENATE
Senate Majority Floor Leader Larry Hicks, R-Baggs, was responsible for scheduling in his chamber, and only 11 bills were left to die on general file.
However, there are other factors, such as the amount of debate or the number of new legislators getting acquainted with the process, that take up time.
"The pace and debate on the Senate side have been good so far," said Senate Minority Floor Leader Chris Rothfuss, D-Laramie. "I'm not sure that we've worked all of the bills sufficiently, but there has been robust debate on many pieces of legislation — a lot of thoughtful debate.
"Overall, I'd say I'm satisfied with the process so far."
Rothfuss had two bills that died as a result of not meeting the general file deadline, and they were among the last three bills on the schedule.
He sponsored a bill to address hazing that he worked on with the Associated Students of the University of Wyoming, in hopes of promoting a safe environment in the education system.
"A lot of stakeholders came together to draft that piece of legislation. It passed out of the Education Committee with strong support from the student community, and then, inexplicably, was just left on general file and not brought forward," he said. "So, that's disappointing, not only to me, but I'm sure to the students at the university who put so much time and effort into a bill that was then arbitrarily not considered by the majority leader."
The other bill was a constitutional amendment for a right to privacy that was passed unanimously out of the Senate Judiciary Committee. He said the fact that it was not considered raised the question of "What are we so afraid of when it comes to giving the people the right to decide whether they want a true constitutional right to privacy, which is lacking in the Wyoming Constitution?"
Sen. Cale Case, R-Lander, was a co-sponsor on the resolution, and he was equally disheartened it wasn't given a chance. He said five Republicans approving one Democrat's bill was a "powerful signal."
The central Wyoming lawmaker had two bills that also died due to the Monday deadline. One would have authorized tolling authority for Interstate 80, and another addressed property tax relief. Despite wanting to see them come to fruition, he said he still believed the Senate has been diligent and effectively managed, especially in committee.
He said the last day before the deadline is still always troubling, as personalities and priorities come to the forefront. It can lead to questioning why a bill wasn't scheduled, and if there was a good reason for the decision.
"But you have to respect the process," Case said. "You have to respect the leadership, all of them, and you just have to go forward from there."
Rothfuss and Case sponsored four of the 11 bills that didn't move ahead in the process, but there were seven others. They dealt, by and large, with repealing gun-free zones, enhancing concealed carry permits and ensuring Second Amendment financial privacy, as well as addressing state budgeting and taxation.
HOUSE
The number of bills left to die in the House on general file was more than four times the Senate and spanned a vast number of topics. Forty-eight bills went unconsidered Monday night, including six interim committee-sponsored bills, and House Majority Floor Leader Chip Neiman, R-Hulett, received criticism from some lawmakers for such a high number.
A total of 288 bills were filed for the general session in the House, as well as 12 joint resolutions. Only 25 of those weren't introduced and referred to a committee by House Speaker Albert Sommers, R-Pinedale, leaving the rest to make their way through the body.
Rep. Steve Harshman, R-Casper, had seven bills that weren't considered in the Committee of the Whole, but he said he wasn't too concerned. He said they were little fixes, except for legislation addressing gaming issues.
Yet, he expressed his own disappointment with the pace.
He said the House was extremely slow, and there were many reasons for that — the most significant being inexperience. He said there are many new lawmakers in the House, and learning the process or discussing every issue has an impact on how many bills can be heard.
Harshman also commented on the amount of time spent in the Committee of the Whole. He said it was the first time in his 21 years as a legislator that the House never remained in session later than 6:30 p.m.
"When I was speaker, we were the hardest working house in America," he said. " We'd go late at night to try and get the work done, but that's not the case. And I'm not saying it's good or bad, that's just what it is."
This sentiment was addressed by Rep. Landon Brown, R-Cheyenne. He said he didn't completely agree with Harshman's approach, which involved keeping lawmakers until midnight — but he said there should have been a balance to kill fewer bills.
He said the harsh reality is there is only a finite amount of time due to having a citizen Legislature, and they didn't spend as much time in Committee of the Whole as he would have liked. He believes that the number similar to the Senate could have died, instead of 48.
"The people of Wyoming want their Legislature to work hard," he said. "And I do think that we work hard, but I think we could have worked harder."
Brown placed the responsibility for a slower-than-expected pace on the House majority floor leader and his lack of time in the Legislature. Neiman became a member of the House in 2021, and Brown said it isn't as easy to have an understanding of the process if a representative has never managed a committee or been in leadership position before.
He also criticized Neiman's allegiance to the Freedom Caucus, of which Neiman is a member. Brown said caucus members' bills were placed ahead of senior lawmakers' bills or committee-sponsored legislation, and it was "incredibly disheartening, as a returning member, that you could clearly see a bias, and the majority floor leader's posturing in the way that those bills were brought forward."
The Cheyenne legislator said that was Neiman's prerogative, but there were many bills that weren't touched that meant a lot to each representative.
"It's an unfortunate situation for many of the members of our House that we lost as many bills as we did, just because of floor mismanagement," he said. "That being said, we also had a lot of bills that made it through, and I'm happy that he worked diligently to try to move as many as he could."
Brown recognized there was an impact of having so many freshman lawmakers, as well.
"We had a lot of people that had a lot of questions and felt like they had to pontificate on any and every bill, just to have their voices heard on the floor, or make a news clip or whatever that may be," he said. "And, unfortunately, that cost us a lot of time, as well."
Let us know what you think!
Tagged:
House of Representatives
Wyoming Legislature
Wyoming Senate