Legislator proposes fees on unoccupied homes
By Cody Cottier
Jackson Hole News&Guide
Via- Wyoming News Exchange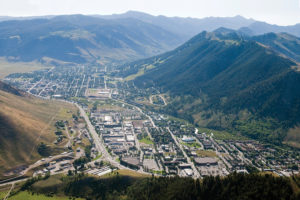 JACKSON — A Jackson lawmaker wants to impose a fee on unoccupied second — or third, or fourth — homes, potentially offering a new way to alleviate Jackson Hole's housing shortage and its long list of secondary consequences.
Rep. Mike Yin's hypothetical fee would apply to houses left empty for more than six months a year. The Teton County Democrat argues that could induce homeowners to rent to full-time residents when they're not around.
"I was thinking about options on how we work on our housing issues in Teton County," he said, and he landed on vacant homes. "The fact that we have so many creates a cumulative impact on the community."
The most obvious effect is simply a reduction in space available for local workers. Every second home that sits unused for the majority of the year is a home that could house people who work in Teton County year-round but must look instead to Lincoln County and Teton Valley, Idaho.

And there are a lot of empty homes. According to the Jackson/Teton County Affordable Housing Department, 38% of dwellings in the valley belong to second-home owners or retirees. Meanwhile, some 43% of local workers live across county lines. The implications of that statistic — and the massive commuting population it entails — include more traffic congestion, more carbon emissions and more wildlife-vehicle collisions.
Yin argues that while the abundance of vacant homes diminishes the housing supply for local workers, it also raises property taxes for "surrounding neighbors who may be on a fixed income." He said a fee could more fairly distribute the financial burden created by vacant vacation homes.
As he describes it, he's "trying to capture that negative externality and make it work toward incentivizing more housing in the community." To avoid the fee, second-home owners would need to rent out their homes.
In its current draft form, the fee would be a flat rate based on square footage. Of the revenue generated, 5% would remain with the county for administration and enforcement, though it's unclear how exactly the policy would be enforced.
The other 95% would go to Wyoming's Property Tax Refund Program — a program that, as it turns out, Rep. Andy Schwartz and Sen. Mike Gierau, both Teton County Democrats, helped to resurrect in the last legislative session. Schwartz said that although lawmakers brought back the Property Tax Refund Program, they didn't allocate enough funding to meet the requests they received for tax relief.
The program benefits Wyoming residents who earn less than 75% of the median household income for the county in which they live (in Teton County, that's about $66,000), allowing them to reduce their property tax by up to half.
In the past Schwartz has tried to bend the Jackson Hole real estate market to the advantage of local workers with a real estate transfer tax, a charge on the sale of property based on its appraised value. That has proven unpopular in the Legislature.
But because the second home fee would help not only Teton County families but those around Wyoming, Schwartz argued his colleagues might be more amenable to the idea.
"It's technically not a tax, it's a fee, and the fee isn't going to Teton County, it's going to the state," Schwartz said. "That's going to attract some people that might not ordinarily support it."
The concept of a fee on empty homes has lagged a bit in the United States, but other housing-challenged cities around the world have tested it and deemed it successful.
One such city is Vancouver, British Columbia. According to the Vancouver Sun, the rate of vacancy dropped 15 percent in the year after the fee was established in 2017. The number of empty homes dropped from nearly 1,100 to just over 900, and about half of those newly occupied homes are being rented. From those that remain unoccupied, the city of 630,000 raised more than $38 million.
Officials in Paris simply raised the property tax on empty homes, requiring those who don't live full time in their homes to pay 60%, triple the standard 20%. Back in the U.S. some elected officials in Los Angeles have pushed for an empty home tax, as has the New York Times editorial board and some lawmakers in that state.
Yin has tried to structure the fee after the fashion of similar fees, like the one imposed in the last legislative session on electric vehicles, to ensure its constitutionality. Each county would be allowed to choose whether to impose the fee.

Yin initially planned to pitch his idea to the state Revenue Committee at its meeting in Laramie on Tuesday. But because the meeting ran long, he said, he decided instead to present it at 10:30 a.m. Monday during a meeting of the Corporations, Elections and Political Subdivisions Committee.
Though the fee may outrage some who feel it runs afoul of private property rights, Schwartz is optimistic about its chances. He said he's interested to see how the fee will be received.
"I think it has validity because there are costs to the community," Schwartz said. "A community that has a housing shortage when we have empty homes, that's kind of ironic."
Let us know what you think!
Tagged:
Jackson Hole housing
lincoln county
Mike Yin
Teton Valley Idaho