Lincoln County Library System Book Review: "Child of Light"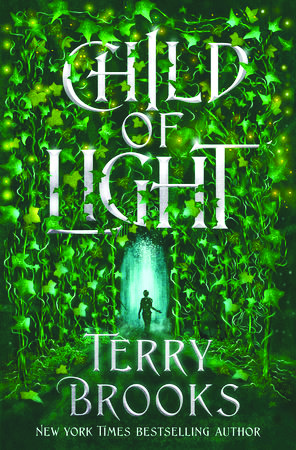 By Melissa Soelter
Library Assistant,
Lincoln County Library
Terry Brooks is well known for his fantasy novels. Though he has dabbled with science fiction and nonfiction as well, he is best known for his Shannara series. Spanning more than thirty volumes, it's enough to keep epic fantasy lovers occupied for quite some time.
What do you do now that the Shannara series has ended? Jump for joy that Brooks has released another series with all new characters and adventures.
"Child of Light" is the first installment in Terry Brooks's new "Child of Light Series." Nineteen-year-old Auris is in search of her missing memories. She doesn't remember anything from before her time in the Goblin prison, not even her parents. Auris and a group of others break out in hopes of finding freedom. Unfortunately Auris is the only survivor of a Goblin attack and is rescued by one of the fae, a race thought to be only legend. Auris's rescuer, Harrow, takes her to his homeland to recuperate. Together they begin a journey to discover Auris's true identity.
I have been a long time fan of Terry Brooks's Shannara series so the release of the final book, "The Last Druid," was difficult for me, so I was excited to see "Child of Light." However, I do have mixed feelings even though I enjoyed the story. There's plenty of action, fast paced enough to keep me hooked and I like how this book could act as a stand alone. I am even looking forward to the second book's release later in 2022.
However, "Child of Light" is written in Auris's first person point of view. This limited the story to only her side of events. I am used to Brooks's style of writing in third person. Then switching between characters when one leaves the main group. I would have loved to read Harrow's experience when he went on patrol.
The biggest difference is that "Child of Light" reads more like a young adult dystopian novel. I love young adult novels and enjoy dystopian stories so this was not a deterrent for me. Auris is only nineteen, still a young adult herself. Terry Brooks has had young characters in many of his novels, but the first person view relied heavily on Auris's feelings and perceptions.
This added some teen drama his other novels lacked. Overall "Child of Light" is an enjoyable read and has the potential for many adventures to come.
"Child of Light" by Terry Brooks is available throughout the Lincoln County Library System. It is also available as an eaudiobook through the Libby app.
Let us know what you think!
Tagged:
Lincoln County Library System
Melissa Soelter
Shannara
Terry Brooks