Lincoln County Officials Take Oath of Office
Story By: Jim Thoeny
Lincoln County's newly elected officials were sworn into to office Monday morning.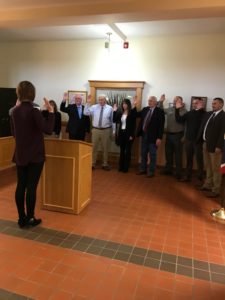 Outgoing Lincoln County Clerk Jeanne Wagner administered the oath of office at the Lincoln County Courthouse in Kemmerer.   Those officials included County Commissioners Jerry Harmon and Robert King, County Clerk April Brunski, County Auditor Debbie Larson, County Attorney Spencer Allred, County Clerk of Court Ken Roberts, County Sheriff Shane Johnson, County Coroner Dain Schwab and County Treasurer Jerry Greenfield.
Seven of the nine officials won re-election to their County Office.   The two newcomers are County Clerk Brunski and County Coroner Schwab.   They each have served for the past 12 years as deputies in their respective offices.
All nine Lincoln County office holders are Republicans.  All ran unopposed in the general election.   All nine elected county officials will serve four year terms.
The only county office that will be up for election in 2020 will be the county commissioner seat currently held by Kent Connolly.