Linemen from Lower Valley Energy save cat stuck in SV Ranch tree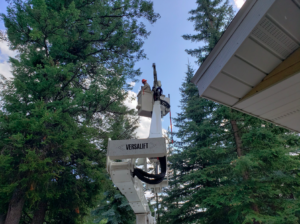 As a Special Municipal Officer for the Town of Star Valley Ranch, Jim Rodgers has had some interesting phone calls. But Sunday, August 11, the phone call he received was still surprising.
"I received a call from the Lincoln County Sheriff's Office about a kitten in a 80 foot tall pine tree," he said.
The problem of how to get the cat safely out of the tree proved to be more than just a little tricky.
Rodgers first thought was that this kind of situation is something that the fire department could handle. But, when he learned they didn't do that kind of rescue, he contacted a tree service and Lower Valley Energy.
"Everyone said 'sorry,'" Rodgers said. "The poor kitten had been in the tree for two days according to witnesses. About a hour or so later we received a call back from Lower Valley Energy telling us they had a lineman in the area and they would ask the lineman to come over and check things out."
"Don Edwards was first on the scene," Rodgers continued. "He tried everything he could think of in his bag of tricks but to no avail. So he called 'Gris' (Mark Grismer) who came from the Town of Afton with the big gun bucket and together they saved the little feline."
According to Rodgers, saving a cat from a tree on a Sunday is an example of how committed linemen are.
"The Town of Star Valley Ranch appreciates the hard work that Lower Valley Energy does for them," Rodgers said."These gentlemen went the extra mile to insure the safety of a very shaken animal."
Besides the Lower Valley Energy Linemen, two ladies (Debra Parsons and Anne Bennion) practically spent the night with the little feline, Rodgers said.
According to Bennion, the cat was taken to Lucky's Place following its ordeal.
"She's between eight and 12 months old and will be ready to be adopted in about five days," said Bennion.