• Community members interested in living history are welcome to join.
Courtesy of Debbie Saunders
Wagons and Tales With Janet Erickson, SVI News
Wagons and Tales, an organization that focuses on reenactment of history and sharing of historical accounts is creating a new group of history lovers in Star Valley.
This Thursday, November 17, is the introductory meeting held at the Thayne Community Center Room B100 at 7 p.m. After Christmas, meetings will be held every second Thursday starting January 10.
Besides those interested in reenacting stories of those who settled Star Valley and learning skills at events, the group is looking for new individuals interested in any facet of history to join, inviting anyone with stories to share or old time skills to share, or those who want to learn those skills, old tools, games as well as music and musicians.
Rex and Debbie Saunders, of Smoot, are starting the Star Valley branch, with the help of Jim and Marlene Keeley, Keith and Barbara Bond and Ronell  and Julie Skinner.
The Saunders' became interested in reenacting history last year when they were approached by Debbie's cousins, Mark and Audrey Gomm of Driggs. Mark is the son of Merrell Gomm who grew up in Smoot. Mark and Audrey have over a decade of experience with historical reenactment in California, where they mostly took part in Gold Rush living history serving over 75,000 children every year at the Marshall Gold Discovery State Historic Park.  Children could pan gold and load wagons. After recently moving to Driggs, they shared with the Saunders' how, "All of a sudden, history was alive to the children and visitors. They weren't just reading about it in a book, they were seeing it and acting it out. That's how [we] fell in love with living history."
The Gomms have spearheaded the Wagons  and Tales Living History Group in the Teton Valley and have helped teach the Saunders', Keeleys, Bonds and Skinners and encouraged them to form the Star Valley branch.
"We knew nothing of this wonderful service, but with the Gomms' teaching, guidance and having us shadow them at events," says Debbie, "we are ready to launch our Star Valley Wagons  & Tales group!"
This past summer, they began learning how to do living history serving at Menor's Ferry and Mormon Row as Historical Interpreters for the Grand Teton National Park.Rex stated, "It was the first year the Park allowed it.  The service was offered on a trial basis  to see how we did and how the public responded, and required going through the Park training. What an amazing experience this was! Since there were only a few of us, we could only go serve 11 days through the summer, but we met over 6,000 people from all over the world who could feel that special feeling that is there.  The Park was very pleased with the service and the response from the public was overwhelmingly positive. So the Park has asked for Wagons and Tales to provide interpreters every day this coming summer if possible. It is the 100th anniversary of the meeting at the Maude Nobel Cabin by Menor's Ferry that began the establishment of the GTNP.  It will be a memorable summer!"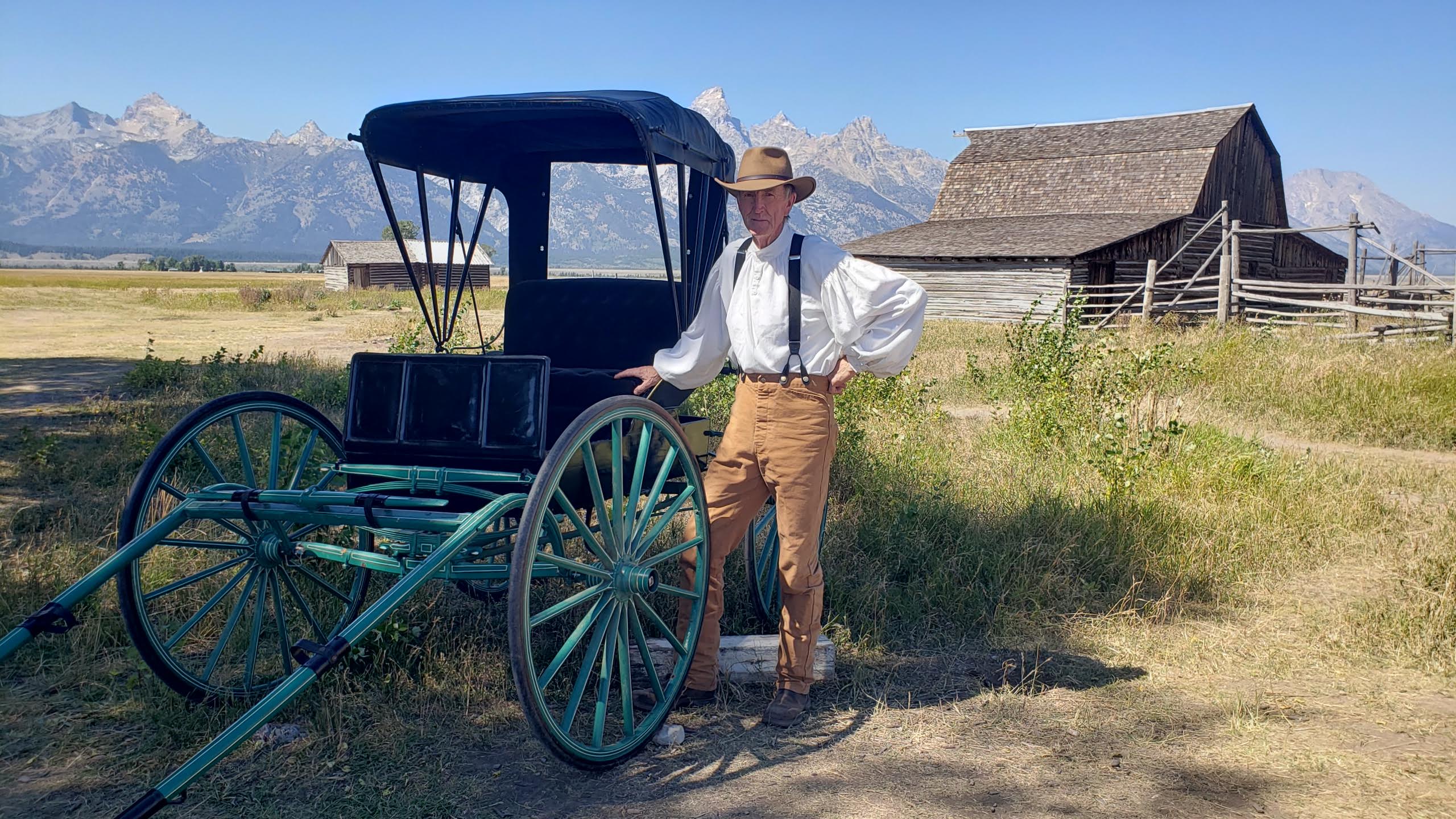 Wagons and Tales has other events planned this summer, one of which is setting up an encampment East of the Afton Tabernacle during Star Valley Days in June where they hope to represent each of the Star Valley communities and share stories through  hands-on experiences about those communities.
"People had to work so hard to make it here," Rex shared. "They were tough, and their stories are inspiring. Through the stories, they are still reaching out to us and helping us make it through our tough times.  We hope to have representatives involved from each of the founding families that helped settle the communities of Star Valley."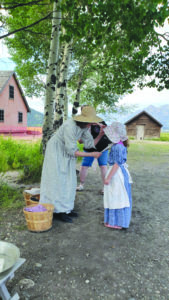 Debbie added, "We have other groups in the valley interested in history as well, such as the Star Valley Historical Society, that do an amazing work and we want to support and help them as they need us. Preserving these stories and passing them on to the children and the new people moving in that are now a part of the valley, is an important work. We couldn't enjoy this valley without those pioneers that settled here first and made such a lasting impression. And we love serving in making these stories come alive! We have never been involved in such a special service. To watch light bulbs come on and hearts softened as they begin to feel appreciation for the experiences of those from another time period that came before us is so rewarding. But, to do what we need to do here, we need more interested history lovers! We tell people, 'we don't care if you've never done it. Please come, we will teach you.'"
They are looking for couples, retired individuals, single adults, families with children – anyone wanting and needing something rewarding to do!
Besides the GTNP and the Star Valley Days, Wagons and Tales is also available to help with the 3rd and 4th grade Rendezvous Days, youth treks, conferences, firesides, and Rex's specialty, the old dances – Circle and Square Dancing! Last summer he did this at the Fairview Pioneer Celebration and had a ball with Star Valley's former resident and teacher Brian Hall, who came and played his accordion. He hopes to gather more musicians, especially some of the musicians that used to perform at events in the valley, to play the music as was done in the "old days."
If you can't make it this week but want to join the fun and learn more about how you can be involved, contact the Saunders, Keeleys, or Skinners or email the Wagons and Tales Star Valley branch at starvalleylivinghistory@gmail.com, and/ or join and follow them on the Living History in Star Valley – Wagons and  Tales Facebook page.
Let us know what you think!
Tagged:
Menor's Ferry
Mormon Row
Rex and Debbie Saunders
Star Valley History
Thayne Community Center
Wagons and Tales