Marching Braves will begin their 2019-2020 season with Band Camp
Janet Erickson, SVI Media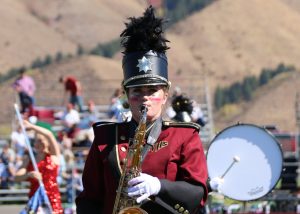 Star Valley High School Marching Braves will begin their 2019-2020 season with the SVHS Band Camp taking place August 12 through August 15 in the SVHS band room and on the SVHS football field.
All band members are needed throughout the week from 9 am to 4 pm. "It is vital to our success this fall that everyone is at these rehearsals," said Kurt Sand, SVHS Band Director. "Please bring a sack lunch and water bottles each day, as well as good walking shoes."
Rob Erickson, SVHS Activities Director will also meet with as many band parents as possible at 5 pm on Monday Aug. 12th in the SVHS band room to discuss details about participation guidelines and expectations for all students.
All band participants must be cleared for physical activity with a medical doctor's physical exam completed prior to August 12. Physical forms can be found on the school district's website.Please turn completed forms in to the main office at SVHS.

Band students are encouraged to access the music and begin practicing before camp. The music is available via a link to a google drive.
"In addition, we will have full band rehearsal every Wednesday evening from 7 to 9 pm starting August 21st and ending October 16th," added Sand. "We will also have rehearsal from 8 am to Noon on September 27, October 17 and October 18."
State Marching Band Festival will take place Saturday, October 19 in Casper. All students registered for the high school band are in the marching band. "Sometimes people get confused about this point," said Sand. "We will leave for Casper after rehearsal on Friday, October 18 and will return on Sunday, October 20.
Students must be prepared to make some apparel purchases with the band.
"Everyone in high school band must purchase a show shirt," said Sand. "Band members will order these shirts online and I will give students the link when the drum majors and I have decided on a design. Typically, these shirts cost $10 to $15. Also, everyone must have matching black shoes. I would like to place the shoe order by the end of rehearsal August 15th. These shoes are about $25.00 a pair."
SVHS Marching Braves will also be making a trip to Canada in June of 2020.
"It is not too late to register," said Sand. "Give Educational Discovery Tours a call at (800) 544-4723 and they will get you all set up. Our trip coordinator is David Selcon, but anyone at EDT should be able to help you get registered."

Let us know what you think!