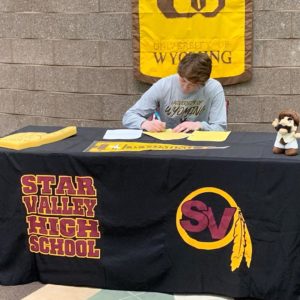 Wyatt Moore will be running for the Brown & Gold next season as he inked his name to run track & field for the Wyoming Cowboys on March 20. Moore becomes the second Star Valley track athlete to sign with UW in the past month, joining fellow senior and teammate Asefa Wetzel.
Moore placed third in both the 100 and 200 meter events at the Wyoming 3A meet last season and placed second as a member of the 4 x 100 meter team. He also placed fifth in the long jump.
Despite not running with the indoor track & field team until this season, he quickly made his mark by setting new school indoor records in both the 60-meter (7.01) and the 200 meter (22.61). He broke his own 200-meter record with a third-place finish in the Simplot Games (22.34) in February. He also holds the indoor school marks in the 55-meter dash and the long jump.
Moore ran a sub-11-second 100-meter dash last year as a junior and is expected to challenge two long-standing school records in both events (10.73 & 21.90 respectively).
The Braves track & field team is gunning for their fourth consecutive team title after winning just two titles overall by the program from 1971 to 2015. This year the program is competing in the Wyoming 4A class for the first time since 2012.
Moore has also been part of the football program where he has contributed varsity time on the last two 3A team titles, earning All-State honors this past Fall. He is the son of David & Kathy Moore.
Tagged:
Simplot Games
Star Valley track & field
University of Wyoming