Mountain States Stockdog Association 2019 National Finals in Afton this week
The Mountain States Stockdog Association (MSSA) returns to Afton this week for their 2019 National Finals with procedural items taking place on Monday July 15 and runs beginning on Tuesday July 16 at 7:30 a.m. at the Lincoln County Fairgrounds in Afton.
"There are trials all year long and to even be here you have to quality," said MSSA Director Steve Wight. "So it's the best dogs from all over the country. From Louisiana and Texas and Oklahoma; they are here from all over. "

Both Wight and Director Clyde McCourt explained the dogs will be working groups of cattle through various obstacles utilizing timing and a points system. Whoever gets the most points wins.
"The reason behind all this is it started out to have dogs having to help you work your cattle," McCourt explained. "These dogs get the cattle broke and it's a lot less stressful for the cattle than having five or six cowboys. It also helps the rancher. The dogs also take the place of three or four guys' wages."
Each obstacle is worth 30 to 50 points. There are three full rounds with finals on Friday and Saturday of this week. The dog and handler with the highest total accumulative points will be the winner. For that person and animal, it will be the culmination of a year-long process with the MSSA Championship as their highest honor.
"This shows the capabilities of the dogs and shows others what dogs can do," Wight added. They are amazing"
The runs, which are free and open to the public begin at 7:30 a.m. on Tuesday, July 16. There will be four classes. The Open, which will have the top handlers, the Nursery, which is for dogs three years and younger. An Intermediate and a Novice classification fill out the divisions. The Intermediate winner and second place or reserve finisher, will advance to the Open finals.
When asked what the highlights have been in Afton at the Lincoln County Fair, Wight had to ponder for a moment but his son, Stone, did not.
"I would say catching fish," he stated.
It highlighted that the some 60 to 70 handlers, their dogs and their families who make their way to the fairgrounds not only want to compete and win at their passion's highest level, they also want to enjoy it while they are here.
"We all come together as friends to compete and cheer for one another," Wight said. "The Town of Afton has opened their doors to us. The mayor and town council has been so welcoming and it's so pretty."
The MSSA also give back to the community while they are here. According to Wight and McCourt, the organization raised approximately $7,000 for the local chapter of 4-H with an auction and other activities that take place during this week of finals. Residents are invited and encouraged to attend this auction which will take place again this Friday evening at 7 p.m.
A Crafts & Cowdogs vendor fair will take place all day Friday and Saturday where any local vendor can come and set up a booth. Food vendors will be at the fairgrounds all week.
Friday is Family Day from 11 a.m. to 3 p.m. with fun activities such as face painting and bouncy houses for the kids. The 4-H will also be raising money by washing the dogs.
The full schedule of events is below: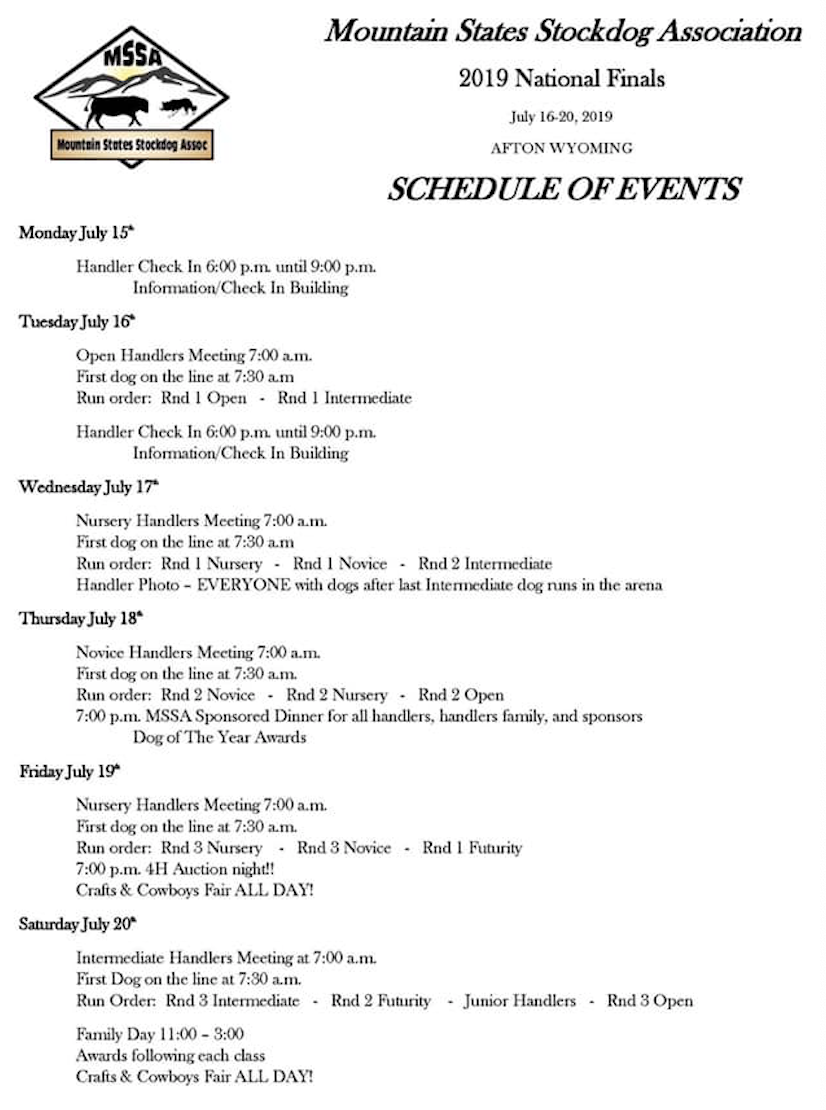 Tagged:
Clyde McCourt
Lincoln County Fairgrounds
Mountain States Stockdog Association
Steve Wight