Mounted Shooting returning to Afton this weekend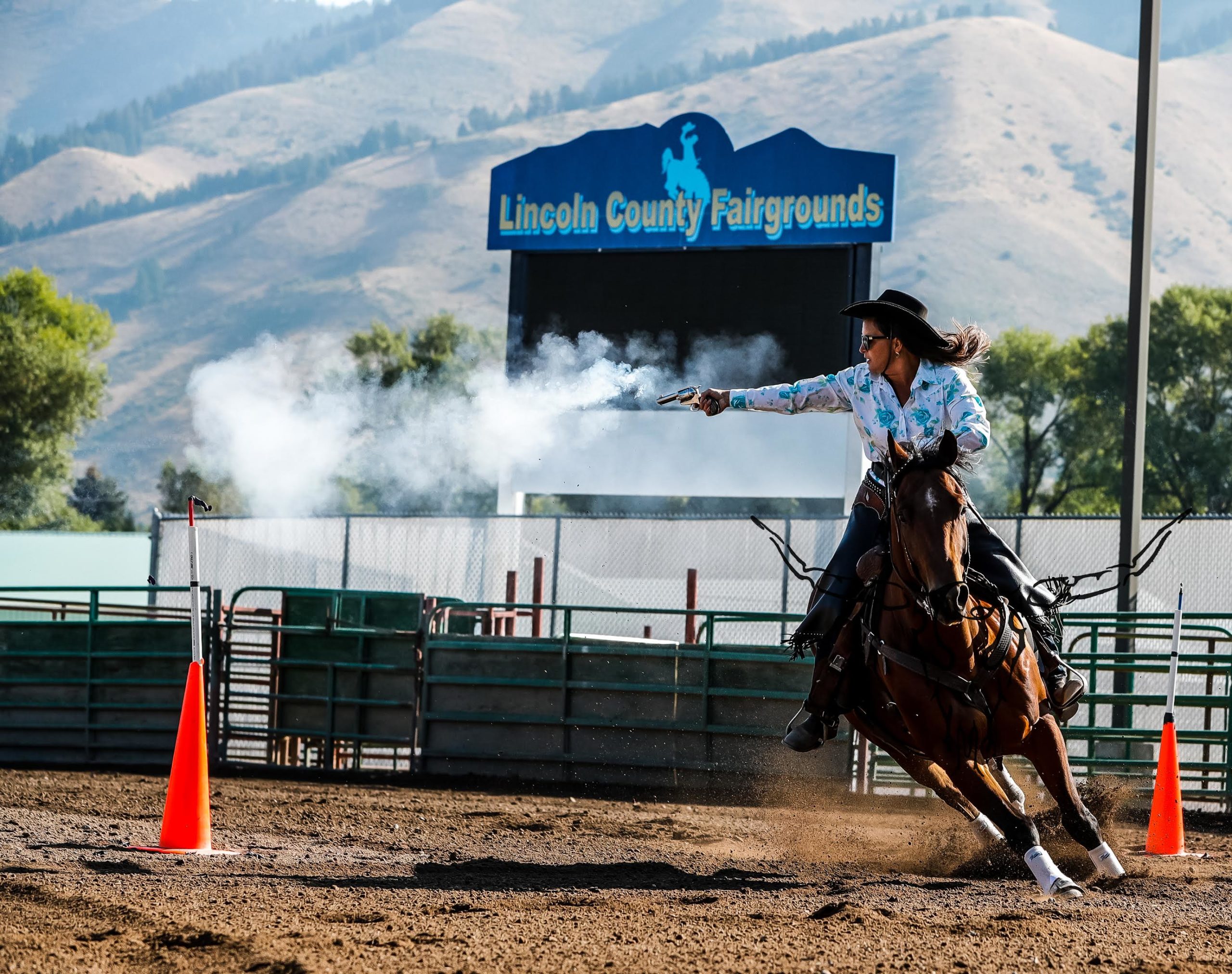 Nearly every year since 2016, the local mounted shooting club, formerly known as the Wyoming Desperadoes Mounted Shooters but known today as the Mountain High Mounted Shooters, has hosted an annual mounted shooting event, and this year is no different. Forty one athletes are currently registered to compete in the 2022 event.
With mounted shooting weighing in as the fastest growing equine sport in the nation, this year's competition is scheduled for Friday and Saturday, August 26 and 27 at the Lincoln County Fairgrounds.
The public is welcome to attend and shooting begins at 10 a.m. on Friday and 9 a.m. on Saturday.
"The event is free and open to the public to come and watch," said Lisa Grimsley, club representative, in an interview with SVI Media. "There is always a charitable component to our events. We raise money and collect food for the Food Pantry. We ask that spectators look for collection boxes in the grandstands if they are interested."
Star Valley FFA is also participating in the event as a fundraiser for their chapter. They are paid by the club to run balloons, which serve as targets for the shooters, into the arena and set them up between shooters. They will also be selling concessions outside the arena and keep the proceeds for their chapter.
Our sport is about 25-years-old," said Grimsley. "All of our riders shoot a 45-caliber single-action revolver, which means they have to pull the hammer back every single time they shoot. We have approximately 90 shooting patterns. The morning of the event, those patterns that we will be running for that event get pulled and then they get posted so our riders know what the pattern is. Everybody in the main match shoots the same pattern."
Each competitor rides their horse around barrels and shoots balloons from the saddle while riding. Additional patterns are pulled and posted for athletes shooting rifles and shotguns as well as their pistols. As they round the barrels, they holster their pistol, pull their long gun from the scabbard, drop the reigns of their horse as the animal continues to round barrels, and shoot a different pattern. Each run takes about 15 seconds.
"This is a family-friendly event," added Grimsley. "Our ammunition is certified loads of black powder, so it only goes 15-20 feet in prime conditions, which means no wind, rain or humidity. There isn't a projectile, so it's spectator friendly."
Youth are invited to participate in ground shooting with parent and guardian permission and eye and ear protection. "We have the Buckaroo Class divided into different age categories. Children under 10 are in the Limited Class of Buckaroos. Open Class of Wrangler Buckaroos is 11 and 12-year-olds. They learn how to shoot a gun from the ground, so they are not on horseback. They shoot ten targets, and then we record that and send it into our parent organization, and they get points for that and get recognized. We also have a senior division."
Individuals interested in competing must be a member of the parent organization, United States Mounted Shooters (USMS). To join the organization, visit www.usms2020.com, where you can register as a member and find other pertinent information about the sport and how to become involved with competitions.
"Some of the top riders in the country are coming to this event," added Grimsley. "Clearly, the more added money you have, the more people are willing to travel. There is no gender split, there is no level. It strictly goes off time. You must shoot cleanly, and you cannot have a penalty of any type. Our club pays back 60% of their entry fee, plus we have [$1200] added money. That is what brings people in."
The grandfather mounted shooting organization, CMSA (Cowboy Mounted Shooting Association) is the oldest club of its kind. They created the sport and will hold their world finals in October in Amarillo, Texas. Athletes competing in the Star Valley event are hoping to score well enough to qualify.
"We are all passionate about our sport," concluded Grimsley. "We want to encourage the public to come and see what we are doing and take in mounted shooting. I'm happy to do new shooter clinics, and any of our riders would be happy to talk about our sport and what we do. Our people are generally really good sports with excellent sportsmanship and excellent horsemanship. We are all competing for the money, but we are very, very good to one another and we are always good to our animals. We are happy to have people come and watch and take it in and ask questions."
For additional information and RV or stall rentals, contact Grimsley at 307-880- 6649.

Let us know what you think!
Tagged:
Afton Food Pantry
Cowboy Mounted Shooting Association
Lisa Grimsley
Mountain High Mounted Shooters
Star Valley FFA
United States Mounted Shooters