New House District 21 Rep assigned to Ag & Public Lands Committee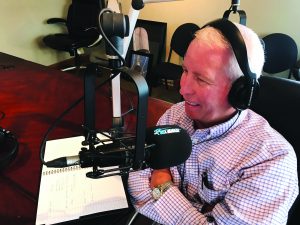 Wyoming State Representative Evan Simpson (R-HD21) stepped right into the work of the Legislative process after taking the oath of office in October.
House Speaker Steve Harshman assigned Simpson to take the place of Rep. Robert McKim on the Agriculture, State and Public Lands and Water Resources Committee.
The committee is working on several topics related to agriculture, but at the time Simpson joined the interim work, the focus had turned to the annual Wyoming State Fair hosted in Douglas.
The committee is seeking a way for the state fair and associated fairgrounds in Converse County to find new sources revenue.
"We have a wonderful state fair, but it has never operated in the black." Rep. Simpson explained.
During an interview on the Weekday Wake Up program this week Simpson remembered participating at dairy judging events as a youth at the state fair.
"We're looking at ways to keep those fairgrounds more profitable and bring in venues that will generate revenues," he explained.
Simpson said his committee may seek a change in the way the grounds are managed. He said the Converse County Commission currently appoints fair board members from the surrounding counties to oversee management of the fair.
He continued, "We want to readjust, so it is like the rest of the [state] programs, with the governor appointing the board members and there would be an emphasis on the other 50 weeks of the year."
Rep. Simpson concluded, "We want the state fair to be successful, but we just have to have a bigger, broader group with more capabilities so they can focus on generating more revenue."
Simpson's legislative assignments are expected to expand with the coming session.
The engineer with over 30 years of experience has expressed interest in working on water projects around the state. He holds a University of Wyoming degree in Civil Engineering and he has worked as an engineer in California, Washington state and Utah before opening a branch office of Sunrise Engineering in Afton 27 years ago.
In that time he has worked on water related projects throughout the State of Wyoming.
"As a civil engineer, I worked for water districts, municipalities, and irrigation districts," he recalled. "As I did, I interacted with state and federal agencies on a regular basis."
He continued, "I spent a lot of time in the Herschler (state office building); I have a good understanding of what an agency has to go through, such as the environmental process."
Rep. Simpson will continue to work with his specific committee assignment as he prepares for his first Legislative session.
The session is designated as a budget session, outlining the state's fiscal template for the coming biennium.
Simpson, concluded with a little laugh, "I've been warned that this may not be my funnest session because of the budget."
Let us know what you think!
Tagged:
Converse County Commission
Evan Simpson
Wyoming Ag & Public Lands Committee
Wyoming House District 21
Wyoming State Fair