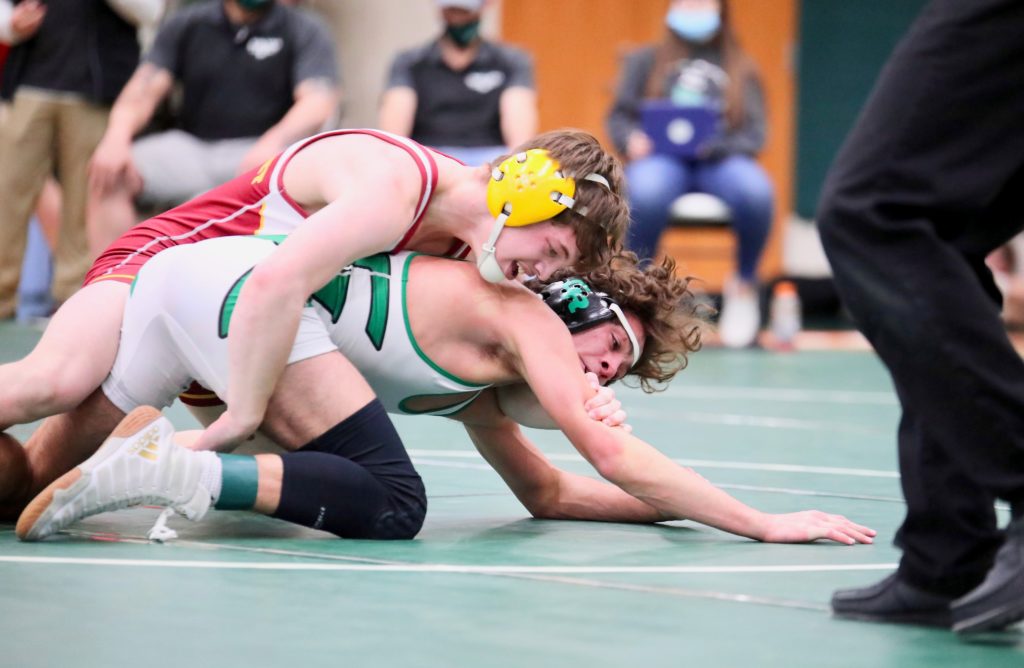 ◆ Team gunning for their sixth consecutive title in Casper this Friday.
The Braves Wrestling team will be in Casper for a one-day State Tournament like nothing they have experienced before as they shoot for the program's sixth consecutive championship and the 25th overall.
The Braves pulled away from Green River to handily claim the 3A Southwest crown with 247.5 team points.
"I didn't think we wrestled great but we got the job done," said Head Coach Eddie Clark. There's still some work to do."
The road got a little more difficult with in injury to Winston Green who was a state finalist last year. Green finished second but suffered an injury that will keep him from competing in Casper. In addition, the program is trying to get wrestlers back into the swing of things after feeling under the weather.
"We are missing a few kids that are sick," Clark added. "So we're trying to get well and the next man up is our philosophy."

With the method of drawing into the State tournament this year due to the COVID-19 protocols, Clark says there will be plenty of matches in the quarterfinals that would usually be semifinal match ups.
"The way things are drawn in it basically strips you of the ability of what's going to happen by your performance at Regionals so it's up to luck of the draw," he said. "That was probably the hardest part for a lot of kids was the inability to control what was going on. You could win regionals but will draw a tough second round match. There will be quarterfinal matches that should be semifinals in a lot of cases. I can think of three or four right off the top of my head. "A lot of schools will be dealing with that. It will affect the outcome and ow things go."
The result will be a one-day sprint on Friday that will challenge many of the norms of Wyoming State Wrestling.
"The State tournament is going to be fun and fast and furious," Clark added. "We've got this far and even though we are facing a little adversity here at the end, we've faced it before so we'll square up with it and it's time to battle."
• Coverage
Jason Hoopes will be on location providing audio-only coverage of both the 2A Tournament on Thursday, February 25 and Friday, February 26. A link for this coverage will be at svinews.com with championship matches to be broadcast via traditional radio as well. 2A championship matches (Cokeville, Kemmerer) will be on The Spur with 3A (Star Valley) broadcast on Swift 98.
WHSAA 3A Southwest
106: Malachi Patterson (0-2)
106: Bridger Smith (3rd)
113: Porter Merritt (3rd)
113: Weston Angell (4th)
120: Raf Greene (3rd)
120: Waylon Nelson (2nd)
126: Jacob Guild (1st)
126: Kal Burk (3rd)
132: Kaleb Fila (2nd)
132: Jacob Isaacson (4th)
138: Winston Green (2nd)
138: Joseph Naef (3rd)
145: Xavier Jirak (3rd)
145: Brayden Andrews (1st)
152: Jesse Leavitt (0-2)
152: Haze Child (1st)
160: Joshua Semadeni (2nd)
160: Joseph Thompson (1st)
170: Brandon Beck (3rd
170: Harrison Hoopes (1st)
182: Zachary Patterson (1st)
182: Taggart Heward (3rd)
195: Tony Mickelson (1st)
195: Weslee Turner (3rd)
220: Aiden Crook (3rd)
220: Kysen Hebdon (2nd)
285: Carter White (2nd)
285: Gabe Nield (1st)
Team Scores
Star Valley 247.5
Green River 183.0
Lyman 83.0
MountainView 65.0