Palisades Reservoir remains full going into final week of July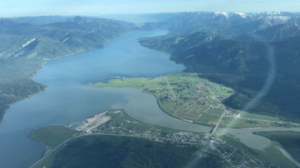 The good news of cool, wet weather in the spring and early summer months in Star Valley is that Palisades Reservoir reaps the rewards.
According to information provided by the Bureau of Reclamation, Palisades is sitting at 94 percent full going into the final week of July.
The entire Upper Snake River Water System, of which Palisades is a part, is sitting at 82 percent.
The Upper Snake River Water System includes: Jackson Lake, 97 percent; Palisades Reservoir, 94 percent; Grassy Lake, 95 percent; Island Park, 95 percent; Ririe Reservoir, 99 percent; American Falls Reservoir, 63 percent; Lake Walcott, 96 percent; Little Wood, 92 percent; and Milner, 78 percent.

Tagged:
Bureau of Reclamation
Palisades Reservoir
Upper Snake River Water System