Park to allow volunteer hunters to help eliminate goats
By Mike Koshmrl
Jackson Hole News&Guide
Via- Wyoming News Exchange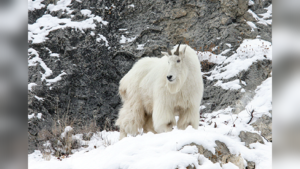 JACKSON — Details are still fuzzy, but Grand Teton National Park will allow "qualified volunteers" to assist with the effort to eradicate 100 or so invasive mountain goats in the Teton Range.
Mountain goat hunting, in other words, is in store for the national park's high peaks, though that's not a term that the National Park Service is using. There's still a lot to sort out, park Chief of Science and Resources Sue Consolo-Murphy said, such as whether training and certifications will be necessary, what would become of the goat meat and whether park officials will accompany the "volunteers."
"We really haven't developed this yet," Consolo-Murphy said. "We want to spend some time developing what this would look like and figure out how to roll it out and let people know there will be an opportunity to help. I think it probably won't be unlimited, and we just need to figure this all out."
In instances where Grand Teton authorizes hunting, park officials refrain from using that term to describe what's going on. The annual elk hunt, included in the park's enabling legislation, is referred to as a "reduction program," for example. This year the season begins on Nov. 2. Rules are more restrictive than other nearby elk hunts on private or Bridger-Teton National Forest land — bear spray and non-lead bullets, for example, are required — but the program still functions like a hunt and is carried out by unchaperoned hunters licensed by the Wyoming Game and Fish Department.
The objective of eliminating wild goats from the Tetons has been broadly supported, largely because the nonnative critters are potentially perilous for a resident bighorn sheep herd. The isolated sheep herd has never been exposed to a number of deadly pathogens that the goats, migrants from the Snake River Range, are known to harbor. The goat population has been climbing while sheep numbers have sagged, and biologists monitoring the precarious sheep herd have grown increasingly worried about the possibility of extirpation.

Using "skilled volunteers," or hunters, is new to the plan for removing exotic goats since the national park issued an environmental assessment outlining their approach last December. Initially the park sought to use Park Service staff or contractors to kill goats from the ground with rifles, and from helicopters with shotguns. The earlier plans called for leaving the carcasses on the mountainsides.
The idea of paying people to blast goats from the air and leaving the meat to waste riled people like Wyoming Game and Fish Commissioner Mike Schmid, who lobbied the Park Service to consider letting the public hunt the animals.
"I would hope the agencies can come together to come to some kind of a solution," Schmid told the News&Guide late last year, "because the goals are the same."
Schmid, who couldn't be reached for an interview for this story, successfully hunted a Teton Range goat just last week outside of the national park boundaries, according to his Facebook page. Wyoming Game and Fish has supported the goat eradication effort, even liberalizing its season, allowing 48 people to pursue goats where they range outside of the park into the Caribou-Targhee National Forest's Jedediah Smith Wilderness. That hunt has proved a surprising success, state officials say.
Calls to allow hunting evidently resonated with some Park Service officials. In the meantime, in March, the John D. Dingell Jr. Conservation, Management, and Recreation Act was passed.
Section 2410 of that bill addressed "wildlife management in parks," calling for an amendment to a U.S. Code of Federal Regulations.
"If the Secretary determines it is necessary to reduce the size of a wildlife population … the Secretary [of the Interior] may use qualified volunteers to assist in carrying out wildlife management on [park] system land," federal lawmakers wrote in the act, sponsored by Sen. Lisa Murkowski, R-Alaska.
Grand Teton officials cited the act in their "finding of no significant impact" decision memo, which was signed by Park Service Acting Regional Director Palmer Jenkins on Sept. 27. The document wasn't posted or publicized by the agency for another three weeks.
Language in the park's plans about where the goat meat would go — either to Native American tribes, volunteer shooters or food banks — also mirrors a provision in the 2019 Dingell Act.
The decision includes a number of stipulations for using volunteers. Hunters would be required to carry bear spray and attend safety training. They would work in teams of two or more, but no more than six volunteer hunters would be permitted in the backcountry in any given week. If a hunter killed a goat, he would have 12 hours to phone in a report of their harvest.
Conservationists and Park Service watchdogs reached by the News&Guide were disappointed by the change of plans. A clause included in the National Park Service's founding Organic Act of 1916 is to "conserve the scenery and the natural and historic objects and the wildlife therein," and that language has generally resulted in the prohibition of hunting.
"We believe this amounts to an ad-hoc hunt," National Parks Conservation Association staffer Sharon Mader said. "We supported the park's preferred alternative, which said that the lethal removal would be done by ranger sharpshooters. Given that was the park preference, it was unusual that they decided to go with volunteer hunters."
Mader charged that the park's decision "flies in the face" of the 1950 act that created Grand Teton Park and also the Park Service's mission.
"According to Grand Teton's enabling legislation, the only hunting that is allowed in the park is deputized hunters through the elk reduction program," Mader said. "That clearly established that there's no additional hunting allowed."
Outspoken Jackson conservationist Franz Camenzind echoed those concerns.
"This should be done by park staff," Camenzind said. "The idea that there's hunting in the park, even under a so-called eradication program, is a terrible precedent."
Camenzind said he has spoken with several environmental attorneys, and reported that they're "very concerned" and believe the Park Service has made itself vulnerable to litigation.
Although using "qualified volunteers" will be an option, Grand Teton's decision also authorizes lethal aerial operations, including both shooting goats and capturing them while alive and then euthanizing them. The planning document also keeps the door open for relocating live mountain goats.
The "qualified volunteer" program is at least a year away, Consolo-Murphy said, but she anticipated that lethal aerial operations would start up in winter 2019-20.
"We anticipate, if we can this winter, that we will start with some aerial control … but we want these different tools in the box to be able to use," she said. "If both of these tools work to achieve these objectives, all the better.

"Remember that the primary objective here is to control the mountain goats," Consolo-Murphy said. "This is about doing something pretty quickly to reduce the threats on the sheep."
Grand Teton's goat removal plans anticipate that the population will be chipped away at over five years, but that "most activity" would occur in the first and second field season. The document anticipates up to three "removal periods" each winter, between mid-December and early March, during which there may be area closures of canyons to buffer the public from the lethal aerial activities.
Most of the killing will take place in the heart of the Tetons, between Cascade and Snowshoe Canyons, where the most mountain goats live.
Temporary salt licks may be deployed to attract goats to areas where they'd be in view of aerial gunners. Also authorized by the plans is the use of "Judas goats," which would be immobilized and fitted with GPS radio collars and then turned loose to go mingle with their counterparts.
The 40-page "finding of no significant impact" document outlining the plans is attached to is online version.
Let us know what you think!
Tagged:
Grand Teton National Park
mountain goat elimination
National Park Service