Pile Burning Will Begin Soon on the BTNF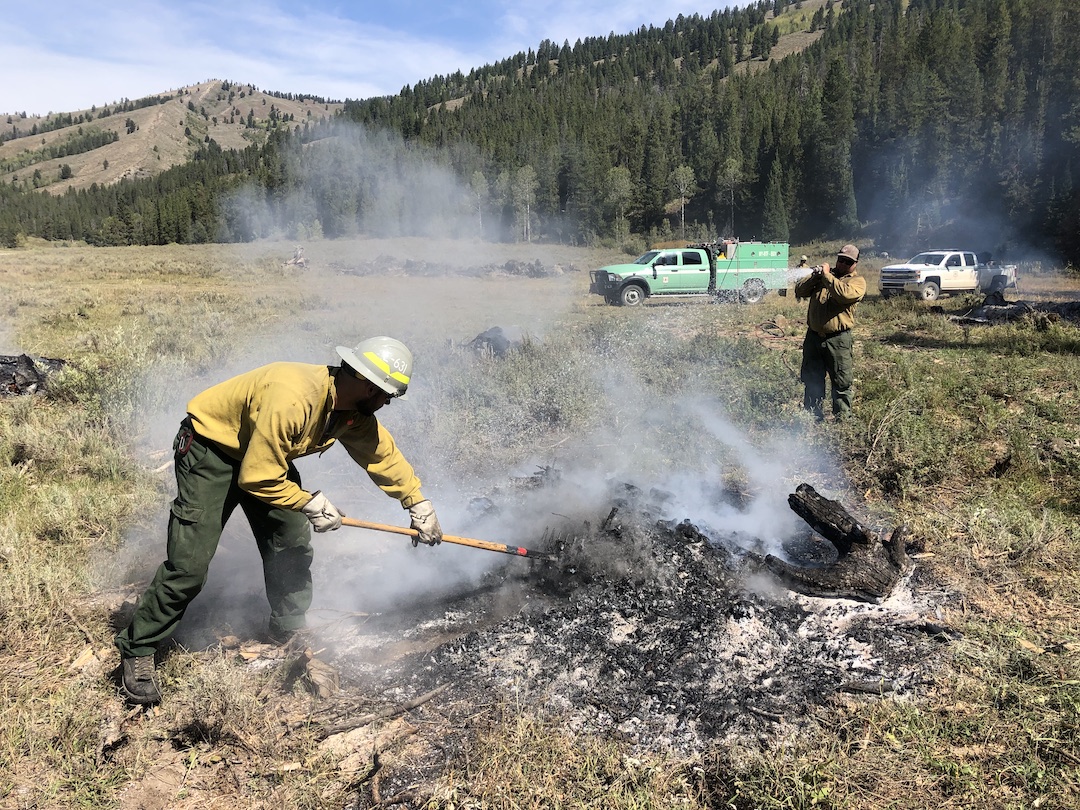 Western, Wyo., October 28, 2022—Winter conditions are settling in over the Bridger Teton National Forest, which means firefighters and fuels crews will soon begin pile burning operations throughout the forest.
Fuels reduction programs, which involve mechanical or hand thinning, remove trees to reduce forest density and improve forest health. Hand piles result from crews using chainsaws to thin the forest and then piling the sawn unmarketable limbs, saplings, and brush.
This season's pile burning could begin as early as next week (October 31, 2022) and continue through December, depending on weather, fuels conditions and access. Piles are only ignited when fire and fuels managers are confident that the project can be undertaken safely and successfully. Snow cover, fuel moisture, precipitation, wind, temperature, and available firefighter staffing are all taken into account before beginning a pile burn. Smoke, flames, and glowing embers are often visible, and are a normal part of pile burning operations. Snow helps contain the piles and firefighters patrol the area during and after the burn.
Blackrock Ranger District
-Toppings Lake Road, 5 acres treated
-Wilderness Ranches, 1 acre treated
Jackson Ranger District
-Phillips Bench, 42 acres treated
-Singing Tress, 41 acres treated
-Red Top Meadow, 56 acres treated
-Highland Hills, 3 acres treated
Greys River Ranger District
-Cedar Creek, 3 acres treated
Big Piney Ranger District
-Monument Ridge, 120 acres treated
-Various other locations, 10 acres treated
Pinedale Ranger District
-Skyline Wildland Urban Interface, 60 acres treated
-Various other locations, 10 acres treated
Kemmerer Ranger District
-Big Park Loop, Nugent Park, Bug Creek, each 1-2 acres treated
Additional piles are located at guard stations and administrative sites throughout the forest.
Learn more about the Bridger-Teton National Forest and its fire and fuels programs on our website at  https://www.usda.gov/btnf/ or www.tetonfires.com, or by following us on Facebook https://www.facebook.com/BridgerTetonNF or Twitter https://twitter.com/BridgerTetonNF
Let us know what you think!