Plane crash in Utah takes the life of a Star Valley man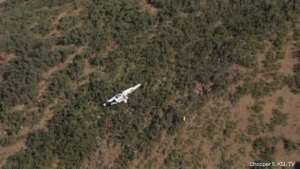 Morgan County Sheriff Sgt. Craig Tillet said the two men worked for a pipeline company and were checking pipelines that run across the mountains at the time of the crash.
Their flight took off from Evanston, Wyo. at 2:51 p.m. Wednesday. When one of the victim's wives hadn't heard from her husband she contacted officials.
The plane was found Thursday morning.
The FAA and the NTSB will investigate the cause of the crash.
The victims of the crash were identified as Samuel Cortright, 34, and Kenneth Cram, 50.
*Original Story*
According to officials with the Morgan County Sheriff's Office, two people have died following a plane crash on Thursday morning.
SVI has learned from sources close to the family that one of those deaths is Mr. Ken Cram.  The name of the other individual is unknown at this time.
As first reported by KSL.com, "A Cessna 210 plane crashed under unknown circumstances, Federal Aviation Administration spokesman Allen Kenitzer. It crashed in a mountainous area about 4 miles west of Henefer, according to Kenitzer.
The FAA and National Transportation Safety Board will be investigating the crash, Kenitzer said.
FAA records show the plane is registered out of Ottawa, Kansas, located southwest of Kansas City. It was manufactured in 1974, the FAA registration information shows.
Local authorities said two people were on board the plane, according to Kenitzer. It's not clear where the plane took off from or where it was flying to at the time of the crash."
Mr. Cram leaves behind a wife and three children.
More information on this story will be updated as it becomes available.

Let us know what you think!
Tagged:
Allen Kenitzer
Federal Aviation Administration
Ken Cram
Morgan County Sheriff's Office