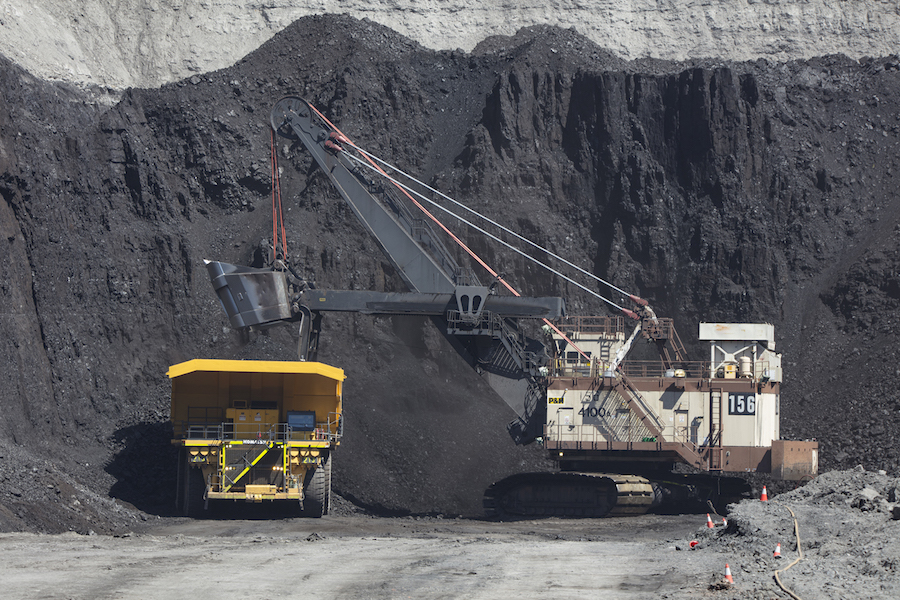 By Jake Goodrick
Gillette News Record
Via- Wyoming News Exchange
GILLETTE — Powder River Basin coal production dipped last quarter as demand cooled due to lower natural gas prices and higher utility stockpiles, despite the mines finding long-awaited improvement from railway companies.
The 12 Campbell County mines pulled about 54.7 million tons of coal from the basin from the beginning of April through the end of June.
That haul is more than three million tons less than the 58 million tons produced in January through March, according to data compiled from the Mine Safety and Health Administration and Peabody Energy and Arch Resources quarterly reports.
Peabody's North Antelope Rochelle Mine saw the most significant decline in production, falling from 16 million tons mined in the first quarter to about 13 million tons in the second, according to MSHA data.
The quarterly numbers account for the hampered production from June 23 through June 30, when the mine was hit by and recovering from an EF2 tornado that ripped through the site.
That tornado sent eight people to the hospital, destroyed workshop buildings and toppled train cars, halting production from the evening of June 23 until June 25 when mine operations began ramping back up.
The mine lost about 1 million tons of production from the tornado and the company wrote off about $5 million of buildings, equipment and parts inventory related to the incident, according to Peabody.
NARM was outmatched by Black Thunder in 2022 after leading the Powder River Basin in production for more than a decade, according to data from MSHA and the state's annual mine inspector's report.
Black Thunder mined more than 62 million tons last year, leading all Powder River Basin mines.
Halfway through 2023, the basin's production is on track to fall shy of numbers from the past two years.
Almost 113 million tons of PRB coal have been mined through six months.
The basin produced more than 237 million tons last year and about 230 million tons in 2021. Those relatively strong years followed a crash in production from about 267 million tons in 2019 to about 207 million tons in 2020, spurred by the COVID-19 pandemic in early 2020.
Lately, natural gas prices have hovered below the "sweet spot" of $2.80 to $3, the price range in which Wyoming's thermal coal is competitive with natural gas, said Travis Deti, executive director of the Wyoming Mining Association.
When natural gas prices fall lower than $2.80, utilities favor it. When prices rise above $3, Wyoming coal typically gains value.
"That's having an impact on production," Deti said.
Another factor in the lessened demand is that utility companies have been able to fill their stockpiles after a stretch in which energy producers were struggling to meet demand from utilities, in part due to poor performance from railway companies shipping coal from mines to customers.
"You're seeing utilities filling those stockpiles again and we're seeing some things even out," Deti said.
Rail performance has improved after railway companies were blamed for causing the loss of millions of tons of production last year, when demand for Wyoming's thermal coal held steady through a volatile energy market and the trains couldn't keep up.
"We've seen some significant improvement in probably the last six moths, the problem we're dealing with right now is consistency," Deti said.
Still, Powder River Basin mines have effectively sold the majority of the coal they'll produce for the rest of the year and have begun selling commitments in 2024.
Peabody officials reduced their expected production for the year down to 80-85 million tons but they expect their PRB production to increase from second to third quarter. Given the market, they expect some customers to request deferring shipments to next year.
Arch officials expect to ship 60 million tons of coal this year while rolling 5 million tons of production into 2024.
Let us know what you think!
Tagged:
Black Thunder Mine
North Antelope Rochelle Mine
Peabody Energy
Powder River Basin coal production
Wyoming Mining Association