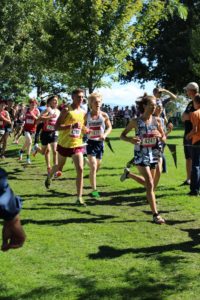 More than 600 teams and over 5,000 runners descended on Boise, Idaho this past Saturday for the annual Bob Firman Classic; an annual collection of some of the best runners in the country.
Star Valley High School sent a full contingent of cross-country runners who raced in various fields but one thing was consistent. Big improvements. Nearly all of the SVHS runners took significant time off their previous efforts on the same course.
Perhaps nobody was more impressive than junior Peter Visser who placed second overall in the Elite category, running a time of 15:12.40 which is the fifth fastest time ever at Eagle Island.
"It was a big field and "Pete's always enjoyed competition," said head coach Ty Draney. "It was a super-competitive field and some of them even dropped out during the race because it was so hot. We were confident that he could get to this point by the end of the season and qualify for Nike Nationals. After this we have to recalibrate and keep moving forward."
Draney pointed out that the faster one runs, the harder it is to see those giant gaps of time disappear which makes Visser's effort all the more impressive.

In was a terrific race for the Elite Braves overall with the second through fifth varsity spots all running under 17 minutes in a time frame of just 52 seconds.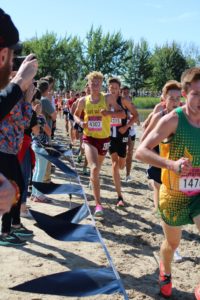 "To have that span of 52 seconds was a great performance by the guys," Draney continued. "They wanted to run in that Elite race and push themselves. It's fun when you can coach competitors; guys who don't get caught up in the results but work hard and then throw down and see where things land."
The Lady Braves were noticed by several teams after finishing second in the Varsity Division-II Race. All five varsity scorers were within two minutes of each other.
They shortened that spread down a lot," Draney said of the ladies. "We've moved along significantly from last year with our attitude and willingness to do the little things. We're super excited for them. We know they will be on other teams' radar now. Buffalo, Lander, Cody and us will be fighting for those four spots. You could be taking a fire truck ride or knocked off the podium."
Draney pointed out the current depth of the program.
"Right now we have 10-12 girls who fill seven spots so we're just focusing on getting faster and running for each other instead of against each other. "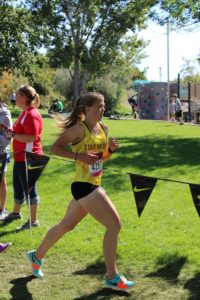 Women's 5,000 Var. D-II
Jacie Angell 20:03.90 (9)
Eve Mavy 20:09.70 (12)
B. Kallgren 20:41.00 (25)
Sh. Angell 20:53.00 (31)
Lacy Coles 22:03.10 (66)
Emma Dubisz 22:23.70
Lily Jenkins 22:25.20
Women's 5,000 JV D-II
Sarah McKen 21:57.90
Emmalee Hale 22:00.10
Jill England 22:43.30
Kaia Barkdull 23:21.30
G. Hendriks 23:39.20
Sadie Mavy 23:58.50
F. Hunting 24:15.70
M. Wolfley 25:57.90
Taytum Dyer 25:34.50
Anna Kallgren 25:42.50
Onnika Olsen 26:25
M. Mutti 26:40.90
Cheyenne Hall 26:46.70
Araceli Miguel 27:33.40
April Davis 29:34.20
L. Cicarella 32:31.50

Men's 5,000 Elite
Peter Visser 15:12.70 (2)
Jesse Loveland 16:07.60 (38)
C. Etzelmiller 16:36.70 (86)
Taylor Horsley 16:47.90 (107)
Dillon Foley 16:59.10 (127)
Men's 5,000 Varsity D-II
J. Hunting 17:47.50
Brayden Hahn 17:53.70
Noah Draney 18:37.00
S. Howes 18:49.90
M. Thompson 19:01.40
Bryan Hahn 19:01.40
Josh Strgar 20:01.10
Men's 5000 JV
P. Thompson 20:00.10
C. Buchanan 20:01.70
J. Hofheins 20:25.40
S. Schwab 20:45.60
C. Hirschi 20:51.60
C. Thygerson 21:08.00
S. Robayo-Mange 21:20.90
J. Heywood 21:43.60
P. Jardine 22:05.20
Aaron Hyde 22:20.00
K. Allred 23:11.00
Cliel Roberts 23:27.20
Colt Ayers 24:57.70
Men's Team Division II
Sugar-Salem 94
Morgan 137
Burns 172
Enterprise 178
Rowland Hall 179
North Sanpete 232
Gooding 260
Snake River 272
McCall-Donnelly 311
Cole Valley 311
Star Valley (14 of 29 teams)
Women's Team Division II
Sugar-Salem 65
Star Valley 109
Morgan 156
Bear Lake 167
Burns 238
Salmon 246
West Side 260
Xavier Prep 270
Oakley 277
Kimberly 282
(31 teams)
Men's Team Elite
Corner Canyon 103
Davis 129
Skyridge 141
Farmington 150
Stansbury 226
Lone Peak 235
Bozeman 270
Orem 280
Hellgate 284
N. Central 295
(Star Valley 12 of 29 teams
Tagged:
Bob Firman Classic
Star Valley cross-country