Public health orders extended as Wyoming cases jump by 64
By Tom Coulter
Wyoming Tribune Eagle
Via- Wyoming News Exchange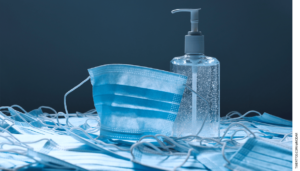 CHEYENNE — As Wyoming reported its single-day record for increase in lab-confirmed COVID-19 cases Tuesday, Gov. Mark Gordon announced the state's current public health orders have been extended through Aug. 15.
The 64 new cases reported Tuesday – the same day the state's 26th death from the virus was announced – came about a week after the state reported its previous single-day high of 62 cases July 20.
The three orders, which have been in place since June 15 after a gradual loosening of earlier restrictions, allow for enclosed gatherings of up to 50 people and outdoor gatherings of up to 250, with some exemptions for faith-based groups.
During a news conference Tuesday afternoon, Gordon said the state was approaching a critical time for its economy, noting how COVID-19 setbacks have forced other Republican governors in states like Texas and Arizona to temporarily close bars.
"We're trying to make sure that we find that balance that doesn't impinge on people and make sure that we're open. But make no mistake: this economy can be closed if people are careless," Gordon said.
Gordon said many of Wyoming's new cases have come from gatherings of family and friends "in close proximity," and as he often has during the pandemic that has killed nearly 150,000 Americans, the governor emphasized the importance of social distancing and wearing a mask.

"It's really simple – if you're dead set on taking down Wyoming's economy, don't wear this," Gordon said, gesturing to the mask draped around his neck.
The extended public health orders also include a modification meant to address school reopenings, requiring students and teachers to wear face coverings in situations – both indoors and outdoors – where social distancing cannot be maintained.
Earlier this week, the Wyoming Office of Homeland Security and Wyoming Department of Education announced a partnership to distribute 500,000 cloth face coverings to school districts around the state. School districts have been asked to submit individualized plans to the Wyoming Department of Education by Aug. 3.
"The 'one size fits all' (approach) doesn't work," Gordon said of schools reopening. "But I hope every Wyoming citizen and every Wyoming parent and every Wyoming student pays attention to the kind of responsible behavior that we've talked about right from the start: making sure that you wash hands, making sure that you keep a socially respectful distance of 6 to 8 feet and wearing (a mask)."
There were also a few positives within the state's COVID-19 numbers that the governor mentioned during his press conference. Wyoming's positive test rate currently sits at about 3% of all tests conducted, while the nationwide positive rate hovers around 10%, according to the Centers for Disease Control and Prevention. Additionally, Alaska is the only state with fewer COVID-19 deaths than Wyoming.
Yet Gordon maintained the next few weeks will prove critical for the state, both as it revamps its economy and as schools districts across the state plan their reopenings.
"Let's make sure that we have a successful fall, because that's what's going to be important for us to get out of this economic slump," Gordon said.
Let us know what you think!
Tagged:
Disease Control and Prevention
Governor Mark Gordon
Wyoming COVID-19
Wyoming Department of Education
Wyoming Office of Homeland Security