Rep. Andrew Byron talks property tax reduction
• Constitutional amendment on next year's ballot.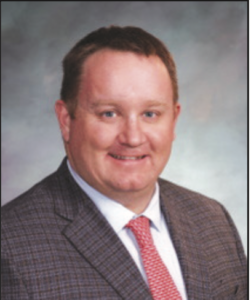 Andrew Byron represents northern Star Valley and a portion of Teton County which makes up House District 22. Byron, a resident of the Hoback area, was elected to his first term in the Wyoming Legislature during the election of 2022. In an interview with SVI during the Weekday Wakeup, he first spoke of the process of becoming part of the Wyoming Legislature.
"The analogy was drinking from a fire hose," he laughed. "But once we settled in you learn how to do things and work with the Senate; you have to earn your stripes and learning how to work with people was a highlight of my first year in the legislature."
Byron spoke of the busy schedule for 2023 which has included recent meetings in Sheridan and Casper and another coming up in Cheyenne.
"The most important issue facing us is the property tax issue," he said. "We have reconsidered a number of bills that did not make it last session and at the end of the day we passed a couple of great bills. I pulled up the numbers from Lincoln County in 2021 there were 100 applicants seeking property tax relief and in 2022 there were 346 with over a quarter million given back but there is still work to do."
Byron stated that one new bill to help with the property tax issue would allow those over 65 who have paid residential taxes in Wyoming for 30 years could receive a 50-percent reduction.
"That would help grandma and grandpa and those who have paid their fair share," he said.
Another would potentially provide up to $200,000 in relief but
before that bill can be further considered, it would require an amendment to the state constitution.
"The amendment would remove residential property out of out of those other categories and allow us to examine it within it's own category," Byron stated. It will be on the ballot in November and there's been some resistance because there's been some poor communication and some misinformation out there."
The amendment, sponsored by Senator Dan Dockstader, would allow lawmakers to target that particular category and reduce taxes. Without being singled out, property tax is lumped in with other categories and it is nearly impossible to address within it's current iteration.
"We'll need two-thirds of the vote," Byron added. "So we have work to do  to get that word out there."
In even-numbered years, the legislature convenes in a Budget Session beginning on the second Monday of February which typically lasts 20 legislative days.
Let us know what you think!
Tagged:
Andrew Byron (R-HD22)
Wyoming House District 22
Wyoming property tax reduction