Repeat After Us: Braves are 4A Champs Again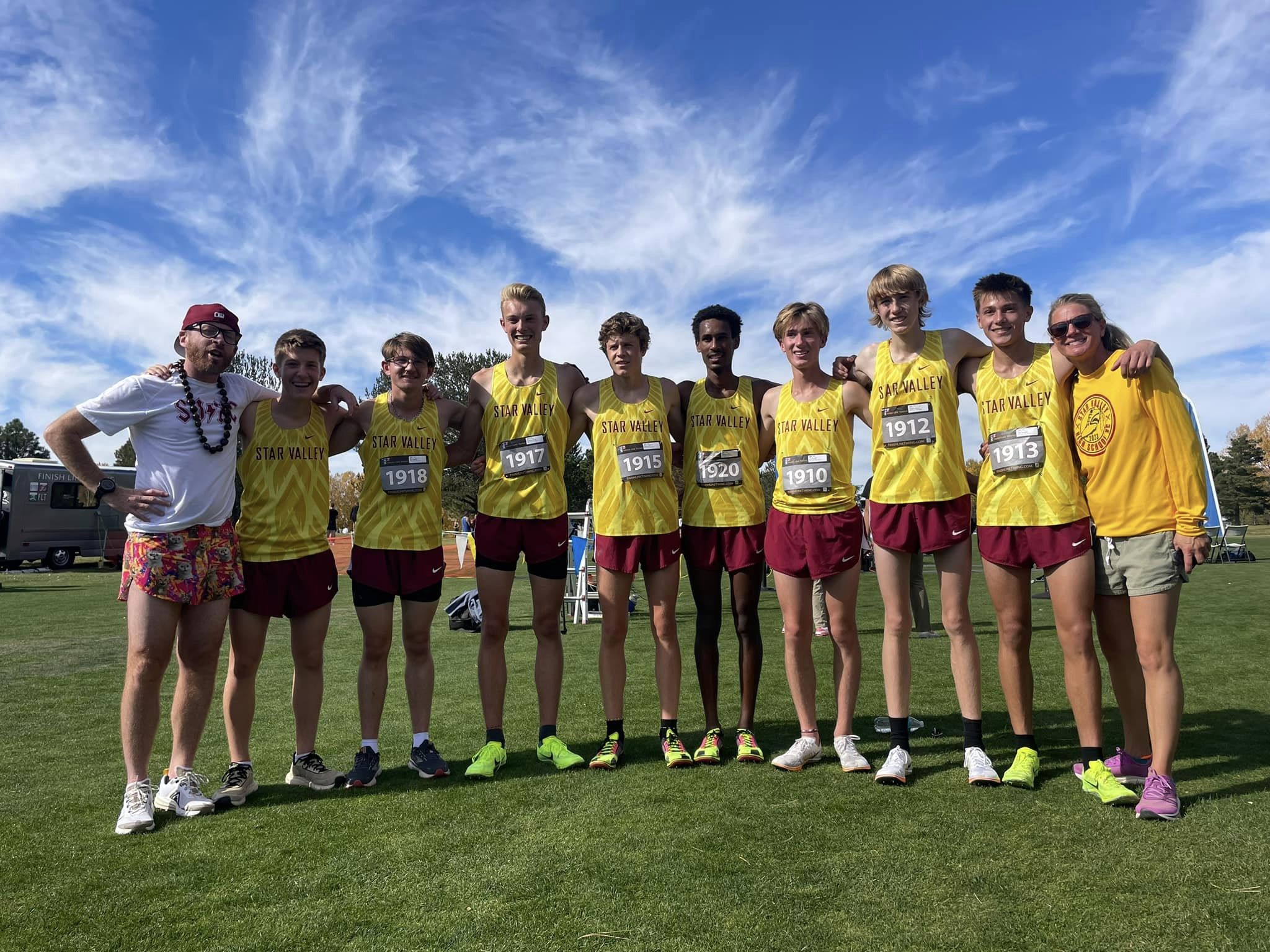 A year ago nobody expected the Braves to win the 4A Boys Cross-Country title. For the past 12 months, they've been watched, pondered and studied by the opposition. But when the program is bringing back all five point-scorers and has aspirations for the Nike Regionals next month, their strategy really wasn't so much under the radar rather than just blunt, blazing speed. And a lot of it. 
Habtamu Wetzel repeated as the individual champion with a time of 15:48.26 and Jase Burton was second with a time of 15:58.60 to pace the effort and then Peter Lorch (6th), Colton Cranney (7th) and Drake Plowman (8th) all finished in an All-State wolfpack to seal the deal. 
As a team, the Braves notched 24 points, a whopping 50 better than second-place Cheyenne Central. Laramie rounded out the top three with a 98. 
Star Valley's sixth and seventh runners, Beau Skinner and Matt Heywood, both ran great races and finished 28th and 31st respectively. 
"It's a relief," stated head coach Ty Draney. "I think our roles were reversed a little bit. For them running is extremely exhausting to go that hard but you wait and wait to get it done. It's a bit of a 180 from last year where they were a surprise. They've been very methodical since June and worked hard so they could go out and execute;   A pretty special day."
The Lady Braves finished 9th as a team with all five scorers finishing between 29 and 58 in the field. Kaitlyn Bach led the pack with a time of 21:17.26. Carlee Angell and Alexis Angell were also under 22 minutes. 
The Natrona Fillies won the 4A Girls title with 50 points, edging out Cheyenne Central who had 55. Laramie was third with 102. Natrona had three finishers in the top seven. 
Jackson's Madison Antonino pulled away from the pack with a time of 18:17.18 to win the individual girls title by more than 40 seconds. 
In the other classifications, Evanston won the boys 3A title with 57 points and three runners in the top eight. Worland was second with 81 points and Riverton was third with 97. Two-time defending champion Mountain View was seventh. The Lyman Eagles were ninth. Cody's Charlie Hulbert won the individual race with a time of 16:10.11. 
In the 3A Girls race, the Powell Panthers denied the Cody Fillies a fifth straight team title by winning with a score of 65. Cody had to settle for second with a 76 with Evanston finishing third and a score of 84. Zena Tapia of Worland won the girls individual race. The Lyman Eagles were seventh and the Mountain View Buffs were 13th. 
Finally, in the 2A Girls race, Wyoming Indian and Wright tied with a team score of 38 but the Chiefs won on criteria with four runners in the top nine. Tongue River was third with a 61. 
(2A Boys Race Results were not available. They will be added at a later time.)
Star Valley Boys
Habtamu Wetzel  15.48.26 (1st)*
Jase Burton  15:48.60 (2nd)*
Peter Lorch  16:28.66 (6th)*
Colton Cranney  16:31.53 (7th)*
Drake Plowan  16:35.39 (8th)*
Beau Skinner  17:35.05 (28th)
Matt Heywood  17:42.70 (31st)
(* = All-State)
4A Boys Team
Star Valley  24
Cheyenne Central  74
Laramie  98
Kelly Walsh  121
Natrona County  144
Sheridan. 160
Cheyenne East  176
Jackson Hole  190
Thunder Basin  191
Rock Springs  252
Campbell County  299
Star Valley Girls
Kaitlyn Bach  21:17.26 (29th)
Carlee Angell  21:30.99 (36th)
Alexis Angell  21:49.34 (41st)
Gracey Visser  22:11.61 (46th)
Kylee Linford  22:58.74 (58th)
Kenna Merritt  23:28.68 (65th)
Bree Cranney  23:57.42 (71st)
4A Girls Team
Natrona County  50
Cheyenne Central  55
Laramie  102
Sheridan  117
Jackson Hole  133
Kelly Walsh  139
Thunder Basin  165
Cheyenne East  168
Star Valley  210
Campbell County  223
Rock Springs  264
Let us know what you think!