Returning 'relatives': Yellowstone sends more buffalo to tribes, less to slaughter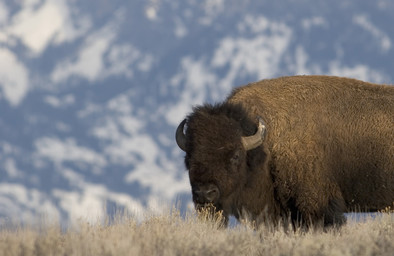 • Park sees slaughter as 'a serious problem.'
By Billy Arnold
Jackson Hole News&Guide
Via- Wyoming News Exchange
JACKSON — Ervin Carlson did not take his presence in Yellowstone National Park for granted.
As a member of the Blackfeet Nation in Montana, the manager of its buffalo herds, and the president of the Intertribal Buffalo Council, Carlson took a minute to reflect on American military commanders' policies of killing buffalo to deny Native Americans a critical food source during the Indian Wars in the 1800s.
"They wanted to get rid of buffalo and consequently get rid of Indians," Carlson said Thursday. "But buffalo are still here. We're still here. And we're still fighting to bring them back to our culture."
In 2008, Yellowstone shipped some 1,500 bison to slaughter, one of the only tools it had to keep the population of wild bison in the park from spilling out beyond its northern border into Montana. Officials and ranchers in Big Sky Country were worried that the animals would spread brucellosis, a disease that can induce abortions in cattle, to domestic cows in their state. Tribal hunts guaranteed to Native American nations were only beginning, and federal officials hadn't yet found a way to remove the animals without killing them.
On Thursday, Yellowstone Superintendent Cam Sholly, who in 2008 was a lower ranking official in the U.S. Department of Interior, described that mass killing of America's national mammal a tragedy.
"I fundamentally have a serious problem, as the superintendent of Yellowstone, with shipping bison to slaughter," Sholly said. "It's probably one of the most unpopular things to the American public. And it's something that we need to work together to move away from."
For the past five years Yellowstone has worked to do exactly that.
While bison that leave the park are still slaughtered each year, and hunted by tribal members and other hunters licensed by the state of Montana, Yellowstone has steadily expanded a program allowing it to quarantine wild bison and send them to the Fort Peck reservation. Once at the reservation, in Montana's northeastern corner, the bison are quarantined for roughly a year. 
If the buffalo are determined to be free of brucellosis at each stage, Fort Peck integrates them into one of its herds — or sends them to other tribes across the country that want to see the animal restored to their native habitat. The park, Fort Peck and the InterTribal Buffalo Council have transferred almost 300 bison to Fort Peck, which have then traveled to 23 tribes in 12 states ranging from Alaska to Michigan.
While that pales in comparison with the thousands of bison slaughtered over the years, Sholly and tribal members who addressed reporters and onlookers at a ceremony Thursday said it was only a start.
This year the park captured 282 bison at the Stephens Creek facility, a series of corrals northwest of Mammoth where park officials quarantine animals before they're released to Fort Peck.
That, Sholly said, "is almost as many as we've transferred to date."
The number of buffalo that Yellowstone National Park has sent to slaughter over time has ticked down from about 1,500 in 2008 to about 25 in the winter of 2022 and about 80 this past winter.
With a new study showing that bison are typically free of brucellosis after 300 days of quarantine, and an expanded transfer facility that allows officials to hold 200 animals at a time, 120 more than when the program first started, Yellowstone and the tribes hope to transfer more. Park officials said current guidelines require male bison to be quarantined for two years and females for three.
The paper, published in January, says with "a 300-day quarantine period, it would take 30 years to potentially miss [one brucellosis-positive bison] out of over 8,000 bison enrolled in the quarantine program."
That, said Yellowstone's senior bison biologist, Chris Geremia, requires further confirmation.
But he said it's good news for bison transfer.
"As more and more information comes in, the opportunity to substantially reduce testing timelines, and the opportunity to transfer more animals to tribes on an annual basis, becomes a reality," Geremia said.
Sholly said that reducing quarantine times is something Yellowstone is looking into with Interior Secretary Deb Haaland, Deputy Interior Secretary Tommy Beaudreau, the U.S. Department of Agriculture's Animal and Plant Health Inspection Service and the Montana Department of Livestock.
"Is it possible using some of this new science and the sample size that we have now to reduce the length of time that bison have to stay in the protocol?" Sholly said. "If that can happen safely, then we can push more bison through that pipeline and transfer more bison to tribes across the country."
Bryce Kirk, a member of the Fort Peck Tribal Executive Board, described the program as officials fulfilling a "promise to Indian Country" and making good on the "the trust, obligation and the responsibilities that they all have to see that our relatives are returned home to every reservation throughout the United States."
Carlson, president of the InterTribal Buffalo Council, said buffalo are central to Native American life.
"They're a big part of us culturally, spiritually," Carlson said. "They belong in all of our ceremonies."
Kirk, Sholly and Carlson all spoke Thursday in the corrals at Stephens Creek, celebrating the partnership between the park and its tribal partners. Deputy Interior Secretary Beaudreau attended, flanked by other regional Park Service officials and staff from nonprofits like Yellowstone Forever, the park's nonprofit auxiliary, and the Greater Yellowstone Coalition. Both helped raise money to expand the facility.
The event gave members of the press access to the facility for the first time since 2018, when someone entered the facility, cut locks, opened gates and freed hundreds of bison. Yellowstone's chief public affairs officer, Morgan Warthin, said that was a "turning point" for the park, ushering a new era of facility security.
A spokesperson and deputy director of the Montana Department of Fish, Wildlife and Parks did not return a request for comment on the park's program or interest in shortening quarantines before press time Tuesday.
Keith Aune, a former chief of wildlife research for Montana Fish, Wildlife and Parks, co-authored a study that outlined how bison transfer could work in 2014. Seeing the park collaborate with the tribes to make it happen is "amazing," he said, particularly because of the long-history of conflict.
"I was there when the fight was on; I took the battle scars for that," Aune told the News&Guide.
Aune remembered being on an interagency bison planning committee when a judge had to mediate discussions. There were multiple lawsuits, including one from the InterTribal Buffalo Council to stop the slaughter. At the time there was "no atmosphere of cooperation," Aune said, "just animosity and difficulties."
"These different projects have kind of pushed through that and past that and have enabled the agencies to come together under a science agenda," he said.
Bison management has been a source of nearly intractable controversy in southern Montana for decades.
In March, Secretary Haaland, a member of the Pueblo of Laguna who is the first Native American to serve as cabinet secretary, issued an executive order calling for spending $25 million to restore bison populations to the country's prairie and grassland ecosystems. Montana Gov. Greg Gianforte bit back shortly after, calling bison "diseased" and claiming full sovereignty "over the management of bison within its borders."
While the tribes — and, to some extent, the National Park Service — want buffalo to roam free, ranchers in southern Montana worry that the bison will transmit brucellosis to their cattle or domestic bison herds.
The disease is transmissible to humans, though there is a treatment for people, and can decrease animals' milk production, cause them to lose weight, and abort their young. It is primarily spread through contact with birth material, like aborted fetuses, placental membranes or fluids.
If the disease is found in a herd, the animals are only allowed to be transported to slaughter. Entire herds can be killed, crushing ranchers' livelihoods and depressing Yellowstone's neighboring states' livestock industries.
Both wild bison and elk in the Greater Yellowstone Ecosystem carry the disease, which the U.S. Department of Agriculture's Animal and Plant Health Inspection Service says "threatens the brucellosis status of the surrounding states and the health of their cattle and domestic bison herds, which are free of the disease."
"Reintroduction of the disease into a brucellosis-free state could have a serious economic impact on domestic livestock markets and potentially affect export markets," APHIS states on its website.
But elk aren't constrained in the same way buffalo are.
That doesn't make sense to Dallas Gudgell, a member of the Fort Peck Assiniboine and Sioux Tribes and a board member of the Buffalo Field Campaign, which advocates for allowing bison to roam freely inside the park and out.
"We would just like to see wild bison roam around just like deer and elk, their four-legged cousins," he said.
On Thursday, Sholly, Yellowstone's superintendent, also made a point of highlighting the colonial legacy that first introduced brucellosis into America's wild bison herds while critiquing slaughter.
"It's important to remember that cattle, brought to Yellowstone and this area from Europe, actually transmitted brucellosis to bison in the first place," Sholly said.
Gudgell, the Buffalo Field Campaign board member, and Aune, the former Montana agency scientist, agreed that the transfer program was an effective alternative to slaughter. They also both supported the park's interest in reducing quarantine times with the support of peer-reviewed science.
But they disagreed about what other steps need to be taken to allow Yellowstone bison more room to roam.
Gudgell wants to see the state of Montana cut out of the equation, with management left to the National Park Service, U.S. Forest Service and tribes. Montana currently is a party to the Interagency Bison Management Program, which dictates how bison are managed around Yellowstone.
Cutting Montana out, Gudgell said, would allow tribes and the federal government to set hunting and relocation quotas that could be relied on instead of slaughter.
Gudgell also argued that relationship could allow the population of bison in the park to expand from roughly 4,000 to 10,000 — or 20,000 in the entire Greater Yellowstone Ecosystem.
"We need to get the state of Montana out of managing buffalo. It's beholden to the livestock industry," he said. "This is a treaty relationship between the federal government and the tribes."
Aune said much of what Montana has already done is positive, like expanding "tolerance zones" where the bison are allowed to roam outside of the park without being killed or hazed back into the park. Now, they're allowed to roam — but also hunted — within a few miles of Gardiner and West Yellowstone, Montana.
"We didn't even imagine that possibility back in 2005, 2006, 2007," Aune said. "There was just nothing that would open those doors that are open now."
Montana residents' tolerance for buffalo may change, particularly as land ownership in southern Montana changes, Aune said. In the future, he thinks bison may be tolerated outside of the current "tolerance zones."
In the meantime, Carlson, president of the InterTribal Buffalo Council, praised the relocation effort.
Getting buffalo back to the tribes is critical, he said.
"They're our relatives," he said. "They're one and the same with us."
Let us know what you think!
Tagged:
Blackfeet Nation
Ervin Carlson
Intertribal Buffalo Council
Wyoming Bison
Yellowstone National Park